All about Nishtha Anand's book 'Awakening the Rainmaker: A Guide to Gender Equality'
The author based her book on real life realisations about managing career, impending motherhood and gender inequality at the workspace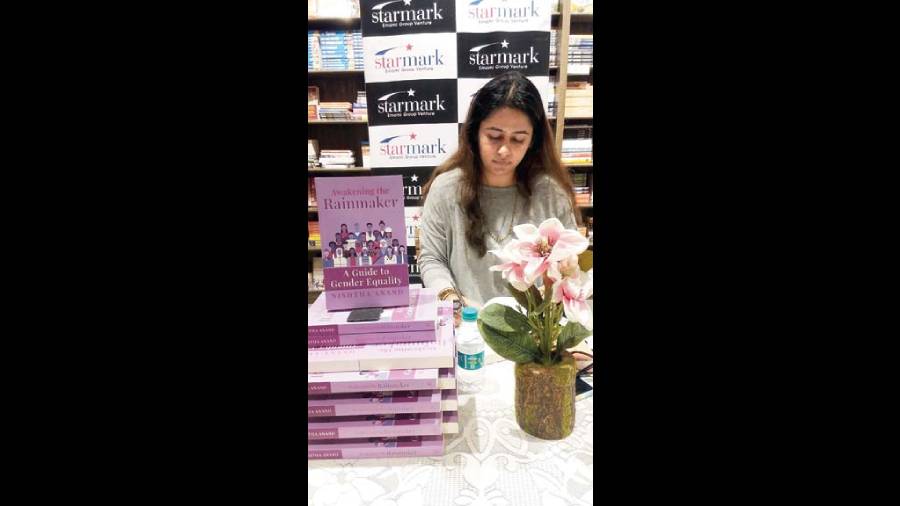 Nishtha Anand at Starmark bookstore in Calcutta
---
Published 28.02.22, 03:41 AM
|
---
Nishtha Anand's corporate career in investment banking took a turn when she made some realisations about managing her career and impending motherhood. The gender inequality at the workspace was glaring out at her and it was a need in her to voice her thoughts and possible solutions at bridging this gap that led to her book Awakening the Rainmaker: A Guide to Gender Equality (Bloomsbury; Rs 499).
In this book, Anand introduces the concept of a 'rainmaker' in the corporate sector –– a person with extreme network, influence and experience who helps a business achieve new heights with his wisdom. However, the problem lies in the fact that majority of rainmakers are men. Anand gathered 14 women rainmakers from different industries and embellished her chapters with conversations with each of them. This illustrious list includes the likes of the chairperson of Thermax Limited Meher Pudumjee; Indian mathematician Sujatha Ramdorai; captain of the Indian women's basketball team Raspreet Sidhu; Indian physicist and Padma Shri recipient Rohini Godbole; partner at Cyril Amarchand Mangal Das Reeba Chacko; founder and CEO of BabyChakra Naiyya Saggi; managing director at HDFC Ltd Renu Sun Karnad and managing director at Accenture Sonia Gupta.
It all begins with your upbringing, points out the author. She remembers her time in school when the boys grew up with confidence while the women, despite scoring higher marks, were encouraged to be timid and lean towards domesticity. She cites examples like Ariel's viral advertising campaign that pointed out how laundry was an exclusively female-centric activity and how men needed to #ShareTheLoad. As their ads highlighted, teaching boys to be as adept at house work is imperative and not something worth extra-appreciation. However, 'correcting the chinks' in the upbringing is an ongoing process and as women reclaim their space, they help highlight existing roadblocks they face. Sujatha Ramdorai speaks of gender bias in STEM and the lack of female role models who could be emulated to encourage young women entering the field. She calls herself fortunate to have women teachers while growing up, who made voicing her problems easier.
Naiyya Saggi who runs an online platform speaks of the benefits of gender equality in the online space.
Anand's book is a guide of sorts to approaching the corporate world and the role of various stakeholders to bridge this gender inequality. Juniors need to pay attention to their conduct with female bosses. Citing the example of Amara who noticed her employees refusal to work on her projects due to an impending pregnancy, Anand highlights the need for correction of such behaviour. Peers need to be more mindful of their exchanges and getting emotional and moral support to be courageous in all endeavours is of utmost importance. People in leadership roles need to lead by example, setting trends and breaking barriers. People in human resource departments need to take a long and hard look at policies that have existed in the system and are in need of immediate overhaul.
The parting notes on Anand's book are simple –– this inequality ranges from basic corporate progress to the deepest and inner-most wellbeing of an individual. Being mindful of ways of conduct and carrying forward with a curious attitude and willingness to question everything is the answer. The onus is on individuals as much as it is at a macro level. Pick up this book if a work hurdle is keeping you up at night or you know that you deserve the promotion more than your male peer but don't know how to voice your thoughts to your boss. Better yet, gift a copy to him or her!