Sharp rise in fuel prices expected
Brokerages such as Jefferies said petrol and diesel prices may need to be hiked by Rs 20-22 per litre and Rs 22-32 per litre, respectively, to restore normal margins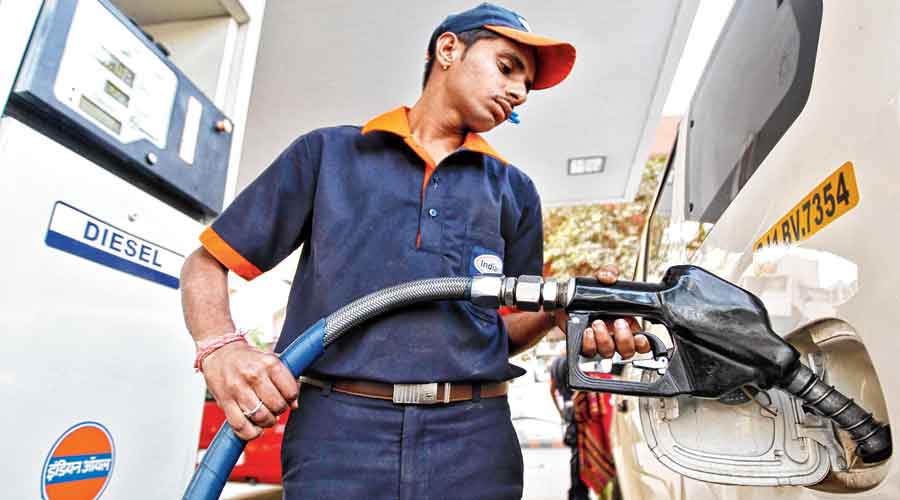 Representational image.
File photo
---
Mumbai
|
Published 12.03.22, 03:22 AM
|
---
With the state elections over, the stage is set for a sharp rise in fuel prices.
The PSU oil companies last revised prices in November.
Brokerages such as Jefferies said petrol and diesel prices may need to be hiked by Rs 20-22 per litre and Rs 22-32 per litre, respectively, to restore normal margins.
The Russian invasion of Ukraine and the sanctions on Moscow have led to a sharp spurt in the prices of various commodities, including crude because of supply fears.
Brent prices have cooled down to $116 per barrel after soaring to almost $140 per barrel. Analysts fear the price may surpass the all-time high of $147.50 a barrel set in 2008.
Analysts do not rule out the possibility of a reduction in excise duties by the Centre even as the oil PSUs raise prices, giving some relief to the consumer.
"Fuel price revisions have been stopped since early November 2021 and the OMCs (oil marketing companies) need a sharp jump (around 15 per cent hike) in retail prices to restore normal marketing margins. An uptick in fuel retail prices over the next few days could be a positive for OMCs,'' analysts at Jefferies said in a note.
If the Centre brought down excise duties by Rs 5 per lite, excise collections will come down Rs 60,000-65,000 crore, Jefferies said. In November 2021, the government had cut excise duty on petrol and diesel by Rs 5 and Rs 10 per litre, respectively.
Rating agency Icra said the current account deficit (CAD) was likely to widen by $14-15 billion or 0.4 per cent of GDP for every $10 per barrel rise in the average price of the Indian crude basket.
If the price averages $130 per barrel in 2022-23, current account deficit will widen to 3.2 per cent of GDP, crossing 3 per cent for the first time in a decade.
Temporary relief
Oil prices on Friday went in and out of positive territory and were headed for their biggest weekly decline since November as traders looked towards ways in which disruptions of Russian oil supply could be remedied in a tight market, reports Reuters.
Brent, which rose over 20 per cent last week, was on track for a weekly fall of 7.6 per cent after hitting $139.13 on Monday.
US crude was headed for a weekly drop of 8.4 per cent after touching a high of $130.50 on Monday.
Both contracts last touched these price peaks in 2008.