Tejas plays 'son-of-the-soil' at Gopalganj
Father Lalu's village Phulwaria is in same district, but area never seen as his stronghold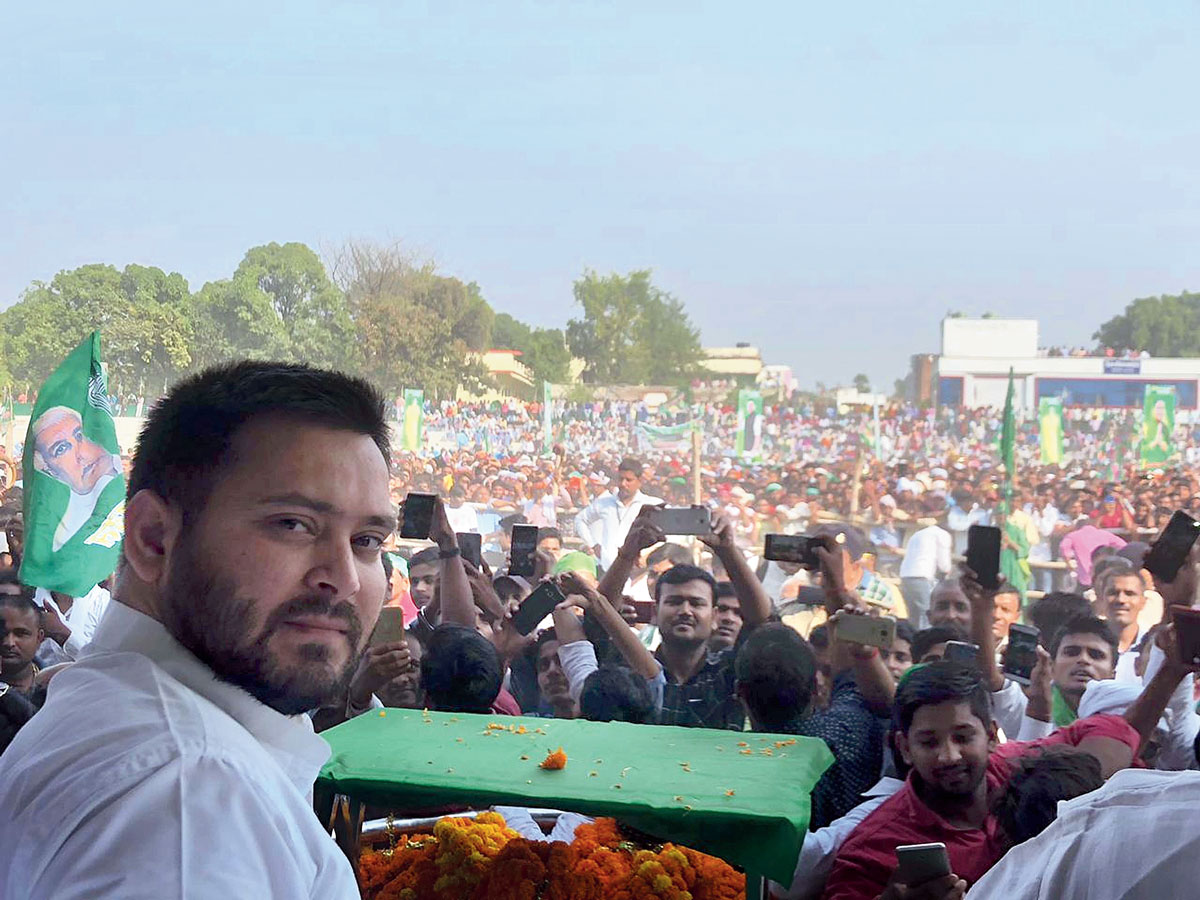 Tejashwi Prasad Yadav at Gopalganj's Zila Stadium on Tuesday.
Telegraph picture
---
Gopalganj
|
Published 23.10.18, 06:59 PM
|
---
On Day III of his Samvidhan Bachao Nyay Yatra on Tuesday, RJD leader Tejashwi Yadav played the "son of the soil" card at Gopalganj asking the impressive gathering to give him their blessing as he had come "home".
"Consider me to be your son. This is my father's home," Tejashwi said in his speech, drawing loud applause from the crowd of around 25,000 people that had gathered at the Zila Stadium.
Tejashwi's father, RJD chief Lalu Prasad's native village of Phulwaria, located 170km west of Patna, falls in Gopalganj district. But despite being his home district, Gopalganj has never been considered a Lalu stronghold. Lalu first contested the Lok Sabha elections and became an MP, not from Gopalganj, but from neighbouring Chhapra (now Saran) in 1977. Gopalganj was a subdivision of the old Saran district till 1973 when it became a full-fledged district.
The last time the RJD won the Gopalganj parliamentary seat was in 2004 when Lalu's brother-in-law Anirudh Prasad a.k.a. Sadhu Yadav beat the JDU's Prabhu Dayal Singh by over 1.92 lakh votes. Since then, the constituency was reserved for Scheduled Castes and went to the JDU (2009) and the BJP (2014).
At his rally in Gopalganj on Tuesday, Tejashwi stressed how his family was being prosecuted. "They (the BJP) have registered false cases against my father, mother, my sisters and me. They thought they can break us by putting Lalu in jail. When they found that it has not happened, they are now trying to put us behind bars," he said, again to loud cheers.
Tejashwi said Lalu gave the downtrodden sections of society a voice. "If you fail this time (to remove the BJP) the old times will return and the downtrodden will not get jobs, education and be even allowed to enter the temple. BJP does not believe in Ram. It believes in Nathuram (Godse)," he said to lusty cheers.
Tejashwi didn't forget to take his customary potshots at "chahcha" (chief minister Nitish Kumar). "Chacha robbed the people's mandate. Governments are elected for five years. Chacha made four governments in four years," he quipped, hitting out at increasing crime, atrocities against women and "mis-governance". "In Bihar it is Ravana Raj," he reiterated.
Tejashwi recalled that when Prime Minister Narendra Modi came to power, the BJP had raised the slogan Har Har Modi. "But Modiji has proved that he is Garbar Modi. He has not fulfilled a single promise he made during the elections," Tejashwi said, urging the people to "teach the BJP and NDA a lesson in 2019".
Senior RJD leaders such as Ram Chandra Purbey, Alok Mehta, Akhtraul Imam Shahin and several others shared the dais with Tejashwi. The yatra is expected to conclude on November 2 and Tejaashwi is scheduled to cover 10 districts of Bihar.