Smugglers lay hands on Buddha's compassion
900-year-old idol of Avalokiteshvara stolen from temple in Begusarai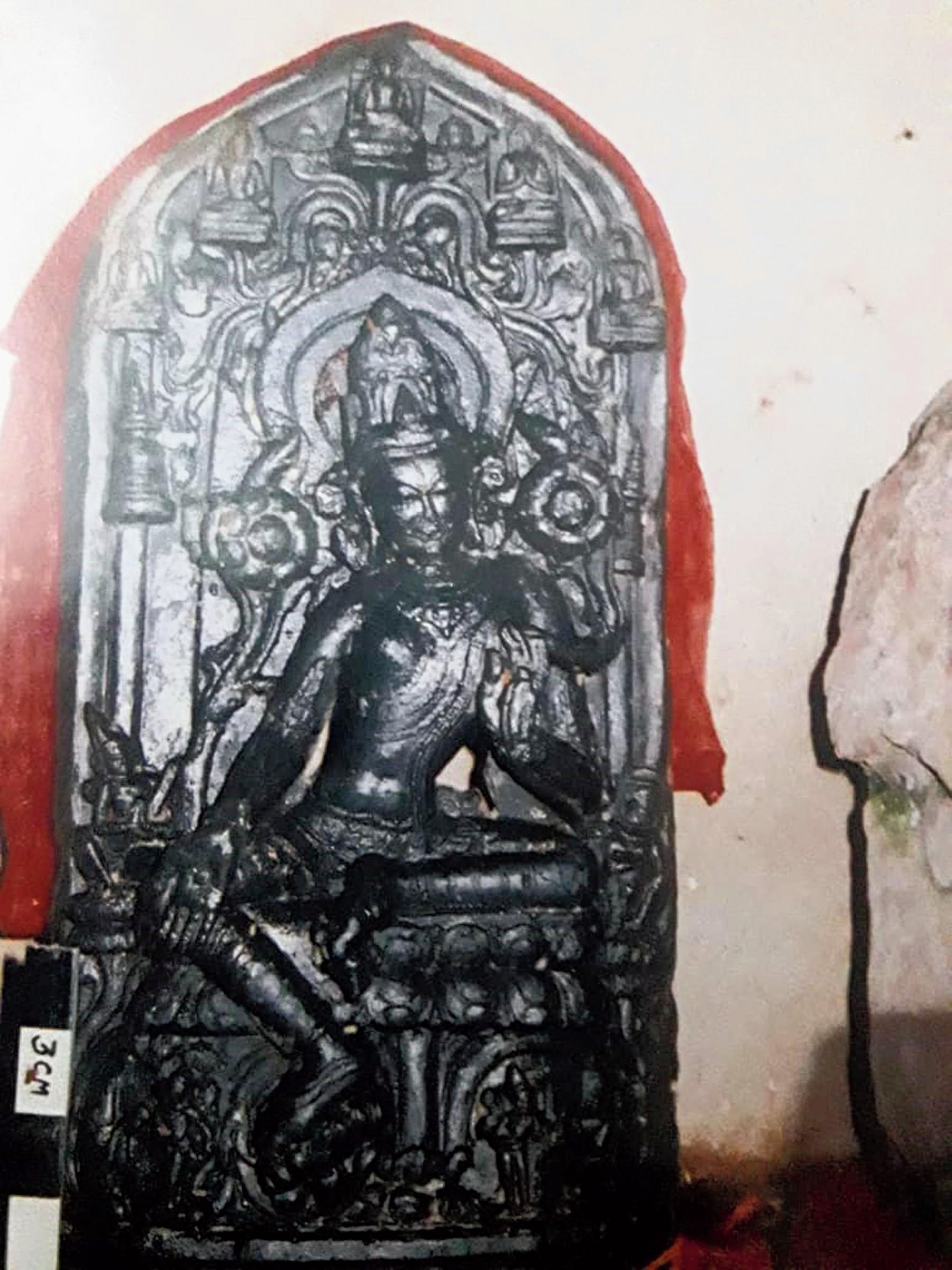 The idol that was stolen from Birpur in Begusarai.
Telegraph picture
---
Patna
|
Published 01.11.18, 12:02 PM
|
---
A rare, 900-year-old idol of Avalokiteshvara, the Bodhisattva (prospective or future Buddha) of infinite compassion in Buddhism, has been stolen from Birpur in Begusarai, setting off alarm bells and resentment among historians, archaeologists, iconographers and researchers.
They have started pitching for protection of priceless treasures scattered in different parts of the state and mulling to write to chief minister Nitish Kumar to ensure it because he had evinced interest and awareness about the glorious past of Bihar.
The three-feet-tall statue made of black basal stone with a shiny polish on it was kept at Bhairav Sthan temple in the small town that serves as block headquarters. It was found buried in a farmer's field around 50 years ago.
The people started worshipping it and built a temple around it.
Birpur station house officer (SHO) Vishwa Bandhu Kumar said: "The incident occurred on the intervening night of October 26 and October 27 leading to an FIR at the Birpur police station.
"It was kept in the temple but its iron grill doors were never locked. It was stolen. We have detained a few people. They are being interrogated but so far we have not been able to get any leads about the statue," Vishwa Bandhu said.
Archaeological experts said statues of the Buddha or deities related to Buddhism are always on the target of antique smugglers because there are several Buddhist countries where they could be sold for a very high price depending on how old they are.
The smugglers get buyers easily and such idols fetch enormous amounts if they are in prime condition.
Buddha idols have been stolen from Bideshwar Sthan in Madhubani and Baba Karu Kherhar museum in Saharsa recently. They are traceless.
Shiv Kumar Mishra, a research associate with the prestigious Bihar Research Society, said the government must take necessary steps to protect the statues by keeping them at museums and make proper arrangements for security at such facilities.
Sushant Kumar, a resident of Begusarai and a researcher in early medieval history and archaeological remains of north Bihar, said the statue could date back to 11th or 12th century AD. This was the time when the rulers of the Pala and Karnat dynasties wielded influence in this region and patronised art.
"I had the chance to see the idol. Though people worshipped it as Bhairav, it was that of Avalokiteshvara and had 'pancha dyani Buddha' (five great Buddhas) carved on its upper portion — showing them in meditation. It was in very good condition and is priceless," Sushant said.
The Begusarai-based researcher said the presence of an Avalokiteshvara idol indicates Buddhism influence in full force in northern parts of the state apart from south Bihar during that time.