RLSP boss Upendra Kushwaha meets Sharad Yadav
Kushwaha launches tirade against NDA ally Nitish Kumar, and then makes a 'courtesy call'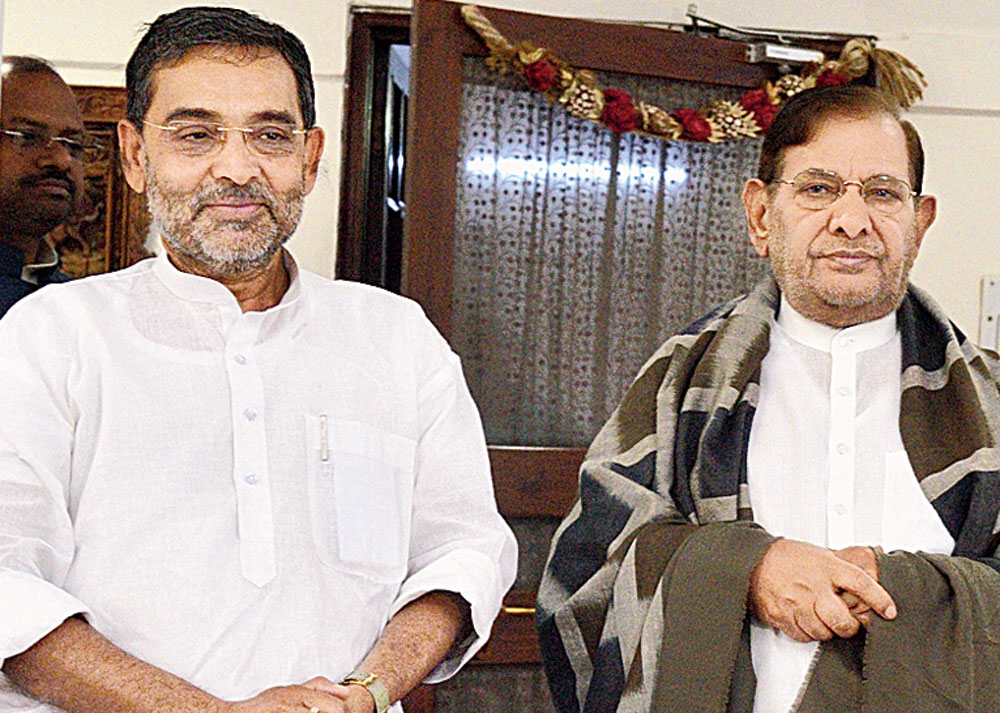 New friends: Union minister and RLSP chief Upendra Kushwaha meets expelled JDU leader Sharad Yadav in New Delhi on Monday.
Picture by by Prem Singh
---
NewDelhi/Patna
|
Published 12.11.18, 06:20 PM
|
---
Union minister and BJP ally Upendra Kushwaha called on former JDU MP Sharad Yadav on Monday, a day after he accused chief minister Nitish Kumar of poaching his MLAs, giving out hints that he might be leaving the ruling NDA to join the rival Grand Alliance.
Kushwaha called on Sharad at his Delhi residence on Monday morning. Though he termed it a "courtesy call", the visit assumes significance, coming as it does in the backdrop of the Rashtriya Lok Samata Party chief's outpourings against NDA partner Nitish Kumar. His party workers had recently torched Nitish's effigy to protest against him allegedly having called Kushwaha a neech (lowly person).
On his return from Delhi, Kushwaha slammed Nitish. "Nitish is trying to destroy Upendra Kushwaha and his party but nothing will happen. I don't think that anything is going to happen if my MLA switches sides. There will be no impact on my politics and I am not a chief minister that I will have less support. People are watching everything and they will take a decision at the right time," Kushwaha said at Patna airport.
On Sunday, RLSP MLA Sudhanshu Shekhar met Nitish at Prashant Kishor's house in Patna. Kushwaha had then attacked Nitish over twitter, accusing the JDU boss of being "unethical and immoral". The only other RLSP MLA, Lallan Paswan from Chenari, is in bad terms with Kushwaha.
Kushwaha had left Patna, claiming he was going to meet BJP chief Amit Shah to complain against Nitish but landed up at Sharad's place. His party leaders said Shah was busy with campaign. Earlier, Kushwaha met RJD leader Tejashwi Yadav.
Kushwaha has been firing barbs at Nitish ever since the BJP and the JDU agreed to contest equal number of seats in the 2019 Lok Sabha polls. Though the exact number of seats each they will contest is not known, Kushwaha is believed to be upset at the BJP offering it just two seats.
Internally, BJP leaders said they have given up on Kushwaha, assured that he wants to leave the NDA for the Grand Alliance. "He (Kushwaha) is only trying to build an issue to quit the NDA. For us Nitish is much more important than Kushwaha," a BJP leader said.
Deputy chief minister and senior BJP leader Sushil Kumar Modi even tweeted in Nitish's defence on the "neech" comment and indirectly took a swipe at Kushwaha.
"Nitish Kumar never used the word NEECH in his interaction with media .I was present in the programme. Still some leaders trying to become martyr but will not succeed," he tweeted.
Sources in the RLSP too indicated Kushwaha was headed towards the Opposition and was only waiting for an opportune time to announce his decision. "Our leader will meet Amit Shah, protest against Nitish and then take a call based on the BJP's response," an RLSP leader said.