Rabri pins hopes on power of prayer
chhath celebration to ward off 'evil eye' on rjd first family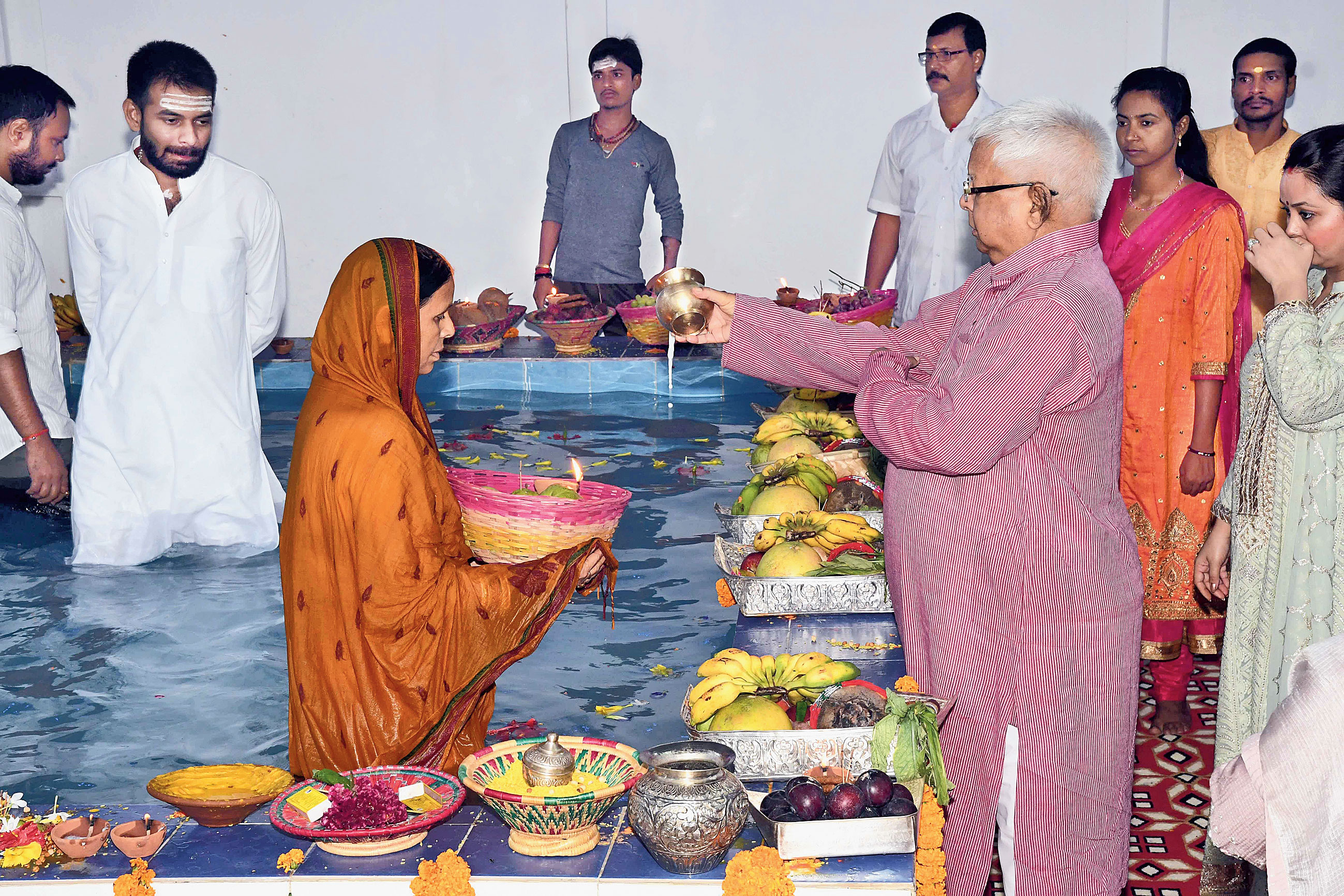 Rabri Devi observes Chhath with husband Lalu Prasad at 10 Circular Road last year
Telegraph picture
---
Patna
|
Published 01.11.18, 06:41 PM
|
---
The RJD matriarch will pray to the Sun this year for her ailing husband and her family embroiled in legal battles. With her husband and RJD chief Lalu Prasad under treatment at Rajendra Institute of Medical Sciences (RIMS) in Ranchi. former chief minister Rabri Devi has decided to celebrate Chhath for the well-being of her family members this year.
The entire Lalu family is also facing legal battles, but Rabri has decided to not let that come in the way of her observing Chhath fast at her 10 Circular Road residence. She has invited all her daughters to take part in the rituals. Last year Lalu was also the part of the festival, but the family is going to miss him this year.
"Rabriji will celebrate Chhath at her residence to pray for the speedy recovery of Laluji whose health is deteriorating with every passing day," a family member told The Telegraph on condition of anonymity. "She wants to pray to the Sun God to protect her children from evil eyes. She has been doing Chhath for a long time and a few years she has skipped because of health reasons. However, this year she will celebrate Chhath which requires prolonged fasting and a lot of willpower."
Lalu is suffering from diabetes, hypertension and chronic kidney failure, and underwent a heart valve replacement in Mumbai in 2014. Recently he has undergone surgery for fistula.
Chhath was not celebrated at 10 Circular Road in 2016 but last year it was celebrated on a grand scale; six of Rabri's seven daughters had participated along with her sons Tej Pratap Yadav and Tejashwi Prasad Yadav.
"Last year, Saheb (Lalu) was around and he actively took part in all the rituals. In fact he is the one who gives the orders on what to purchase from the market and what not," said the family member. "During the four-day festival, 10 Circular Road turns vegetarian. We are all going to miss Laluji because he is the one who ensures that everything falls into place."
All the daughters and son-in-laws of Lalu and Rabri have been invited for Chhath.
Rabri started celebrating the festival when her eldest daughter Misa Bharti was very young. This is the not the first time Rabri will celebrate the festival without Lalu; she had celebrated Chhath when Lalu was in jail in 2013.
Rabri offers arghya (obeisance) in the swimming pool w at 10 Circular Road residence rather than the traditional riverbank.