Nitish rushes to fill vacuum in Gaya
District has highest concentration of scheduled castes, but JDU has no base there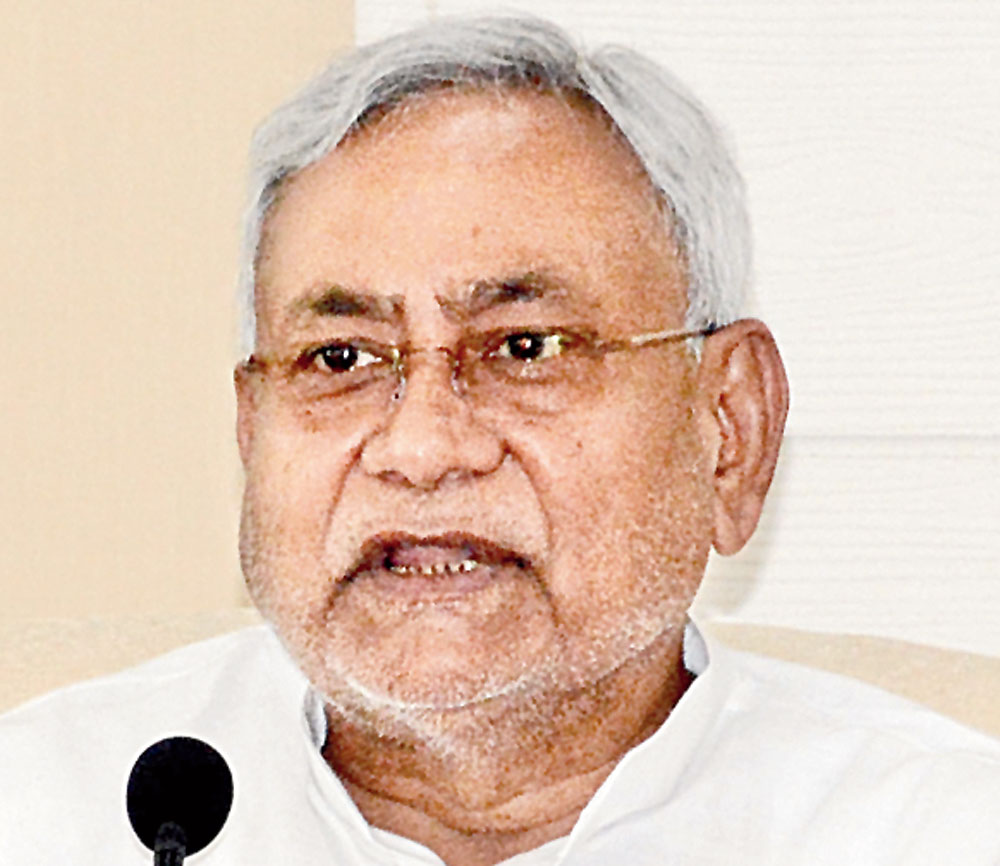 ---
Gaya
|
Published 30.10.18, 06:07 PM
|
---
Chief minister Nitish Kumar will on Wednesday visit Gaya, the district having the highest concentration of Scheduled Castes and one where the JDU has no base.
Gaya is the stronghold of former chief minister Jitan Ram Manjhi and former Speaker Udai Narain Chaudhary but both have left the JDU.
Nitish is going to Gaya for the Mahadalit convention being organised at the Gaya Gandhi Maidan.
According to Congress leader Arun Kumar Prasad, the meet assumes significance because the two heavy weights holding sway over the region's political scene, Manjhi and Udai, are not from the JDU any more.
"Nitish will have to pay the price for the political wrongs committed by alliance partner the BJP," said activist S.B. Bhaskar, who has been working for Dalit uplift in the Magadh region. "By diluting reservation rules through subtle measures like changing the unit of reservation roster in the colleges, universities and elsewhere, the Centre has antagonised most Dalits and, by association, Nitish too has earned the wrath of the group,"
Ambedkar Sangharsh Morcha, which is actively working for Dalit rights, has threatened to register protests against the alleged "befooling" of deprived sections.
According to Morcha leader Suresh Kumar, his organisation will exercise its democratic right to register protest through placards and other instruments of peaceful dissent. According to Satish, Nitish has only rendered lip service to the Dalits and indulged in "political gimmickry" by notifying Dalits as Mahadalits. The change in official nomenclature has done no good to the section that has, for, centuries been the victim of discrimination and deprivation.
Another disquiet is over the state machinery being let loose on April 2 bandh supporters, all Dalits, now being wooed by Nitish. "There was state oppression against pro-reservationists, thousands were jailed and false FIRs were registered and yet Nitish did nothing," Ambedkar Sangharsh Morcha leader Suresh said.
There are 14 Ambedkar residential schools in the district, each with capacity for 400 boarders. On account of poor amenities, almost 75 per cent of the residential schools have gone unutilised. "Books have not been supplied for 3 years," Suresh alleged.
"Money marked for book purchase has been embezzled."
Responding to the allegations, JDU spokesperson Rajiv Ranjan said nobody has done as much for Dalits as Nitish. "Shortcomings, if any, in ground level implementation of the schemes would be addressed," he said.