Lack of cops, vigilance make NH-31 a killer stretch
Heavily loaded trucks and buses ply on it daily, often at breakneck speed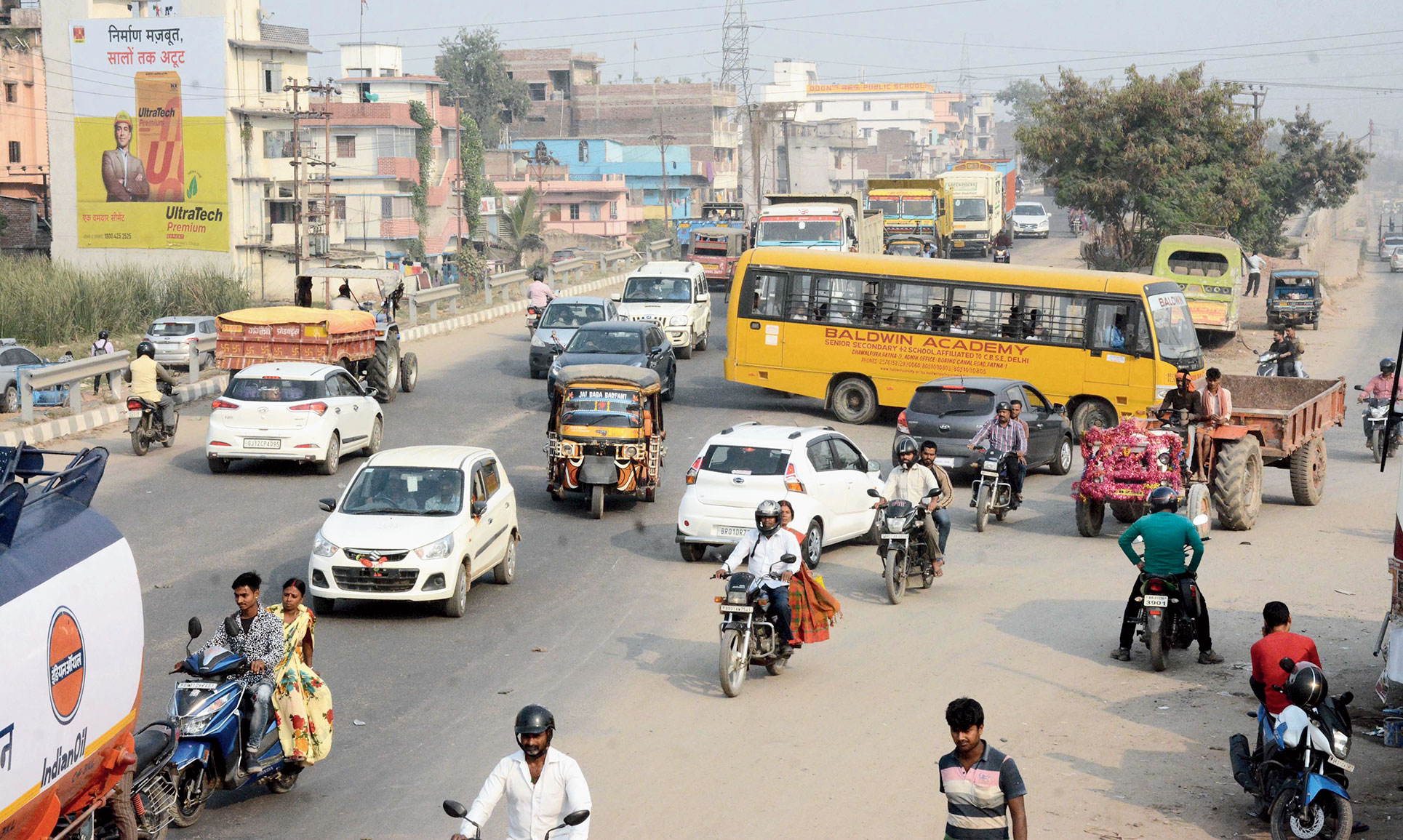 ---
|
Patna
|
Published 20.11.18, 07:00 AM
---
Unauthorised loading and unloading of passengers by autorickshaws and buses in the middle of the road and very few traffic constables on NH-31, popularly known as New Bypass, have turned it into a killer stretch.
NH-31 connects Mohaniya in Rohtas district with Bakhtiyarpur in Patna district. Heavily loaded trucks and buses ply on it daily, often at breakneck speed.
On November 15, arson and violence erupted at Jaganpura locality on NH-31 after a local resident Bipin Sao, 35, was crushed to death by a speeding truck. Police had to lob teargas shells and lathicharge to quell the mob.
When The Telegraph team visited the stretch from the Anisabad roundabout to Zero Mile on Monday, covering a distance of over 10.2km, it saw three-wheelers and buses loading and unloading passengers at random.
"Minor accidents happen daily here and in most cases, people get their hands and legs fractured," said a sub-inspector-rank officer posted at Jaganpura Mor who wished not be named.
He expressed helplessness in checking the mishaps, saying auto drivers and bikers do not care about the rules.
Five constables on duty also complained about the lack of adequate number of policemen on the entire stretch of New Bypass.
"We cannot stop residents when they violate traffic rules as they assemble in large numbers and sometimes misbehave with the constables," said a traffic constable.
Another constable said they do not get help from the Ramkrishna Nagar and Kankarbagh police stations in managing crowds. Though patrol cars of both police stations pass through the area, they are least bothered about the traffic chaos here, said another constable.
At Beur Mor, a driver said if police streamline movement of autos and buses then there would be no accident on the stretch. Pointing towards NH-31, he showed autos parked in the middle of the road, calling for passengers. "I have not seen any traffic constable at Anisabad Mor for the past five to six months," he said.
At Dasarath on NH-31, a tea stall owner said all vehicle riders are in hurry and they never stick to traffic norms. Home guards sometimes manage the traffic only to disappear after a few hours.
Another reason for mishaps is the steep slope of some roads that touch NH-31.
"This is the main cause of mishaps on this road," said a constable at Dasratha.
Patna SSP Manu Maharaaj said the number of traffic constables would be increased on this particular stretch.
SP (traffic) P.N. Mishra, however, said the number of vehicles has increased manifold and the department lacks adequate force.
He said the department has only 300 traffic constables to man all of Patna and bridges across the Ganga.
Mishra, who was himself standing at Phulwarisharif to assess the situation, said the department is planning to take steps to streamline the movement of heavy vehicles entering the state capital.