Tulsi Gabbard will take on Donald Trump in 2020 presidential polls
She is known for opposing US military intervention, and sometimes breaking from the Democratic Party line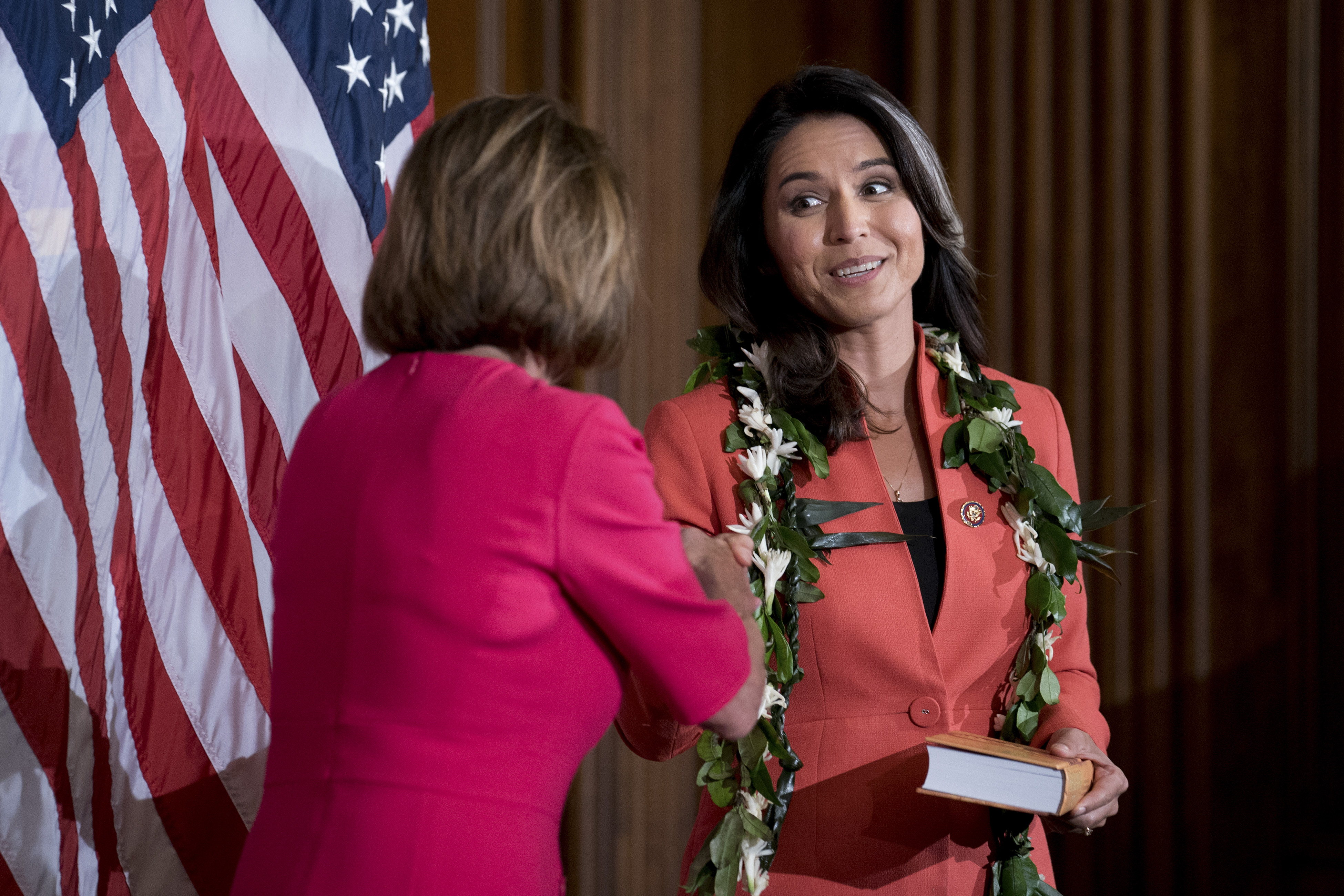 Tulsi Gabbard (right) is sworn in to the 116th Congress with House Speaker Nancy Pelosi on Capitol Hill in Washington on January 3, 2019.
The New York Times
---
Published 12.01.19, 06:44 AM
|
---
Rep. Tulsi Gabbard of Hawaii said on Friday that she would run for President, joining what is expected to be a crowded field of Democrats seeking to challenge President Donald Trump in 2020.
Gabbard announced her decision to CNN in an interview with political commentator Van Jones that is scheduled to air on Saturday. "I have decided to run," she said in a short clip posted Friday, "and will be making a formal announcement within the next week."
Gabbard, 37, is one of the lesser known of the possible candidates. An Army National Guard veteran who deployed twice to the Middle East, she was first elected to the House in 2012, a decade after she became the youngest person elected to the Hawaii State Legislature. She was the first Hindu and the first American Samoan elected to Congress.
Since then, she has earned a reputation for her opposition to US military intervention and "regime change" efforts abroad — and for sometimes breaking from the Democratic Party line. In 2015, she voted with Republicans to increase screening of Syrian refugees. Shortly thereafter, she startled the Democratic National Committee by calling for more presidential debates than the party wanted to hold.
And just this week, she wrote an op-ed accusing fellow Democrats of "religious bigotry" for sharply questioning a judicial nominee, Brian Buescher, on his membership in the Knights of Columbus. (Though she did not name names, her targets were clear: Sen. Kamala Harris of California, another likely presidential candidate, and Sen. Mazie Hirono, who also represents Hawaii.)
Gabbard also endorsed Sen. Bernie Sanders, I-Vt., in the 2016 primaries — resigning as vice-chairperson of the DNC to do so — when most party officials were circling the wagons around Hillary Clinton. That creates an interesting dynamic for the 2020 race because Sanders may run again.
Experience could be a major vulnerability for Gabbard, who was re-elected in November. The only sitting representative elected President was James Garfield in 1880, and most Presidents have previously been a senator or governor.
She will be 39 on Inauguration Day in 2021, which would make her, if elected, the youngest President in US history. Only two Presidents, Theodore Roosevelt and John F. Kennedy, have taken office before age 45.
But, perhaps, a more serious liability for her campaign will be her interactions with Syria's President, Bashar Assad. A longtime opponent of the United States' military involvement in Syria, Gabbard visited Assad in Damascus in January 2017 — something other US officials had not done since Assad's use of chemical weapons against civilians became widely known.
Her noninterventionist perspective and her desire for diplomacy could appeal to many progressive Democrats, but her decision to meet with a man who had attacked his own people angered many others.
"I think we should be ready to meet with anyone if there's a chance it can help bring about an end to this war, which is causing the Syrian people so much suffering," she said at the time.
Republicans quickly jumped on her campaign announcement, emphasizing her visit with Assad and declaring that Gabbard had no political base.
"Liberals think she's too conservative, conservatives think she's too liberal, and just about everyone thinks her cosiness with Bashar al-Assad is disturbing," said Michael Ahrens, a spokesperson for the Republican National Committee.
Gabbard is one of the first Democrats to declare her candidacy — Sen. Elizabeth Warren of Massachusetts jumped in on New Year's Eve, and former Rep. John Delaney of Maryland has been running for a year and a half — but the floodgates are likely to open in the coming weeks.
Announcements are possible from Harris, Sanders and Sens. Cory Booker, Kirsten Gillibrand and Amy Klobuchar, as well as former Vice President Joe Biden and Beto O'Rourke, the former Texas congressman who gained enormous attention for his unsuccessful campaign against Sen. Ted Cruz last year.
c.2019 New York Times News Service