Bangladesh journalists attacked ahead of poll
Sheikh Hasina's Awami League denied accusations of intimidating Opposition candidates and journalists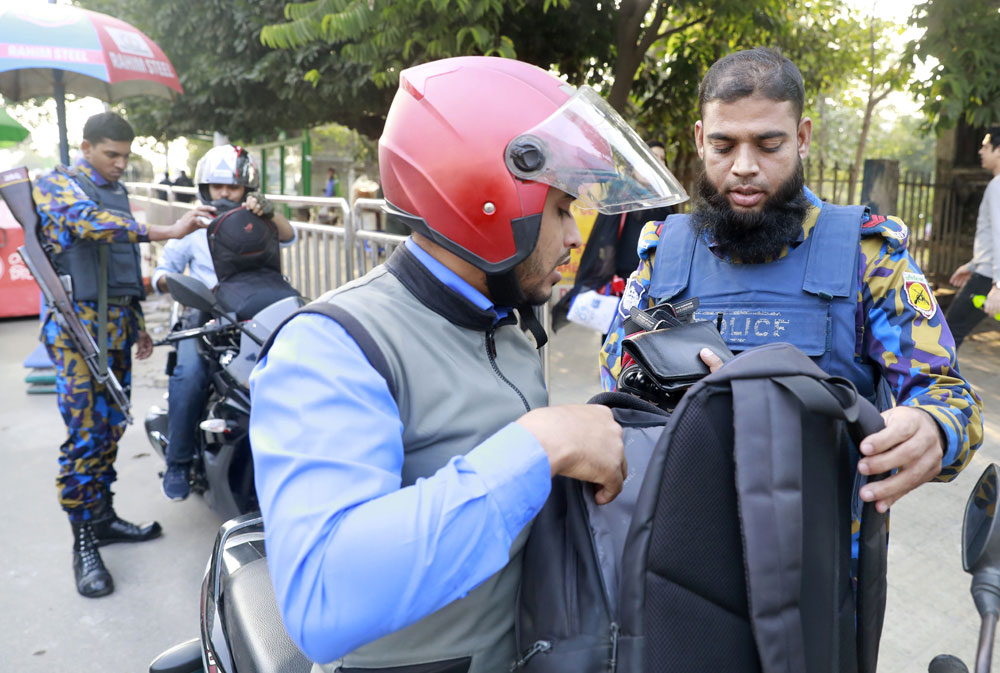 Bangladeshi policemen check the bags of commuters in Dhaka on December 24, 2018. Bangladesh police have arrested more than 10,500 Opposition activists in a crackdown ahead of the elections, Opposition parties said.
(AP)
---
Dhaka
|
Published 25.12.18, 07:46 PM
|
---
Around two dozen masked youths attacked a group of Bangladeshi reporters with hockey sticks and batons, injuring about 10 of them, when they were resting at a hotel after covering an election rally, the journalists said on Tuesday.
The incident, which occurred late on Monday in the town of Nawabganj about 40km from Dhaka, is the latest in a series of violent attacks that have marred campaigning for the national election on December 30.
The youths, whose identity remains unclear, also smashed hotel windows and vandalised more than a dozen vehicles belonging to media outlets or privately owned, the journalists said.
"Some of us had to take shelter inside the toilet out of fear," Abdullah Tuhin, a journalist with a local TV channel, told Reuters. "The attackers threatened our colleagues and asked us to leave the place immediately or face serious consequences."
Dhaka Reporters Unity, a union, said many of its members had been "seriously injured" in the assault. Reuters could not immediately confirm the nature of the injuries.
Dhaka district's top police officer, Shah Mizan, said a police team sent to the hotel after the incident had not been able to immediately determine who the attackers were. No arrests have so far been made.
Opposition parties have complained of violent attacks against their workers by ruling party activists and the arrests of candidates on what they say are trumped-up charges during the election campaign.
Prime Minister Sheikh Hasina's Awami League, which is seeking a third straight term in power, has denied accusations of trying to intimidate Opposition candidates and journalists.
One Opposition lawmaker, Salma Islam, whose husband owns a leading newspaper and a TV channel, said she would file a police complaint soon over the hotel attack.
"It's unfortunate and unwanted. They also tore off my banners. We will lodge a written complaint," said Salma, who is contesting the election as an Independent after quitting the Jatiya Party, which is part of the ruling coalition.
Bangladesh police have arrested more than 10,500 Opposition activists in a crackdown ahead of the elections, Opposition parties said on Tuesday.
The Opposition parties said the arrests since the election was declared on November 8 were intended to create a "climate of fear".
The main Opposition Bangladesh Nationalist Party (BNP), whose leader Khaleda Zia is serving a 17-year jail term, said 7,021 of its activists had been detained. Its ally, the Jamaat-e-Islami, said more than 3,500 followers were in custody.
Police spokesperson Sohel Rana did not confirm any figure for arrests, but said they did not make "unnecessary arrests" without warrants. "We never target any individual unless they break the law. These people have specific warrants against them," he told AFP.
Rizvi Ahmed, a BNP spokesperson, said the allegations against party activists were "fictitious" and that "ghost cases" were being filed to ensure "a lopsided election" in favour of Hasina.
The BNP had hoped the deployment of 30,000 troops on Monday would improve security. "Awami League activists along with the law-enforcing agencies attacked our candidates at 28 constituencies (in the past 24 hours). Nineteen of our candidates and over 100 activists were injured," Ahmed said.
Police spokesperson Rana denied that cops had attacked any Opposition activists, acknowledging only that "isolated incidents" were possible.
Members of the Opposition BNP-NUF alliance on Tuesday walked out of an Election Commission meeting, alleging that the behaviour of its chief was "inappropriate" and he was not taking their arguments into consideration during the talks. The Opposition had protested the denial of permission for a wrap-up campaign rally and accused the police of being "biased".
Shut out by mainstream media and too scared to take to the streets, the BNP has been reduced to social media lobbying for votes.