Words of advice for civil service rankers
Read more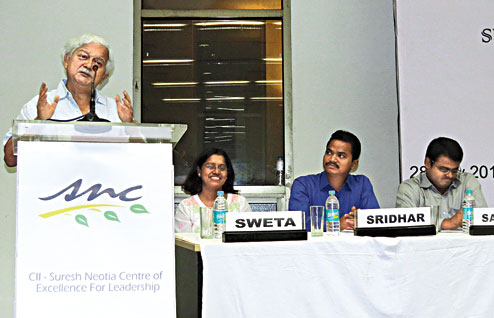 ---
---
Three in the Indian Administrative Service, one in Indian Police Service and two more in other Group A services. With six making the cut, the list of qualifiers from Bengal this year in the civil services examination conducted by the Union Public Service Commission is longer than usual. And with all the successful candidates being products of the Institute of Civil Service Aspirants in DB Block, their felicitation at CII-Suresh Neotia Centre of Excellence for Leadership auditorium turned out to be a well-attended affair.
"This surpasses our 2008 results when we had three students qualifying for IAS," said Jyotirmoy Pal Chaudhuri, director of the institute.
"Last year, 4.42 lakh students took the exam. Of them, 1,068 succeeded. So the general success ratio is one in 400 students, We have less than 100 students per batch. Of them, 30-40 are serious. So having six of them make the cut is not bad," he said with a smile.
Sweta Agarwal, who is the highest ranked candidate from Bengal at 19th, was the cynosure of all eyes. The 29-year-old from Bhadreswar, Hooghly, gave up a job with a multi-national company to pursue her civil service dream. Though she had qualified twice before, she has cracked the top 20 on her third attempt.
Like Sweta, Krishnanagar boy Dhiman Barai, ranked 398th, is expected to get IAS posting on his third attempt. He has raised eyebrows by having chosen Bengali literature, which was not popular as a scoring subject.
"You need high academic level to succeed in the civil services examination but more important is tenacity," Pal Chaudhuri emphasised.
The second highest rank of 67 has gone to Sandeep Kumar Ghosh. The third ranked, at 138th, Kantesh Mishra did not attend the felicitation as he is already working at the National Police Academy, Hyderabad, by virtue of his rank of 103 the year before.
Sridhar Das, a resident of IC Block, secured the rank of 974 on his first attempt. "I did not know of the institute despite staying in Salt Lake. I got the reference from Shweta during the main exam," the audit department official lamented, adding that he would take another shot next year to improve his rank.
The other successful student was Srikant Mallela, ranked 388.
Amiya Kumar Samanta, a former director-general, Intelligence Bureau, and a resident of GD Block, spoke of the hurdles they would face. "There are cross currents of political interests at play in civil service. As people's representatives, the ministers have the right to interfere. But politicians do not know where interference ends and intervention starts. You have to maintain strict impartiality. When we joined the service, it was less corrupt, less immoral. The challenge is to retire with dignity and without regret," he said.
Former chief secretary Sourin Roy spoke of Bengal's hey days in the civil services. "In our batch, there were 31 Bengalis in the top 100, including five in the top 20. It is sad that Bengalis have disappeared from civil services," said the CL Block resident. He passed on three tips — be punctual, be articulate ("Often you'd have two to three minutes to explain your stand") and be thorough as knowledge is power. "Even the ministers want to get work done. So if you are sound, they would listen to you."