Modi's tone while addressing Mamata 'unbecoming of a PM'
A conference was addressed by Bengal minister of state for women and child development and social welfare Shashi Panja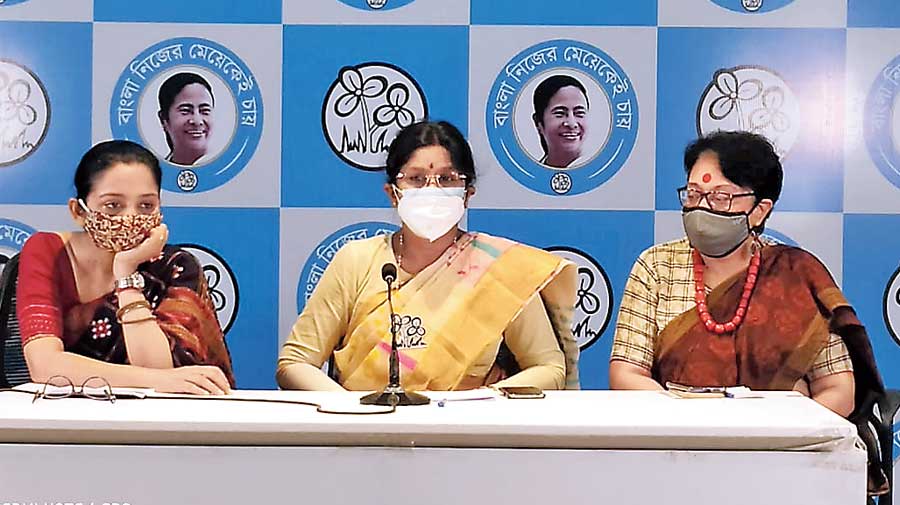 June Malia, Shashi Panja and Ananya Chakraborti at the media conference on Sunday
Telegraph picture
---
Calcutta
|
Published 05.04.21, 02:03 AM
|
---
A news conference was held at Trinamul Bhavan on Sunday to voice concern at the harassment of a woman by the Prime Minister, possibly the first time such a charge has been brought against the occupant of the highest office in the country.
The conference was addressed by Bengal minister of state for women and child development and social welfare Shashi Panja, state child rights commission chairperson Ananya Chakraborti and actor and politician June Malia who is a Trinamul candidate from Midnapore.
The tone in which Narendra Modi has been addressing chief minister Mamata Banerjee, repeatedly calling out to her as "Didi, o Didi", was unbecoming of a Prime Minister, the speakers said.
Panja said the conference had been called to express concern about the Prime Minister's behaviour. "We respect the chair that the Prime Minister occupies. He is not showing respect to that chair. So it is becoming difficult for us as well to show respect for the person who occupies that chair," she said.
The way Modi was calling out Banerjee's name qualified as "taunt kata" or "titkiri mara", Panja said. The Bengali expressions refer to men making lewd comments about women.
This was misogynistic and worrying, Panja said. "That the chief minister of a state was being humiliated in this way was a matter of grave concern," she added. "The law of the country protects women from such harassment and such heckling," Panja said. "We believe in the judicial system and we believe that there will be justice."
Malia said she had not imagined even in her nightmares that she would have to address such a matter. She said the Prime Minister's words were an insult to all women.
She added that no Indian Prime Minister in history had ever stooped so low. In a patriarchal society it is very easy to "assassinate the character" of women but the high chair of the Prime Minister should preclude such activity, she said.
Chakraborti said that "dharma" meant upholding the right values and she did not feel Modi was following any dharma.
The Prime Minister and Union home minister Amit Shah, who are frequenting the state to address electoral rallies, are showing complete disregard for their positions in their speeches, the speakers said.
Saying she was quoting from data the Gujarat government had placed in the Vidhan Sabha, Chakraborti said the BJP-ruled state had reported two murders and four rapes every day on an average in the last two years. State capital Ahmedabad reported the highest number of incidents of rape. In two years, 460 rape incidents have been reported in Ahmedabad.
Bengal should not be turned into a Gujarat, Chakraborti said.