"BJP is playing Hindu-Muslim game"
Bengal Polls 2021: Mamata says Modi and Shah want to divide state on communal lines
At her four rallies, the chief minister repeatedly asked people to keep alive the tradition of communal harmony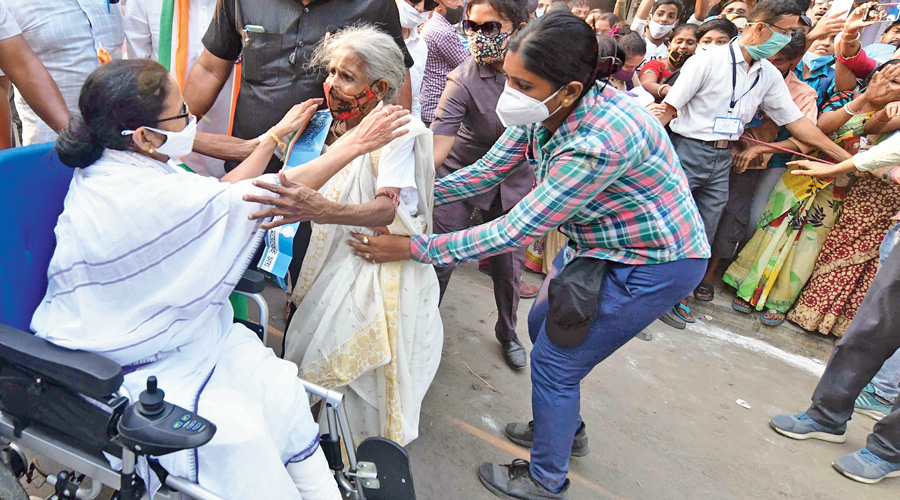 Mamata Banerjee greets an elderly supporter during a padayatra in Howrah on Saturday.
Telegraph picture
---
Hooghly
|
Published 04.04.21, 02:30 AM
|
---
Chief minister Mamata Banerjee on Saturday said the BJP, led by Prime Minister Narendra Modi and Union home minister Amit Shah, wanted to divide Bengal on communal lines like the British had done in 1905.
At her four rallies in South 24-Parganas and Hooghly and road show in Howrah, Mamata repeatedly asked the people to keep alive the tradition of communal harmony in Bengal.
She quoted Rabindranath Tagore and Kazi Nazrul Islam, narrated an anecdote about Swami Vivekananda and invoked Sri Ramakrishna Paramhansa to make her point.
"The BJP wants to divide Bengal in two. Can you recall the Banga Bhanga Movement (against the 1905 partition of Bengal)?" she said at her rally in Tarakeswar, Hooghly.
"In 1905, when the country was under them, the British came to divide Bengal. Who were the ones to protest? Rabindranath Tagore was one. He organised the Rakhi Bandhan festival and sang the song Banglar mati, Banglar jol."
She added: "Today, Narendra Modi and Amit Shah are trying to divide Bengal the same way. They want to loot Bengal, they want to ruin Bengal, they want to ruin the culture."
In October 1905, the then Viceroy of India, Lord Curzon, had partitioned Bengal into a largely Hindu west and predominantly Muslim east on the plea of increasing administrative efficiency. The move provoked the Swadeshi Movement, and the partition was revoked in 1911.
Bengali luminaries of the day had protested the partition, with Tagore using the tradition of rakhi-tying to symbolise Hindu-Muslim unity.
Mamata quoted a couple of lines from a Tagore song, composed in 1905, to send across the message of amity.
"Banglar mati, Banglar jol, Banglar bayu, Banglar phol/ Punyo houk, punyo houk, punyo houk, hey Bhagoban," she recited.
A rough translation: "Bengal's soil, Bengal's water, Bengal's air, Bengal's fruit/ Be blessed, be blessed, be blessed, O Lord."
"The BJP is playing the Hindu-Muslim game in North 24-Parganas and South 24-Parganas too," Mamata said, before going on to narrate an example of amity.
She said that in Nandigram in East Midnapore, a Hindu family that was attacked by "BJP goons" took shelter in a Muslim home.
Mamata said: "The wife of Rabin Manna, our party worker from Nandigram who was beaten up by BJP goons, had called me. She told me she was sheltered by a minority family while those who attacked the family were BJP goons."
She extolled the spirit of communal harmony that Kazi Nazrul, Sri Ramakrishna and Swami Vivekananda had promoted.
"If you visit Belur Math, you will find a Muslim dargah there. I asked them the reason for having a Muslim shrine there. They told me it had been there since the beginning," Mamata said.
"Swami Vivekananda smoked tobacco offered by a Muslim," she added.
Sabuj Koli Sen, former officiating vice-chancellor at Visva-Bharati who is associated with the Ramakrishna Mission, fleshed out the anecdote.
"Swamiji was in Kashmir when he found a Muslim man smoking tobacco from a hookah. He immediately asked for a smoke from the same hookah," Sen told The Telegraph.
Trinamul sources said Mamata's all-out stress on communal harmony stemmed from her experience in Nandigram, where the BJP had pulled out the stops to polarise the electorate.
"Didi has understood the dangerous game being played by the BJP to wrest power in Bengal. So she tried to alert the people before the damage was done," a Trinamul leader in Hooghly said.