Dada-O-Dada
Everyone knows, when pushed to a corner, society will berate women for characteristics /roles/physiognomy/instincts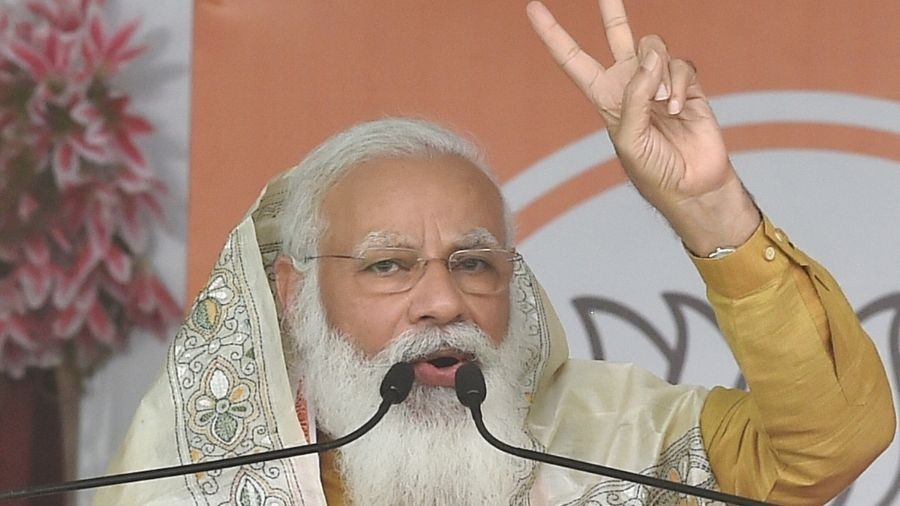 ---
Published 04.04.21, 12:54 AM
|
---
No, I don't agree with Mahua Moitra when she says the PM is catcalling the CM whenever he drawls "Didi-O-Didi". In this case, Narendra Modi is heckling a political rival and the rest is unfortunate culturally misplaced intonation. That does not, however, change the fact that in this frenzied grab for Bengal, our politicians have predictably and generously traded in gendered slights. Everyone knows, when pushed to a corner, society will berate women for characteristics /roles/physiognomy/instincts, typically in the absence of which you wouldn't be able to tell apart one gender from another. No less than the great Aristotle said in his Physiognomonics that some aspects of womanliness, such as her high pitched voice, can be equated with evil. In The Gender of Sound, Anne Carson writes, "Aristotle tells us… creatures who are brave and just (like lions, bulls, roosters, and the human male), have large deep voices."
All that leg work
More than 2,000 years later, BJP's Nandigram candidate Suvendu Adhikari feels the need to go beyond specific accusations against his former boss and say, "She uses filthy language for the Prime Minister. She is a 66-year-old aunty." Harping on the apparent threat of Nandigram turning into "mini-Pakistan", he refers to Banerjee as a "begum". Another BJP leader, Dilip Ghosh, remarked about the injured CM, "The plaster was cut… now she is displaying her leg to everyone… If you want to display your legs, why a sari, wear a pair of Bermudas so everyone can have a good look." Uttarakhand CM Tirath Singh Rawat too shamed an aam aurat not long ago for wearing ripped jeans. Adhikari and Rawat are middle-aged, but the 30-something Abbas Siddiqui of the Indian Secular Front also lashed out at actor-turned-TMC MP Nusrat Jahan, invoking not her absences from Parliament (27 per cent attendance in the Budget session) but her morality, as imagined by him.
Attila The Hen
Nancy Astor, the first woman member of the British House of Commons, was referred to by her colleague Sir Henry Channon as "a decapitated hen" and "the mad witch". British Prime Minister Margaret Thatcher had earned the nickname Attila The Hen. In the biopic The Iron Lady, the Opposition minister tells the House: "Methinks the Right Honourable lady doth screech too much." In real life Thatcher hired a voice coach. If talking women are a problem, women who keep their counsel are also not to be left alone. Goongi gudiya was the name given to Indira Gandhi by socialist icon Ram Manohar Lohiya. In 2019, an MLA from the ruling BJP in Uttar Pradesh said BSP chief Mayawati was "worse than a transgender". And Congress ally and PRP leader Jaydeep Kawade remarked about the BJP's Smriti Irani: "She wears a big bindi on her forehead and someone told me that when a woman changes her husband frequently, the size of her bindi keeps growing." The late Left leader Subhas Chakraborty had ridiculed Mamata's Maa-Mati-Manush slogan saying, "She is an infertile woman; what does she know about Ma."
PS
No, I don't agree with Mahua Moitra when she says the PM is catcalling the CM whenever he drawls "Didi-O-Didi". He is basically intoning a chauvinism that is so old that it is reflexive. But a woman's ear is quick to catch it, so will a consultant please tell him that 49 per cent of West Bengal's 7.2 crore electorate is women.