TMC chief mulls moving court
Bengal Polls 2021: Mamata hints at possible malpractices in counting of votes at Nandigram
She said the returning officer for the Assembly seat had reportedly communicated to someone that an order for a recount might put his life at risk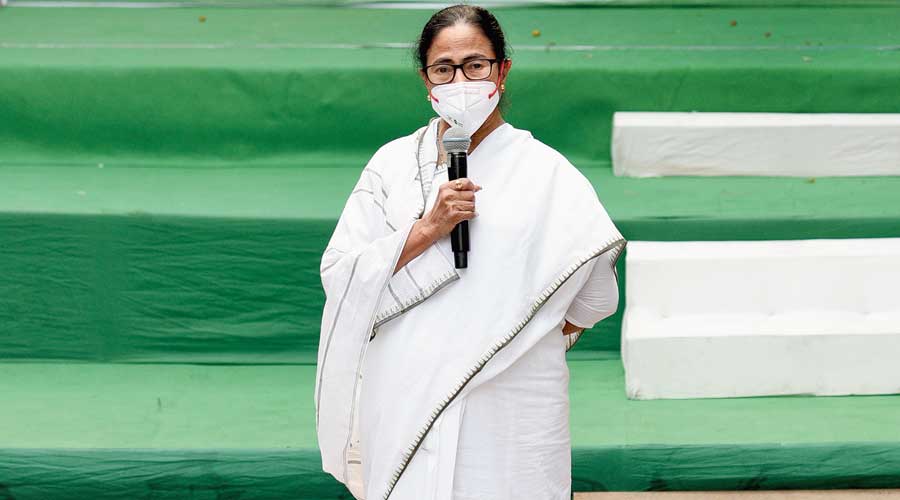 ---
|
Calcutta
|
Published 04.05.21, 03:24 AM
---
Mamata Banerjee on Monday said the returning officer for the Nandigram Assembly seat had reportedly communicated to someone that an order for a recount might put his life at risk.
The allegation hinted at possible malpractices in the counting of votes in the East Midnapore constituency from where Mamata lost to former party colleague Suvendu Adhikari.
"I received an SMS from someone in which the returning officer for Nandigram wrote to someone that if he allowed a recount, his life would be under threat," said Mamata, who showed a text message whose writer expresses the fear of losing his life if he orders a recount in Nandigram.
This newspaper tried to contact Kishor Biswas, deputy magistrate, Haldia, who was the returning officer for Nandigram but he refused to comment on the subject. The returning officer has the responsibility to decide whether a recount is warranted. On Sunday, the plea for a recount was rejected.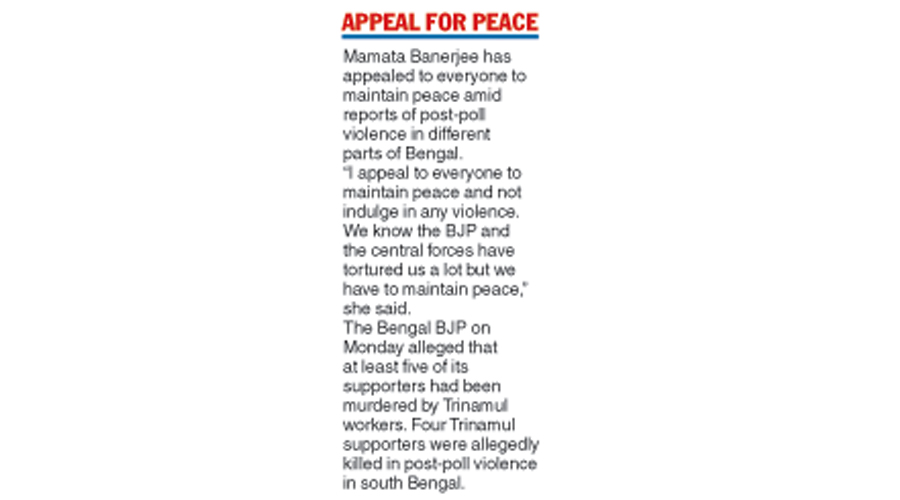 Multiple sources in the district administration said Biswas had told several colleagues and superiors about the pressure he faced on the day of counting.
Although it could not be confirmed who had sent the message, reports from the ground corroborated the chief minister's premise that something was wrong with the counting process in Nandigram.
"It's the legitimate right of a party to ask for a recount, but why wasn't it allowed?" Mamata asked during a news conference at her home on Monday.
Although Trinamul swept the Bengal polls by bagging 213 of the 292 seats where elections took place, Mamata lost from Nandigram. That there was some confusion over the counting process in Nandigram was clear last evening, with Suvendu's victory being announced after Mamata had been declared the winner initially.
"For four hours, the server was down (at the counting centre), there was a power cut…. The governor had even congratulated me. Suddenly everything changed," Mamata said.
"We had never seen such mafia-type attitude in Bengal," she said, adding that she would move court over the Nandigram result.
Mamata said her party supporters would continue to protest in Nandigram to ensure that the EVMs and VVPATs were kept separately, preventing tampering until the court heard the case.
Asked about the future of the Centre-state relationship, Mamata said she had always cooperated with the Centre on matters involving the people's interest.
Reacting to Prime Minister Narendra Modi's tweet in which he pledged all support for Bengal, Mamata said she was aware of the social media message but it didn't mean much to her.
"This is the first time a PM did not even call (after our victory)," Mamata said.