Bengal Polls 2021: Hill TMC chooses Bimal over Binay
Shanta Chhetri, Trinamul district president of Kalimpong, said that they have decided to support Gurung's faction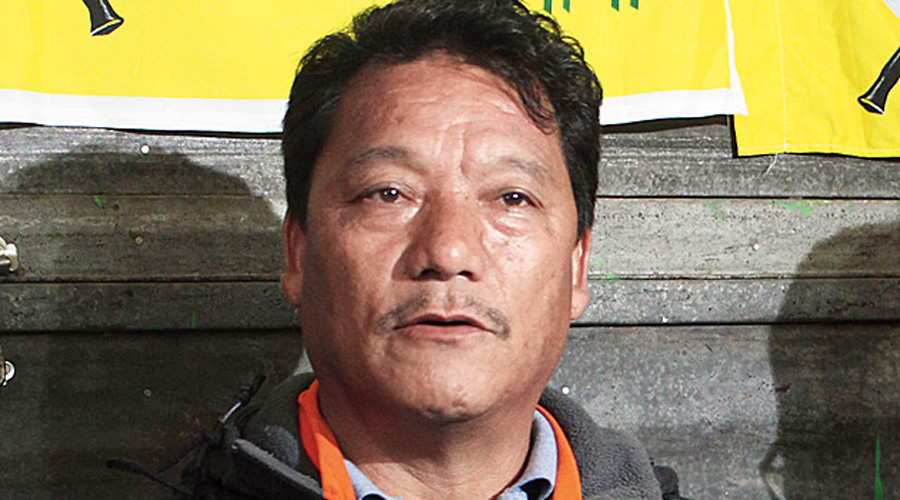 Bimal Gurung
File picture
---
Darjeeling
|
Published 04.04.21, 12:55 AM
|
---
The Trinamul Congress has decided to support the Bimal Gurung faction of the Gorkha Janmukti Morcha in what is being seen as a major snub to the Morcha's Binay Tamang-Anit Thapa faction that had stood by the ruling party when the hills were on fire following the Gorkhaland agitation in 2017.
Shanta Chhetri, Trinamul district president of Kalimpong, said: "We have decided to support Bimal Gurung's faction. Bimal Gurung has shown honesty and sincerity in supporting us and has been campaigning under our flag."
So far, the Trinamul "high command" had left three hill seats to their "friends", the two factions of the Morcha, with supposedly no clear-cut instructions on who the party cadres should back.
But now, Chhetri said their decision to back Gurung's party had been influenced by a number of factors, including Tamang's decision not to campaign with Trinamul leaders in the hills, Gurung's "sincerity to support Trinamul in the plains", feedback from Prashant Kishor's I-PAC team and the need to sustain Trinamul in the hills.
Darjeeling district (hills) Trinamul president L.B. Rai was present during the announcement.
While Gurung campaigned under the Trinamul flag, Tamang's party refused to involve the ruling party leaders in their campaign in the hills though they said they had no problem campaigning for Mamata Banerjee's party in the plains.
"We also have our party that we strengthened in the hills through a lot of hard work. Our grassroots people had started campaigning with Gurung faction leaders and now the leaders, too, will join Gurung's party in the campaign," said Chhetri, who is also a Rajya Sabha member.
Though the Trinamul leadership said the decision was taken by the "core committee" of the hill leadership, Chhetri later told The Telegraph that they had been influenced by the I-PAC team. "A meeting among our leadership, an I-PAC team representative and Bimal Gurung was held on Friday," Chhetri told this paper.
The Tamang camp, which received support from organisations backing 13 development boards in the hills, seemed taken aback. "Everyone has the right to decide...but am a bit surprised that they (hill Trinamul) decided to support those people who set the hills on fire over us who are trying to rebuild the place…. I am told that Trinamul's high command was not involved in this decision," said Anit Thapa.
A three-cornered fight between the BJP, Gurung camp and the Tamang camp of the Morcha is being anticipated and any support in a tight contest could be decisive. The BJP is being supported by the GNLF and the CPRM.
Some hill residents said Trinamul's decision not to support the Tamang camp could be a blessing in disguise for this faction because many in the hills saw this faction's understanding with Trinamul as a problem.