Bengal polls 2021: Calcutta High Court poser on rationale of case against Mithun Chakraborty
The judge was hearing the BJP leader's application for quashing of proceedings drawn up against him accusing him of spreading hatred through his film dialogues at rallies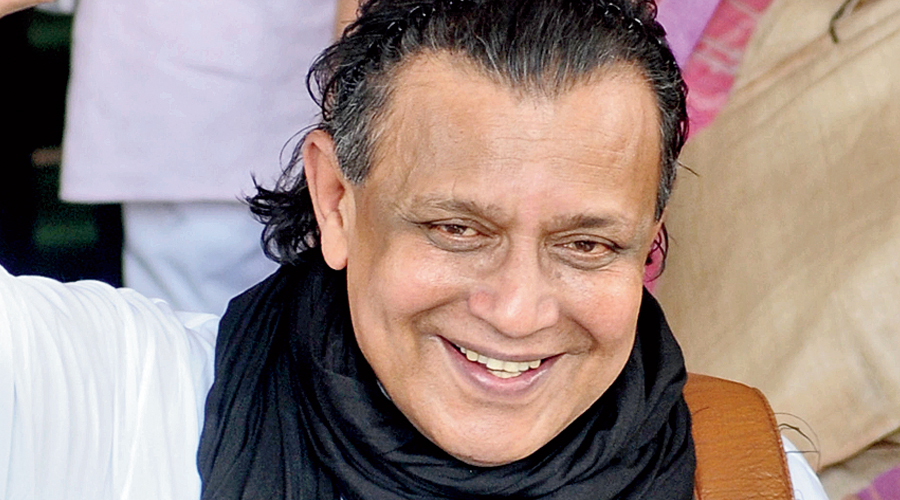 ---
Calcutta
|
Published 26.06.21, 01:35 AM
|
---
Justice Kaushik Chanda of Calcutta High Court on Friday asked the Bengal government's counsel to explain the rationale behind drawing up proceedings against actor and BJP leader Mithun Chakraborty in connection with his speeches during the Assembly elections.
The judge was hearing Chakraborty's application for quashing of the proceedings drawn up against him by Amherst Street Police accusing him of spreading violence and hatred through his film dialogues at BJP election rallies.
Justice Chanda's impartiality was questioned by chief minister Mamata Banerjee because of "his close association with the BJP since his days as a lawyer". The judge is hearing Mamata's petition challenging BJP candidate Suvendu Adhikari's victory from Nandigram and she wants Justice Chanda to recuse himself from a case.
During the hearing of Chakraborty's plea on Friday, the actor's lawyer said his client had merely delivered some dialogues in his film and sought the quashing of the case registered on the basis of a complaint by one Mrityunjoy Pal.
Public prosecutor Saswata Gopal Mukherjee said a superstar like Chakraborty, who had a large fan base, could spread hatred through his dialogues.
Justice Chanda wanted to know the rationale behind the case against the actor and asked the public prosecutor to say the dialogues that Chakraborty had reportedly said at his poll rallies. When lawyer Mukherjee quoted some of the dialogues, Justice Chanda asked: "How can film dialogues be the reason behind violence?"
Chakraborty's counsel said the dialogues were in the films that had received due clearance from the Censor Board.
The public prosecutor said all details pertaining to the case were still not available and that was why the actor had been served with a notice by police.
He urged the judge to fix the next hearing after Monday as the actor was supposed to send in his reply by that day. The court fixed the next date of hearing on July 2.
Earlier, the case against the superstar had been assigned to Justice Tirthankar Ghosh who directed Chakraborty to face interrogation by the police virtually. The high court administration, however, later reassigned the case for disposal to Justice Chanda.