Students end 13-day-long protest, Visva-Bharati mum
Calcutta HC had ordered pupils and others to cease all demonstrations inside or beyond the varsity campus immediately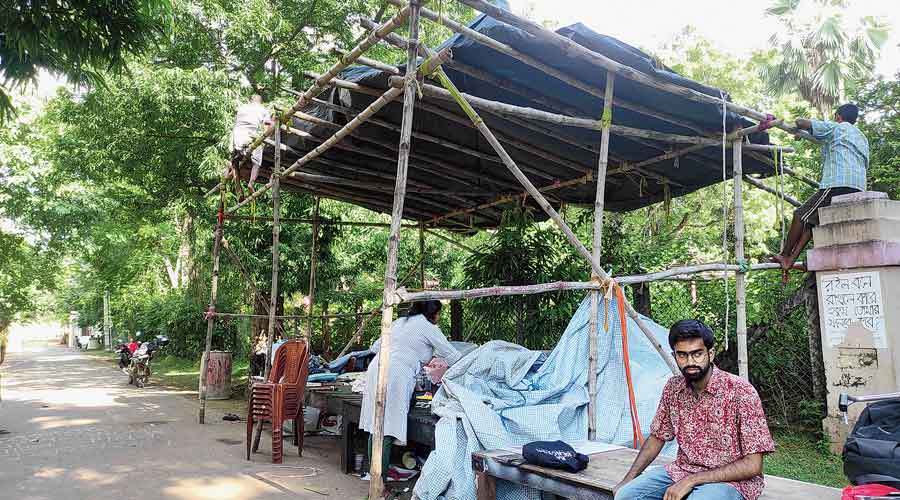 ---
Santiniketan
|
Published 10.09.21, 02:17 AM
|
---
Students on Thursday officially called off their 13-day-long demonstration here against Visva-Bharati vice-chancellor Bidyut Chakrabarty and dismantled the pandal at the protest site to comply with Calcutta High Court's interim order on Wednesday that stayed the varsity's move to rusticate three dissenting students.
Though the court in the same order allowed the three students — Somnath Sow, Falguni Pan and Rupa Chakraborty — to participate in academic activities, Visva-Bharati, till the filing of this report late on Thursday evening was yet to issue any such notice complying with Justice Rajasekhar Mantha's ruling.
Justice Mantha had ordered students and others to cease all demonstrations or protests inside or beyond the varsity campus immediately.
Student leaders said they promptly obeyed the court order. One said the moment the details of the order reached Santiniketan on Wednesday, a student and a teacher on hunger strike broke their fast.
Sow said they started taking down posters and banners on Wednesday, but the stage of the protest had to be dismantled by decorators and "that took some time". "We will approach the court if the varsity does not comply with (their part of) the order," said Sow.
He added that they had completely dismantled the pandal erected for the protest but "Visva-Bharati is yet to allow us to resume classes".
The trio on Wednesday night had sent emails to Visva-Bharati proctor Shankar Majumdar requesting him to allow them to join classes, but had not got a reply, Pan added.
On Thursday, vice-chancellor Chakrabarty held a meeting at his residence with senior varsity officials to discuss the future course of action. An insider said the VC spoke to lawyers, too. Neither proctor Majumdar nor varsity's officiating PRO Anirban Sircar took calls or replied to text messages from this paper on the varsity's current stand.
The rustication of the trio was preceded by a nine-month suspension during which they could neither attend classes nor sit for exams.
"Rupa (Chakraborty), a postgraduate student, could not take her exams for the last two semesters as she was suspended. I need to clear a fifth semester paper for my undergraduate course. We don't know if the varsity will allow us to take our exams," said Sow.
On the delay in responding to the emails from the students, varsity officials said the ball was in the proctor's court.
"Under norms, the proctor should issue an order referring to the order from Calcutta High Court and ask heads of the departments concerned to send links of the online classes to the three students," said a senior varsity official on condition of anonymity.