Struggle to find place for Devi in Bowbazar
2 spots rejected, all eyes on third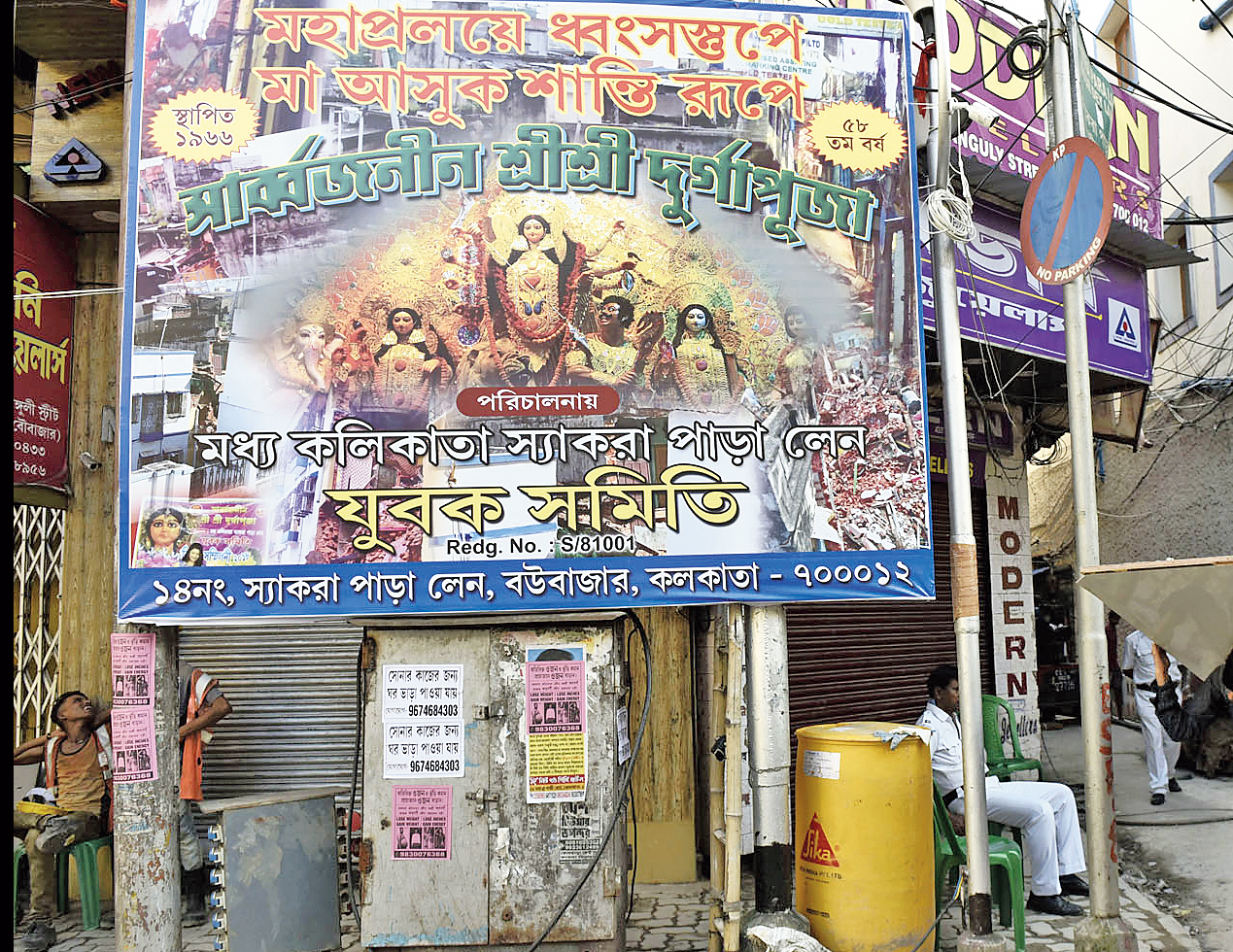 ---
|
Bowbazar
|
Published 24.09.19, 11:40 PM
---
Residents of a subsidence-hit neighbourhood in Bowbazar are struggling to keep their festive tradition alive and organise their Durga puja that started 58 years ago.
The site of the pandal now under rubble, the members of the Madhya Kolikata Syakrapara Lane Yubak Samiti are coming up with one alternative site after another and hoping to finally get the nod of the authorities.
Most members of the puja committee have been evicted from their homes following the subsidence triggered by East-West Metro work. Even the priest for decades has been dislodged from his house.
But all of them are eager to organise the puja. And all they want is a small space where the goddess can be worshipped, even if it means bringing in a readymade pandal only two days before Puja.
Durga is worshipped the traditional way in Syakrapara Lane. Till last year the idols would reach the neighbourhood from Kumartuli three days after Mahalaya.
Women would blow conch shells to welcome the goddess and her family at night. Chains of lights would hang from buildings standing cheek by jowl in the narrow lane.
The celebration over the next few days would bring together residents of Syakrapara Lane and the adjoining Gaur De Lane and Durga Pituri Lane.
Since September 1, over 600 residents have been evacuated from the three lanes after the subsidence resulted in cracks in their buildings. Over 70 buildings in the three lanes have been emptied of residents and the streets are now out of bounds for them.
"This is the only Durga puja for the residents of the three lanes in Bowbazar," said Ashis Sen, the secretary of the puja committee. "Since the disaster, women, children and others from the lanes have been requesting me to organise the puja at any cost this year."
The police had earlier agreed to allow the committee to worship the goddess on a small patch in Syakrapara Lane but later changed their mind on the ground that fire-fighters may find it difficult to reach the spot.
The organisers then chose a spot on the footpath opposite Syakrapara Lane but the police said a puja could not be held blocking a sidewalk.
The organisers later requested the police and KMRC for consent to hold the puja at a spot in Syakrapara Lane, facing BB Ganguly Street, where there are no buildings. "We will instal a pre-fabricated pandal two days before Puja and dismantle it a day after Dashami," Sen told KMRC officials. "Only residents of the neighbourhood will be involved. If required, we will issue badges to them. But let us organise the puja."
A KMRC official said: "We will assess the condition of the buildings and the risks involved before arriving at a decision."