Over 500 people from Rajbanshi community protest statehood call
Under the banner of 'Punyabhumi Khalisamari Janapad Basi' (residents of the pious land of Khalisamari), the daylong demonstration was held at a local school ground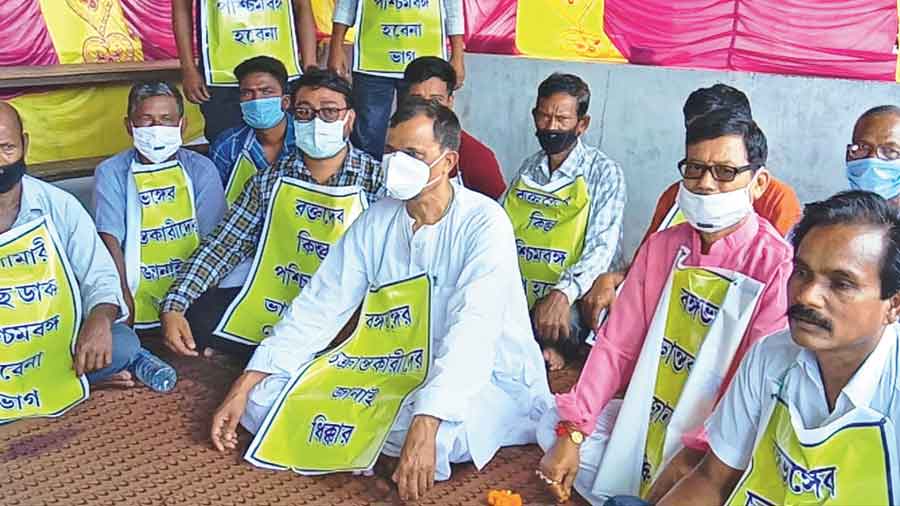 Rajbanshi community members protest at Khalisamari, Cooch Behar, on Sunday.
Main Uddin Chisti
---
Cooch Behar
|
Published 05.07.21, 01:03 AM
|
---
Over 500 people from the Rajbanshi community, including academics, intellectuals and Trinamul supporters, met at Khalisamari in Mathabhanga subdivision of Cooch Behar on Sunday to protest the separate statehood demand recently raised by a few BJP leaders like John Barla.
Khalisamari, a hamlet 55km off Cooch Behar town, is the birthplace of Panchanan Barma, the most revered statesman of the Rajbanshis.
Under the banner of "Punyabhumi Khalisamari Janapad Basi" (residents of the holy Khalisamari land)", the protest was held at a school ground. "In 1905, Panchanan Barma fought the partition of Bengal decided by the British. We are his followers and we protest against any further division of the state," Girindranath Barman, who lost as a Trinamul nominee this time, said. 
"Some BJP leaders are trying to foment tension in the region by raising the demand. We will fight together against it," said Girindranath, the Trinamul candidate of Mathabhanga Assembly seat, who lost to BJP's Sushil Barman.
For the past few weeks, the demand for separate state or Union territory of north Bengal is being raised by BJP's Alipurduar MP John Barla and others.
Though the state BJP leadership asserted that it is not the party's stand, BJP state president Dilip Ghosh, during his recent visit to the region, remarked that elected representatives had voiced "peoples' aspirations."
To counter this narrative, Trinamul has taken the strategy to engage prominent figures of the Rajbanshi community against the demand. Sunday's event was the first of its kind. "The protest at Khalisamari appear to be a strategy to stoke the sentiments of the Rajbanshis, who revere Panchanan Barma. There were a number of Trinamul leaders at the event. It is evident that Trinamul is trying to drive home the point that the saffron camp wants to divide the state, which can help erode the support base of the BJP," said a political observer.
Protesters said that in Khalisamari, the Mamata Banerjee government was developing a second campus of the Cooch Behar Panchanan Barma University and a museum of his memorabilia.
"The BJP is trying to halt such development work. Our movement against the demand to divide the state will continue," said Girindranath.