NGO helps kids relearn letters, maths in remote areas
The drive aims to bridge the gap in education — identified by multiple studies on impact of school closure on students since March 2020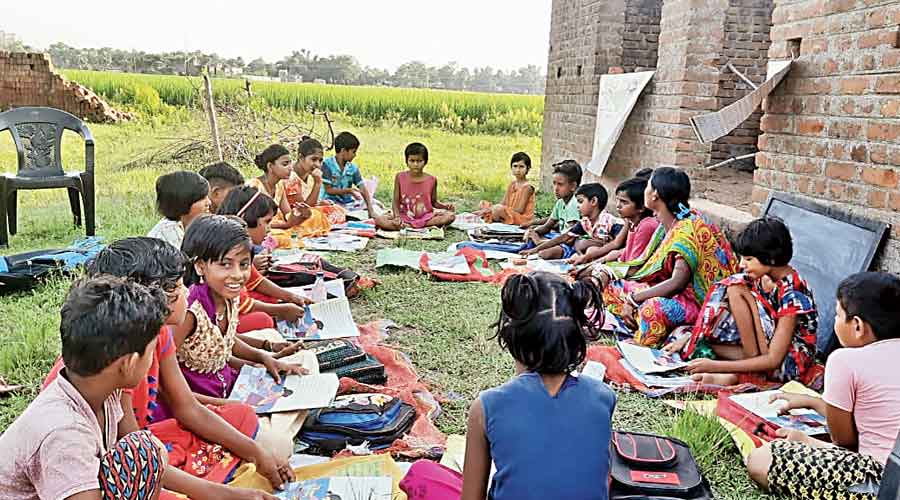 Children at a Paralekha centre in Nagari village, Birbhum
Telegraph picture
---
Bolpur(Birbhum)
|
Published 16.09.21, 02:19 AM
|
---
An NGO has opened at least 50 centres in remote areas of Birbhum, Bankura and Howrah districts involving hundreds of women to teach primary students, many of whom lost their basic knowledge in literacy and numeracy during the Covid-19 pandemic because of long absence from schools.
The drive by Liver Foundation, West Bengal, is named as Paralekha and aims to bridge the gap in education — identified by multiple studies on impact of school closure on students since March 2020.
The NGO has engaged women belonging to self-help groups for the task. 
"We have involved the women members of SHGs to teach the basics to those students, who have been detached from all forms of academic activities since the lockdown kicked in.… These women groups are in the field and we are getting good response from the parents of the students," said Abhijit Chowdhury, a renowned gastroenterologist and secretary of Liver Foundation.
There are around 21 lakh SHGs in Bengal and the organisers think that if the women members are included in providing basic literacy and numeracy training in remote areas, the students — belonging to marginalised families — can be taught.
Over two dozen centres have been opened at two remote villages in Birbhum under Nagori and Pathar Chapri gram panchayat areas. Similar centres are also functioning in Bankura and Howrah's Bagnan. Three NGOs — like Pratham, Vikramshila and Bagnan 1 Mahila Bikash Cooperative Credit Society — are helping out the women conduct their classes in the districts.
Chowdhury said as the initiative — covering over 1,000 students in three districts — seemed to be yielding the desired impact, Paralekha would be rolled out in other parts of the state. "Apart from the SHG women, we are also encouraging the mothers of the children to come to the centres and pick up basic teaching abilities so that they can teach the kids at home," said an organiser of Paralekha, which is targeting students in the age group of three to eight.
According to the plan, the women members of the SHGs are conducting 90-minute classes, including 40 minutes on literacy, 40 minutes on numeracy and 10 minutes on general awareness, cleanliness, good habits, social and emotional learning. The centres have been set up at local clubs or public spaces in neighbourhoods.
Jolly Roy, a member of an SHG at the Nagori village of Birbhum, said she was happy with the new assignment. "I have been taking classes of around 14 children in a tribal hamlet for the past three weeks. I was shocked when I found that even students of Classes II or III had forgotten basic numeracy or literacy skills. Many of them even forgot how to write. We are starting from the very beginning now," said Roy.