Still trapped in Metro tunnel: the courage to say sorry to Calcutta
40 people had to be taken to hospital after Thursday's fire; 3 suffered fractures, 2 in both legs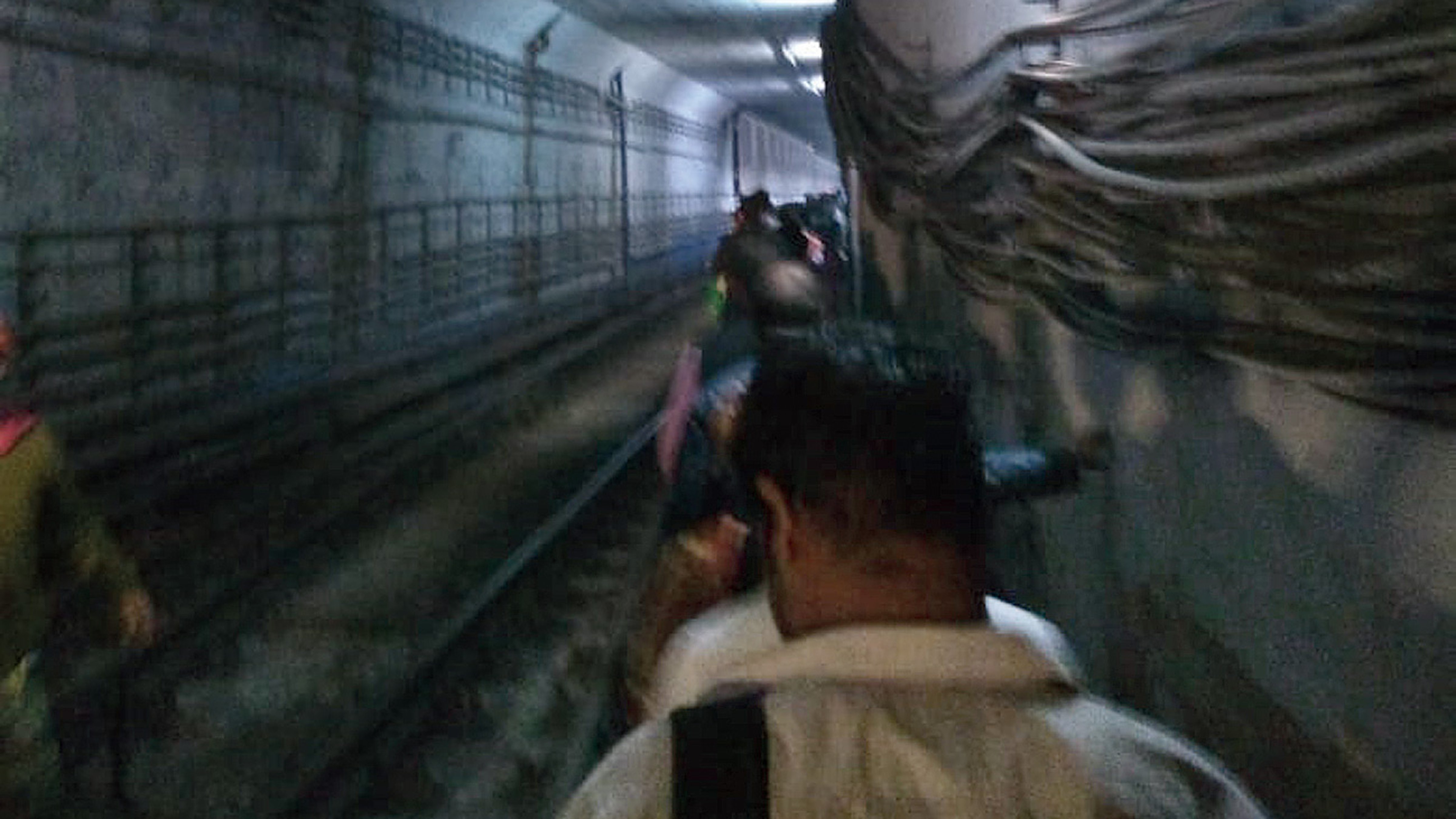 ---
|
Calcutta
|
Published 29.12.18, 09:58 PM
---
Singapore: A Singapore commuter train bumps into another standing at a station because of a signalling glitch in November last year. Around 30 people are injured but none grievously. The city state's transport minister apologises in public in the presence of the carrier's top brass.
London: Close to 1,000 commuters have claimed compensation in one year for incidents like tripping and falling. A passenger can claim compensation if delayed on the London Underground for over 15 minutes in instances where the circumstances were within the Tube authorities' control. A passenger is entitled to the single fare for the affected journey.
Calcutta: More than 40 people had to be taken to hospital after a fire involving a Metro coach on Thursday evening. Three suffered fractures, two in both legs.
All that the injured have received till Saturday night are visits from Metro officials and an offer to get them treated at a railway hospital.
"There was no assurance on compensation. When my son asked, the officials said they would let us know if there is such a possibility," said Ashok Dhar, a 56-year-old man who suffered fractures in both legs after jumping off the AC train to escape the panicked jostling and suffocation inside a power-less coach.
Dhar, who works with a private security agency, has been advised two months' rest. He said he earned about Rs 10,000 a month and was not sure about getting the full pay if he did not report for work. The two other passengers who suffered fractures are Manoj Bhagat, a tax consultant, and Manoj Sharma, a carpenter.
Till Saturday, neither of them had heard anything positive about damages.
Asked, a senior Metro official said on condition of anonymity: "People who have suffered grievous injuries would be entitled to compensation. But I cannot give a deadline or tell the amount."
In the Railway Medical Manual, "fracture or dislocation of a bone or tooth" qualifies as a "grievous injury".
Under revised rules that came into effect from January last year, the railways had doubled the compensation for death or injury in an accident.
The compensation for death, loss of limbs, facial disfigurement, loss of eyesight and loss of hearing is Rs 8 lakh now. Injuries have been categorised into 34 classes and include six types of fractures. The maximum compensation for a fracture is Rs 1.6 lakh ("fracture of major bone femur tibia both limbs") and the minimum Rs 64,000 ("fracture of major bone humerus radius ulna one limb").
"What about the trauma that we suffered? Someone should be held accountable for that too," said Chhandak Chatterjee, a Jadavpur resident who was in the coach behind the one that caught fire.
Chatterjee is no stranger to trauma on a train. On December 14, 2014, he was on the Poorva Express that jumped tracks at Liluah station, causing two coaches to slam against a platform and several more to tilt sideways before coming to rest. No serious injury was reported.
On July 31 this year, a 34-year-old woman slipped 40ft down through a railing-less stretch of a stairway leading to an overbridge near Liluah station. Madhuri Mishra has not received a single paisa in compensation despite requiring six surgeries. She still lies bedridden, with titanium screws and plates holding her body together.
The railways and the state PWD had quibbled over whose responsibility it was to repair the fencing.
"Our claim laws are archaic and need an overhaul. Institutions and agencies that run on taxpayers' money should be accountable to the public," said K.K. Banik, a Calcutta High Court lawyer who specialises in claims cases.
An apology in public does not take the time and paperwork that settling claims does. An expression of regret by the leadership also helps inculcate a work culture that promotes accountability and the fixing of responsibility.
Asked about the absence of any public expression of contrition from the utility, Metro spokesperson Indrani Banerjee said on Saturday night: "The incident was unfortunate. Our main focus was to rescue the trapped passengers. We have volunteered to bear all the expenses of those who underwent treatment."
An hour later, Satyaki Nath, the chief operations manager of Metro, told The Telegraph: "Our actions should speak louder than words. We have reached out to everyone injured and extended all possible help."