Mamata Banerjee spells out her inclusive agenda
BJP misleads people, we focus on development: Chief minister in Malda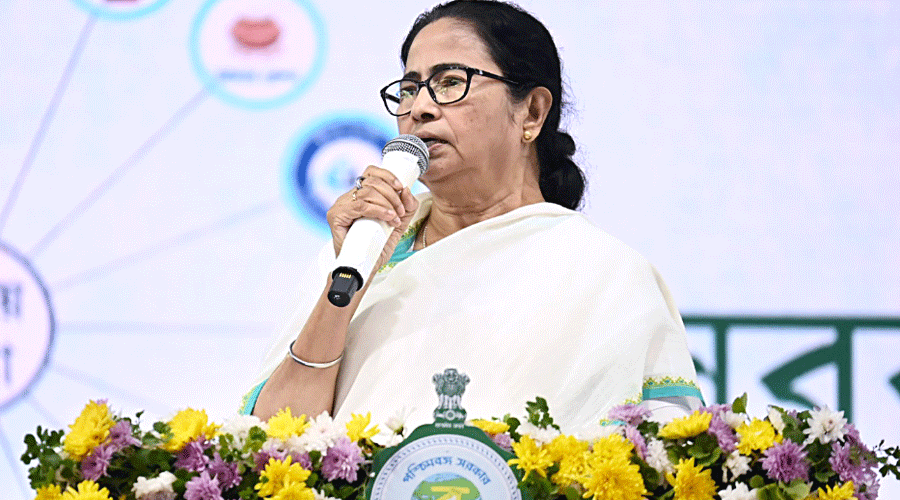 Chief minister Mamata Banerjee at the public distribution programme in Gazole, Malda district, on Tuesday.
Soumya De Sarkar
---
Siliguri/Malda
|
Published 01.02.23, 02:57 AM
|
---
Chief minister Mamata Banerjee on Tuesday underscored her government's inclusive approach towards the socio-economic uplift of people and hit out at the BJP-led central government for holding back funds for social welfare schemes.   
Speaking at a public distribution programme at Gazole in Malda, where some 45,000 people from the host district as well as nearby North and South Dinajpur had come, Mamata accused the Centre of bias.
"We have around 30 per cent minority population in the state.... We extend help to them so that they can progress in education and also for their socio-economic development. Those who are at the Centre, however, have stopped a number of scholarships for minorities and also engage agencies to arrest them," said the chief minister.
In Malda, the minority population is around 52 per cent. In neighbouring districts of North and South Dinajpur the figures are around 45 per cent and 24 per cent, respectively.
The chief minister, while elaborating on the array of schemes introduced by her government, also addressed other communities who live in these districts.
"The Matuas (originally from Bangladesh who settled in several parts of Bengal decades ago) are already the citizens of this country. Then why does the BJP flag the CAA and the NRC time and again? They are misleading people while we are focusing on development. They have stopped scholarships for the OBCs while we have introduced a new scholarship scheme for them. For the Scheduled Castes and Tribes, the Centre has not taken any initiative. Despite financial constraints, we are providing all possible assistance to them," she said.
Mamata also did not forget to mention the migrant workers from these districts. She stressed that her government always stands in their support.
She referred to a recent incident in Mizoram, where three workers from Malda district died in an accident.
"The Mizoram government didn't do anything for them. We are providing financial assistance to their families. In fact, you shouldn't go outside but work here," said Mamata.
However, it has been reported that many migrant workers in north Bengal who had returned home during the Covid-19 pandemic and lockdown, had again started leaving for their workplaces in other states in the last few months. Many had said that they couldn't get jobs in their villages under the Centre's 100 days' work scheme.
Mamata took on the issue head-on. "The Centre has not paid Rs 7,000 crore for the scheme. This year, not a single penny has reached us. They are just doing politics and have no intention to work for people's welfare. These days, they have started sending central teams here. We want to know, how many teams are sent to Uttar Pradesh, Madhya Pradesh and Gujarat when crimes and corruption are reported?" the chief minister asked.    
She picked up the issue of river erosion — yet another troubling issue in Malda and the neighbouring Murshidabad district — and said the Centre was not doing anything to address it.
"We will conduct a survey of vulnerable areas so that people who are set to lose their land and houses are shifted to safer places," said Mamata.  
At the meeting, the chief minister emphasised that her government was also focusing on infrastructure development. She inaugurated 162 new projects on which the state spent Rs 508.73 crore and laid foundation stones for another 262 projects worth Rs 676.47 crore.
"Our government is keen on developing infrastructure in these three districts," she said.
Cash aid
Chief minister Mamata Banerjee announced a compensation of Rs 2 lakh and a government job for a family member of the two women who lost their lives in a road accident on Monday night while on their way to the venue of her meeting on Tuesday.
Niyoti Sarkar, 55, a resident of Old Malda, and Saheli Hansda, 46, from Kaliaganj of North Dinajpur died when a bus in which they were travelling, overturned in Pandua of Malda.
The women were supposed to attend it as beneficiaries of social welfare schemes. Twenty-nine others travelling with them got injured in the accident.
Mamata also handed over compensation of Rs 2 lakh each to the wives of the three migrant workers who died in Mizoram.