Mamata Banerjee slams patient referrals
Glare on deaths during transfer to Calcutta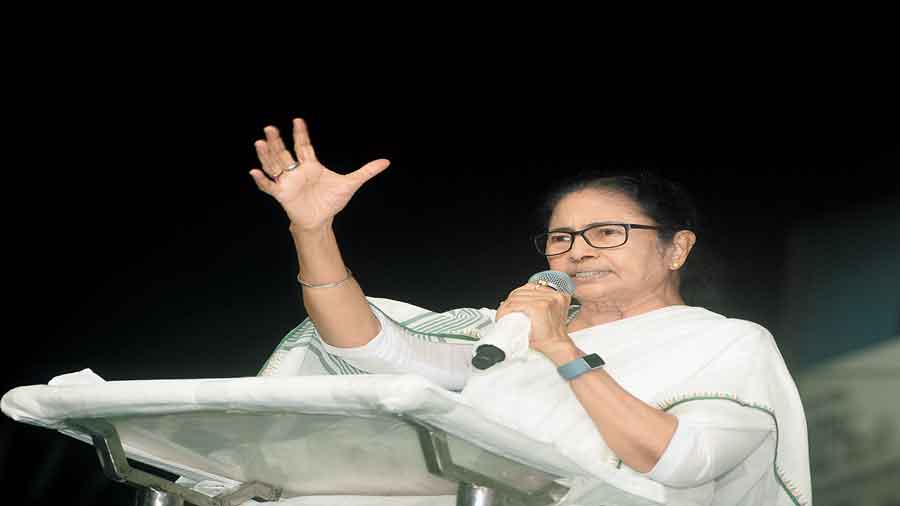 Mamata, who is also in charge of the health department, issued the directive during a meeting convened at Nabanna to review the medical infrastructure in Bengal.
File picture
---
Calcutta
|
Published 22.11.22, 05:21 AM
|
---
Mamata Banerjee on Monday lambasted district health officials and hospital authorities for the increasing trend of referring patients, even pregnant women, to medical institutions in Calcutta and directed a review of all referral cases to take action.
"They (doctors in district hospitals) are referring patients, even pregnant women, flagging them as critical cases. Some of these pregnant women are losing their lives before being taken to the operation theatre, because of their hectic journey of four-five hours to reach Calcutta. You should prepare a report on how many such mothers have been referred from the districts and how many lost their lives because of referrals," said the chief minister.
Mamata, who is also in charge of the health department, issued the directive during a meeting convened at Nabanna to review the medical infrastructure in Bengal. 
"We have to ensure that there is no negligence on our part. Negligence in health is a crime. If a patient or a mother dies because of a referral, the buck should stop with the doctor who had referred them," she added.
Health secretary N.S. Nigam attempted to pacify the chief minister, saying referral rates had come down. "Earlier our referral rate was eight per cent and now it is only 4.5 per cent. We would check every referral and the reason," he said. Mamata was not happy with the statistics and stressed the need for accountability. "You people (officials) should go and conduct surprise visits to the district hospitals. You may go in disguise and check the status of the rural healthcare system," she said.
She also asked the health officials to conduct counselling of doctors posted at rural and block hospitals on when a patient actually needed a transfer.
"If they get any critical patient, they should first contact the district or sub-divisional hospitals. The heads of those institutions would help them determine the hospital where they might be referred to," said Mamata.
Sources in the health department said Mamata's stricter stand on referrals was significant ahead of panchayat polls as there were reports from districts that a large number of poor people were being referred from local hospitals to Calcutta although they could easily be treated locally. Rural people usually go to government-run hospitals for free treatment.
When a patient is transferred to Calcutta, it becomes a challenge for the family to gather resources to first rent a vehicle for the transfer. 
The health department has an online system to record and monitor the referrals, but many officials in the districts claimed that much was done verbally and those informal referrals were not recorded.
"The chief minister gets inputs both from her health officials and public representatives at rural bodies. Since she came to power, she asked officials several times to reduce the rate of referrals from districts. Her government has set up at least 50 super-speciality hospitals across Bengal to provide better healthcare for rural people, but the referral issue was not handled properly," said a senior health department official in Calcutta.