Malda: Villagers bar political leaders' entry
According to residents, a road connecting two localities — Khoar More and 52 Bigha — had been in a dilapidated condition for over a decade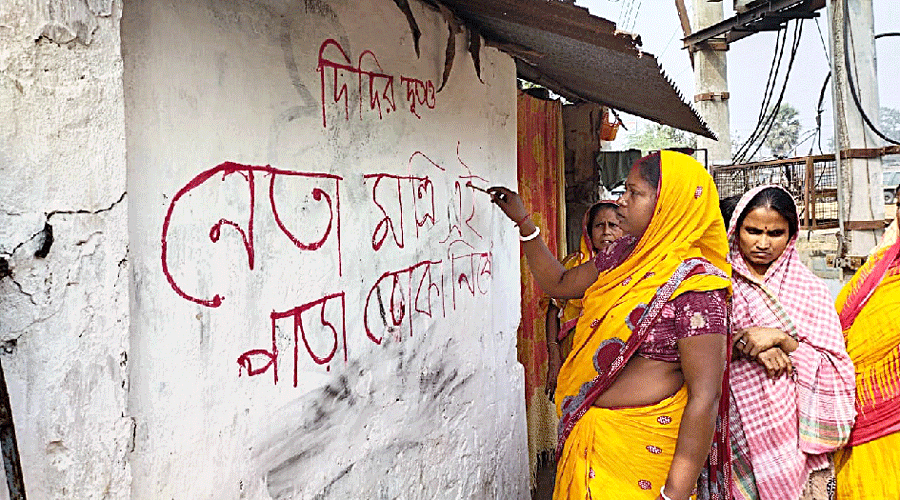 A woman writes graffiti on a wall at Pasipara village in Old Malda block on Monday, saying political leaders, ministers and 'Didir Doots' are barred from entering their area.
Soumya De Sarkar
---
Malda
|
Published 25.01.23, 03:17 AM
|
---
Residents of four villages in Malda district put up posters on Tuesday, declaring that "Didir Doot (Mamata's emissaries)" and all other political leaders were barred from visiting their areas unless their demand for a road was met.
This is the second time in the past 24 hours that villagers have come up with such assertions in the district.
On Monday, similar messages were seen at another village of Malda, where a group of women vowed to resist the entry of "Didir Doot(s)" and political leaders because they had failed to meet their longstanding demands.
On Tuesday morning, residents of Bagbari, 52 Bigha, Krishnanagar and Gopalnagar villages, which are in the Trinamul-run Kazigram panchayat of Englishbazar block, alleged that a road connecting two localities — Khoar More and 52 Bigha — had been in a dilapidated condition for over a decade.
"We knocked on the doors of the panchayat and other authorities concerned. Leaders of different political parties came and promised that the road would be rebuilt. It is almost 12 hours now that the road has not been repaired. That is why we have no interest to entertain the political leaders even if they are messengers of the chief minister," said Pankaj Mishra, a villager.
Many other residents of the villages endorsed Mishra. They mentioned that today, the posters have been put up so that political leaders stay away from their hamlets.  
Yesterday, women dwelling at Pasipara, a village under Mangalbari panchayat in Old Malda block came up with wall graffiti. They mentioned that "Didir Doot(s)", leaders and ministers should abstain from visiting their area and also resorted to demonstrations.    
"Enough is enough. We are thronged with problems. No proper road, no pure drinking water....... We are also human beings but political leaders do not consider us to be ones. As the panchayat elections are ahead, they want to meet us and give false assurances. We don't want to see them at our doorsteps," said Jyotsna Chowdhury, a demonstrator.
The trend, political observers said, is nothing new in Malda. Yesterday, ATM Rafikul Hossain, the sabhadhipati of Malda Zilla Parishad andPrativa Singh, a member, had to virtually retreat from a locality during a visit as residents resorted to protests.
 District Trinamul leaders have construed the episodes as "spontaneous expression of people '' which cannot be made in BJP or Congress-ruled states.
"People are coming up and speaking of their problems. Our leaders will speak to the people where such posters or graffiti have been put. We believe our political contenders have misled these people," said Subhamay Bose, districtTrinamul spokesperson.
ISF leader arrested for 'vandalism'
Calcutta: Prominent ISF leader Sheikh Feroz was arrested by police on Monday night for his alleged involvement in vandalising at least three Trinamul party offices and torching one in Bhangar during the spate of clashes that occurred last Friday and Saturday.
Police sources said Feroz, named in the FIR lodged by Trinamul, was identified after scanning CCTV footage. He was absconding since Saturday night. Acting on a tip-off, a Kashipur police team arrested Feroz from Bijoynagar market and took him to Bhangar leather complex police station.
The ISF leadership condemned the arrest as an instance of the police "appeasing the ruling party".
Trinamul leader Hakimul Islam alleged that the ISF was trying to unleash terror in Bhangar and the police were justified in the arrests of MLA Nawsad Siddique and Sheikh Feroz.
SUBHASISH CHAUDHURI