Kalyani students caught in the middle of union bombs
At least four students of Kalyani College suffered serious injuries on Friday after getting caught in a bomb duel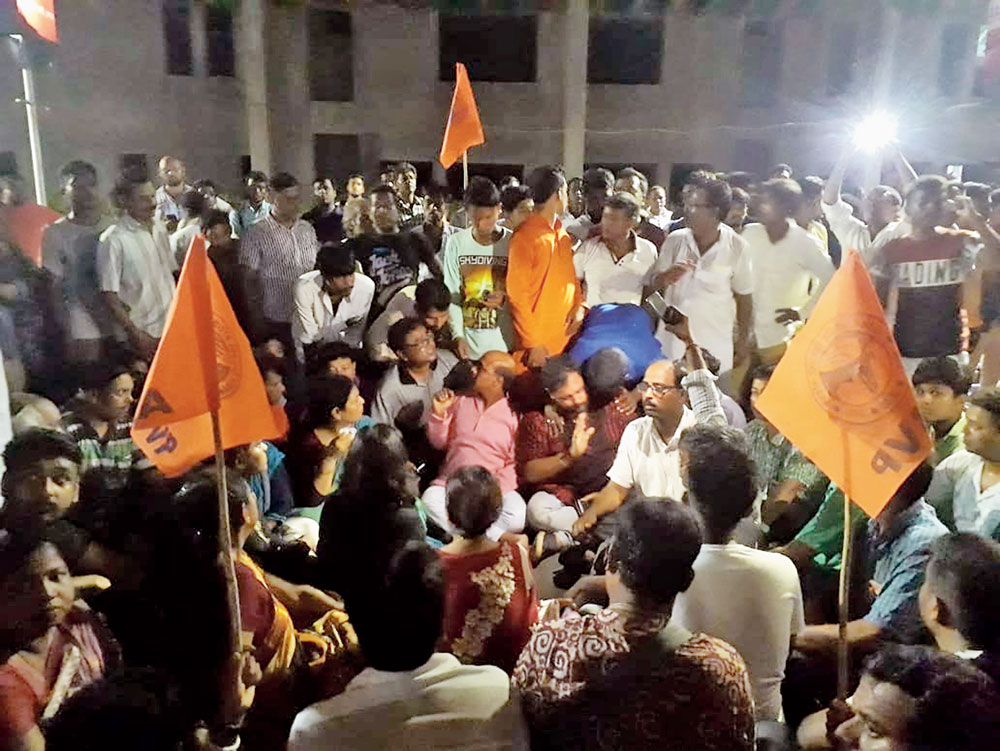 ---
|
Kalyani
|
Published 19.07.19, 07:54 PM
---
At least four students of Kalyani College in Nadia suffered serious injuries on Friday after getting caught in a bomb duel between activists of unions backed by the RSS and the Trinamul Congress.
One of the students, Tarak Haolader, was left with a gaping wound and broken bones on his left thigh after being hit by a bomb. Late in the night, the first-year student was being operated on at a private hospital in Calcutta.
Three other students — Rahul Mandal, Pritam Biswas and Akash Biswas — suffered splinter injuries and are receiving treatment at Jawaharlal Nehru Memorial Hospital in Kalyani.
While second-year student Rahul was hit by splinters in his heels, his batch-mate Pritam was left nursing injuries to the right palm.
ABVP and TMCP leaders accused each other of unleashing violence on the campus and lodged police complaints.
After the clash, ABVP and BJP supporters blocked an arterial road in front of Kalyani police station from 4pm to 9pm alleging inaction on TMCP "atrocities".
The protesters left after the BJP MP of Bongaon, Shantanu Thakur, met them.
Sources said ABVP and TMCP activists had got involved in altercations several times during the day over wooing those who had come to seek admission, prompting the police to rush to the campus to bring the situation under control.
However, fresh trouble broke out around 3.30pm, when a group of ABVP supporters allegedly started removing TMCP flags from the campus, prompting the student wing of the Bengal ruling party to retaliate.
The TMCP and the ABVP accused each other of bringing in goons from outside to foment trouble.
The TMCP's Nadia unit president, Sourik Mukherjee, said: "When our supporters tried to prevent the ABVP activists from removing our flags, they called in outsiders who were waiting outside the campus."
"A large number of goons hurled stones from the railway tracks nearby, while several others entered the campus and threw bombs in front of the police, sparking panic among students who had come to seek admission…. The situation turned worse soon," he added.
The BJP's Nadia south district organising president,
Manabendra Roy, said: "TMCP activists had been threatening our supporters since morning. They turned violent when our activists started protesting.
"They called in anti-social elements from outside, who assaulted our activists and hurled bombs in which four students were injured."
Roy and the ABVP leader of the college, Nayan Biswas, claimed that the four injured students were supporters of the union.
Haoladar, however, denied the claim. "I have no political affiliation," he said.