ISI dream & love for mathematics
GD Birla student death spurs discussion on mental health of schoolchildren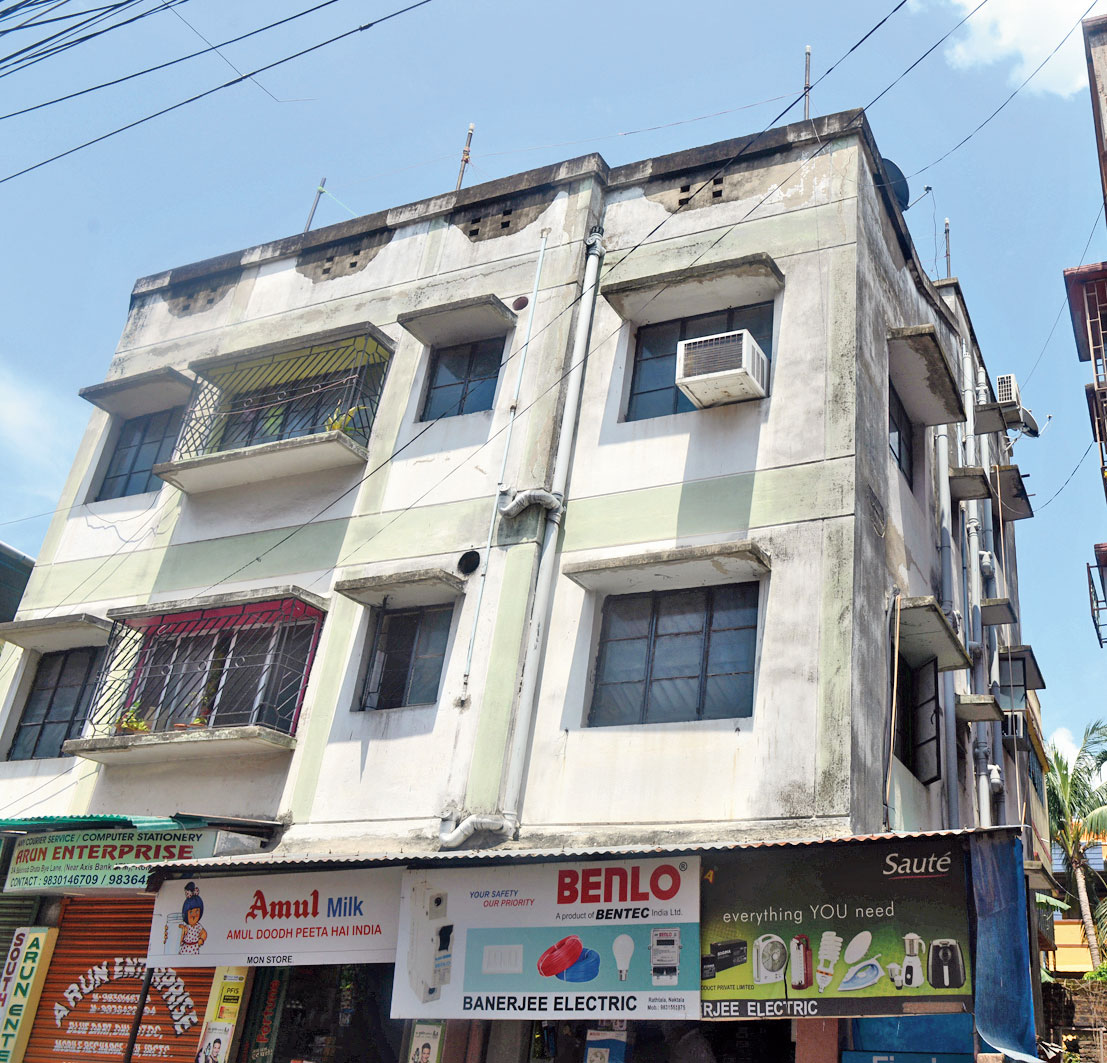 The building in Baishnabghata Bylane where Krittika Paul's family lives.
Picture by Bishwarup Dutta
---
Calcutta
|
Published 22.06.19, 07:35 PM
|
---
The Class X student of GD Birla Centre of Education who is believed to have suffocated herself to death in the school washroom on Friday loved mathematics and had been preparing for the Indian Statistical Institute entrance examination for the past two years.
Krittika Paul, a "brilliant student" according to her teachers, enrolled at a coaching centre near Indian Statistical Institute (ISI) in Baranagar in Class VIII, police have learnt from the family. She was passionate about making it to the institute and would slip into depression when she failed to solve a problem, Krittika's mother is believed to have told a vice-principal of the school.
"She was preparing for the pre-Regional Mathematical Olympiad from Class VIII. Initially, she would come for the 3.30pm class on Sunday afternoon. But of late, she had shifted to the 11.30am classes," a teacher at the Baranagar coaching centre told Metro.
Several present students of the ISI take classes at the coaching centre for ISI aspirants.
The teacher, however, said Krittika was not under any pressure. "There was no pressure on her. She was a brilliant student anyway. You cannot force anyone to prepare for ISI unless he or she loves mathematics. We always thought she had the potential. Not everyone has it," the teacher said.
Krittika went to the coaching centre with her parents last Sunday and attended class as usual.
A neighbour who recently passed Class XII and now studies in a reputable south Calcutta college also went to the same coaching centre.
"She was a few years younger than me. I knew she was a very good student. I had seen her a couple of times but we rarely spoke," he said.
Ananya Chatterjee Chakraborti, the chairperson of the West Bengal State Commission for Protection of Child Rights who visited Krittika's school on Saturday, said that the girl's mother had told a vice-principal about her daughter's obsession with making it to ISI.
"Krittika's mother told the vice-principal that she was so obsessed with ISI that she would solve maths problems through the night. Whenever she failed to crack a problem, Krittika would slip into depression and cry. She had a fixation with admission to ISI," Chakraborti said.
The chairperson of the child rights watchdog wondered why Krittika's parents had not informed the school about this obsession earlier. "In that case, the school could have engaged its counsellor," she said.
The reason why Krittika ended her life, however, remained a mystery to the investigators till Saturday.
Krittika had left for school as usual with her mother on Friday morning with no signs of any unusual behaviour.
"Her mother and I often chat through our kitchen windows. Yesterday, too, she greeted me in the morning after she had dropped Krittika in school. She was asking me about my grandchild," said a neighbour who lives in a building in Baishnabghata Bylane next to the apartment block where Krittika's family lives on the third floor.