In Birbhum, footballers lose, but win hearts
The applause was for a bunch of girls who had to apparently brave abuse and assault to keep their boots on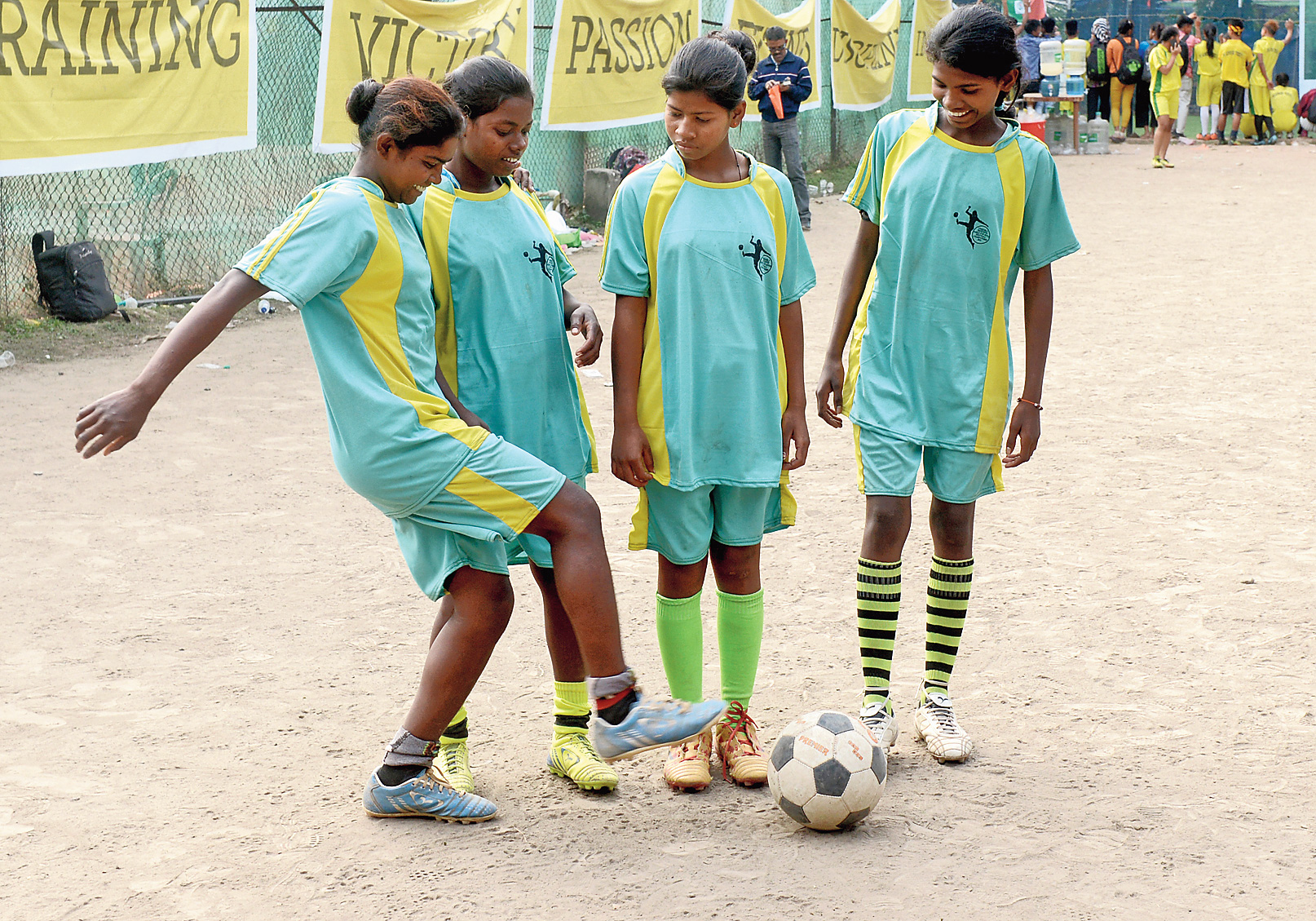 (From left) Sumita Hembram, Didimani Baske, Sihwanti Hansda and Arpita Murmu from Birbhum at the Punjab Club ground on Saturday.
Bishwarup Dutta
---
Calcutta
|
Published 15.12.18, 09:23 PM
|
---
A football team had just lost a match. But many around the field clapped for them on Saturday afternoon.
The applause was for a bunch of girls from Birbhum who had to apparently brave abuse and assault to keep their boots on.
The team from Mallarpur, a Birbhum pocket around 200km from Calcutta, lost in the pre-quarter final of an under-18 five-a-side tournament in Calcutta on Saturday.
On November 5, a group of 30 men stormed the ground in Garia village where these girls were playing football, practising for the tournament, an NGO official accompanying the team alleged.
The girls live at a home run by the NGO, Uthnau, in the village. The mob demanded they stop playing football. Whey they refused, they were kicked, punched and slapped, the official claimed
The girls, aged between 13 and 16, tried their best to fend off the attackers but were outnumbered. The NGO shelter, too, was ransacked.
"I was slapped in the face and kicked so hard that I could not sleep properly for the next few days," Didimani Baske, 16, said.
Arpita Murmu, 14, said she had a swollen wrist.
The mob included the local panchayat chief, Sonamoni Murmu, the NGO official who is the supervisor of the home, alleged.
Panchayat chief Dilip Kisku told Metro: "I was not present there. I don't know of any violence.
"The girls are from neighbouring villages. Girls in our village don't play football."
The block development officer (BDO) of Rampurhat I, in whose jurisdiction the village falls, said: "I have not received any such report. I will have to check."
The tournament that hosted this team is unique. It has been billed as the first mixed gender football tournament in the city.
Each team has three girls and two boys playing and a girl and a boy in the reserve. The mixed-gender tournament aims to bridge the gender divide in society, Richa Daga of Fun Pickle, the organisers of the tournament, said.
The matches are being played on the synthetic turf of the Punjab Club ground on Ballygunge Circular Road.
Several nuggets emerged from more than 20 outstation teams that had turned up, like the Manipur team members who saw a train for the first time while on their way to Calcutta.
But the indomitable spirit of the Birbhum girls seemed unparalleled.
"The men would visit our parents and threaten them," Sihwanti Hansda, 15, said. "But I like playing football. I want to represent my country and not work as a labourer."
Most of the villages in the vicinity are poor. Villagers work on the fields and work as daily labourers at stone crushing units in the off-season. The children are mostly first generation learners and many even work at the quarries.
Kunal Deb, the man behind the NGO, said: "These men are against female empowerment.... The girls are often made to work at the quarries. They refuse to work as daily labourers after getting more exposure. That would hurt the pockets of these men who take money from the quarry owners."