Ganga eats away 250 Malda homes in eight hours
Since morning, the residents started shifting their belongings to safer places as the river menaced at the homes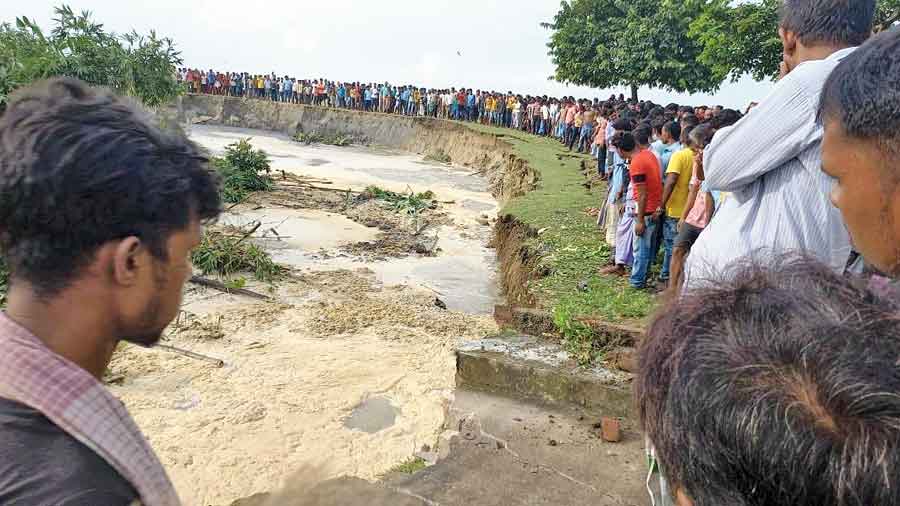 Villagers stand near the eroded bank of the Ganga in Birnagar 1 panchayat on Sunday.
Soumya De Sarkar
---
Malda
|
Published 13.09.21, 12:57 AM
|
---
At least 250 families living at different villages located on the left bank of the Ganga in Kaliachak 3 block of Malda have become homeless after the swollen river gobbled their houses since Sunday morning.
Sources said the Ganga had been steadily eroding land at villages like Chinabazar, Sarkartola, Ghoshtola and Mukundatola — all in Birnagar 1 panchayat of the block — since Sunday morning and reached close to a high school and the panchayat office.
"The erosion started around 6am and continued till late afternoon. Within a span of around eight to 10 hours, the river swallowed around 250 houses. We have never witnessed such a devastating situation before and it seems these villages will eventually be wiped out from the district's map," said Kunti Roy, a local resident who lost her home on Sunday.
Since morning, the residents started shifting their belongings to safer places as the river menaced at the homes. Many were seen hiring vehicles to load furniture and other items to shift to adjoining areas.
"We had taken shelter at the high school. If the erosion continues in such a manner, the school building would not be safe anymore. We would have to spend nights under open sky then," said Anjana Roy, another erosion victim.
Sources said the river had already eaten away the guard wall of the school and also a portion of the area where the National Thermal Power Corporation dumps fly-ash.
Chandana Sarkar, the Trinamul MLA of Baishnabnagar under whose constituency the affected areas are located, visited the villages and spoke to the homeless families.
She also asked the villagers to be alert and stay at safe places to avoid any casualty because of the erosion.
"The situation is grave at some of the villages. I have spoken with the block administration to ensure that all the affected families are provided with necessary relief materials and shelters," the MLA said.