Drive to restore Sunderbans mangroves
The Bengal government on World Environment Day launched a restorative plantation drive to cover around 1,200sqkm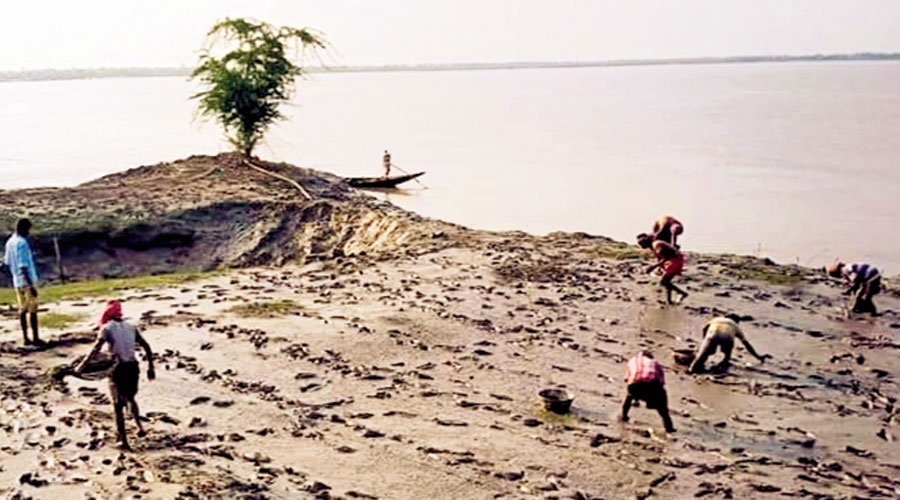 ---
---
Members of the Paschim Banga Vigyan Mancha, one of the largest people's science movements in India, along with a group of students, have launched a plantation drive in the Sunderbans to restore the mangroves damaged by Cyclone Amphan.
The group of activists attached to the Paschim Banga Vigyan Mancha's Ichchamati Vigyan Kendra, and Alter Life, a voluntary outfit of Calcutta University students, have since last week planted around 30,000 mangrove saplings along the 1.5km stretch adjacent to the thatched dam of Dansa river in the Rupmari-Bererchak area of Hingalganj in North 24-Parganas.
"This is just the start. We will continue to plant saplings to restore mangroves of the Sunderbans that suffered damage," said Pradipta Sarkar, secretary of Ichchamati Vigyan Kendra.
According to a state government assessment, about 28 per cent of the Sunderbans, which spans over 9,630sqkm on the Indian side, was damaged by Amphan that hit Bengal on May 20.
In a bid to restore the green mangrove, the Bengal government on June 5 or World Environment Day, launched a restorative plantation drive in the Sunderbans to cover around 1,200sqkm.
Members of Paschim Banga Vigyan Mancha planted saplings of mangroves such as kalo bain (Avicennia alba), peyara bain (Avicennia marina), hargoja (Acanthus ilicifolius), kewra (Pandanus odorifer), geoan (Excoecaria agallocha), garan (Ceriops decandra), and sundari (Heritiera fomes).
Plants belonging to the mangrove variety are shrubs or small trees that grow in saline or brackish water. With their dense network of roots and vegetation, they filter and trap sediments and other pollutants in water and help prevent erosion of banks.
Sarkar said what they were doing "goes beyond a mere plantation drive". "We have involved villagers to ensure the trees are taken care of."
Partha Mukherjee, president of Ichhamati Vigyan Kendra and Alter Life member Bipul Gyne, said their focus was plantation near thatched dams adjacent to the rivers in the Sunderbans to prevent soil erosion and flooding.
A state forest department official welcomed the initiative. "Cyclone Amphan caused major damage to mangroves, with Patharpratima and Kultali in South 24-Parganas and Hingalganj in North 24-Parganas being worst hit. We (the government) planted around 4 crore mangrove saplings. But this is not enough. Any initiative to restore the mangrove through plantation is welcome."