Tea planters write to authorities for help to prevent the spread of Covid
Association seeks virus tests in plantations like in the neighbouring state of Assam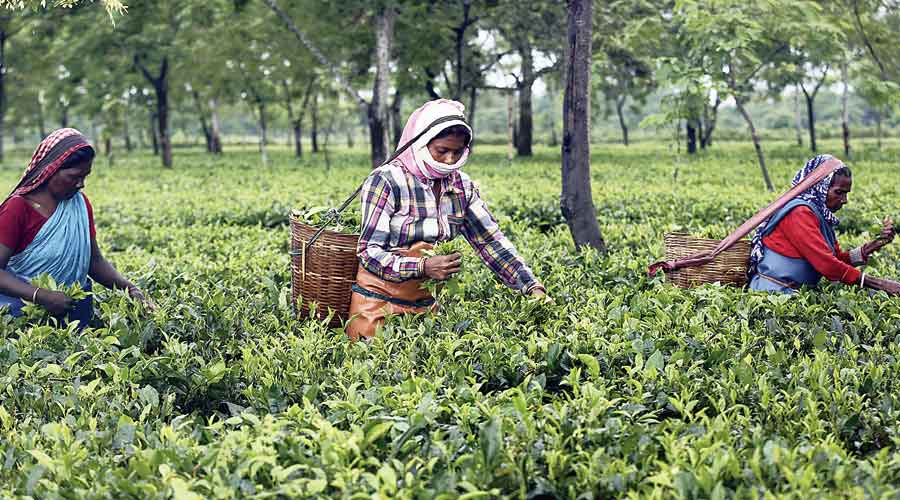 A few days back, the govt of Assam had announced that Covid tests of tea workers and their families would be conducted in tea gardens
File picture
---
Alipurduar
|
Published 01.08.20, 01:11 AM
|
---
Two associations of tea planters in the Dooars have written to authorities for help to prevent the spread of Covid-19 in the brew belt.
While the Dooars Branch of Indian Tea Association  wanted complementary distribution of medicines to boost immunity of tea estate workers, the Dooars branch of the Tea Association of India sought Covid-19 tests in plantations like in the neighbouring state of Assam.
A few days back, the government of Assam — the state that is the largest producer of tea in India — had announced that Covid tests of tea workers and their families would be conducted in tea gardens.
Sanjoy Bagchi, the secretary of DBITA, said they had written to the chief medical officer of health, Alipurduar, mentioning that during the current monsoon, tea workers had got exposed to flue, cough and cold and in view of the fear about the pandemic, there was an apprehension that they might get infected with the Covid 19 pathogen.
"This is also leading to mass absenteeism. That is why we have asked for the supply of immunity booster medication packages like vitamin tablets for them and their families. Such medication would also keep them safe," said Sanjoy Bagchi, secretary, DBITA.
So far, the number of coronavirus positive cases has remained low in the Dooars tea belt.
R.A. Sharma, the secretary of TAI, Dooars branch, sent a letter to the district magistrate of Alipurduar. "We feel there is a need to carry out Covid tests of tea workers. A similar initiative has been taken in Assam and such an exercise can curb the spread of the pandemic," said Sharma.