CMDA cleans water body
The solid waste was removed by noon, but not the oil and ghee that worshippers had poured into the water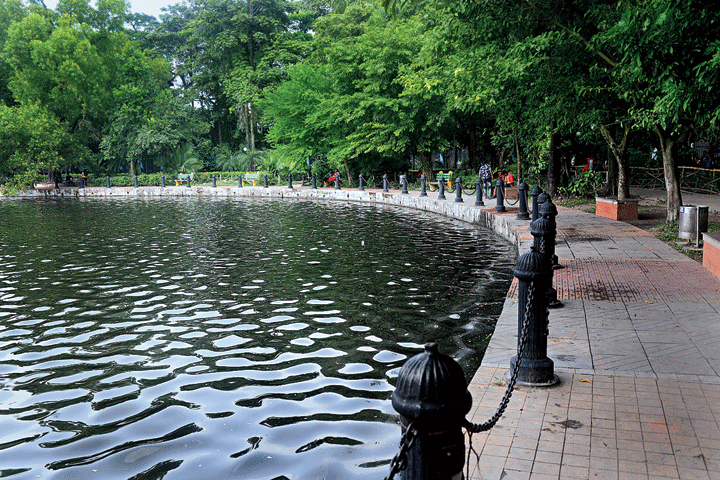 The water body after it was cleaned by CMDA workers. Pictures Biswarup Dutta
Biswarup Dutta
---
Calcutta
|
Published 03.11.19, 09:12 PM
|
---
The Calcutta Metropolitan Development Authority (CMDA) cleaned on Sunday most of the mess left behind by those who performed Chhath Puja at Rabindra Sarobar.
Cleaners worked in two phases — on Saturday night and again on Sunday morning — to remove flowers, lamps, plastic bags and other waste, left behind by worshippers, from the water body and the green around it.
An official of the CMDA, the custodian of the 192-acre Rabindra Sarobar compound, said cleaners had to be deployed on Saturday night to prevent the waste from floating towards the middle of the lake. "Had that happened, removal of the waste would have been tougher," said a CMDA official.
"As soon as the worshippers left late on Saturday, our cleaners entered the water and started removing the solid waste."
The second phase of cleaning started around 8am on Sunday, again immediately after the worshippers starting leaving.
Men and women wearing CMDA jackets got down into the water and collected plastic bags, flowers and other materials using nets.
Men with brooms and grass-cutters cleaned the walkways and green patches. Where the brooms failed to remove something from the grass, the cutters were used to cut off the grass before the garbage could be removed.
"Around 100 cleaners were deployed. While one team cleaned the walkways, metalled roads and green patches, the other got down into the water. The Calcutta Municipal Corporation, too, chipped in with a team of cleaners and vehicles meant for carrying waste," another official of the CMDA said.
The solid waste was removed by noon, but not the oil and ghee that worshippers had poured into the water.
Scientists said oil and ghee would form a layer on the water, cutting off oxygen supply from the air and killing fish and insects that live in the water.
The National Green Tribunal had in 2017 banned puja and other community events such as picnic on the Sarobar premises, in an attempt to protect the water body and the surrounding green from pollution.
A committee headed by the Bengal chief secretary was formed to take necessary action to prevent Chhath or any other puja at the Sarobar.
The CMDA had announced that the Sarobar compound would be shut from Friday midnight to Sunday noon to comply with the tribunal's order.
But the authorities did little to enforce order when worshippers started breaking locks on some of the gates of the compound.
Chief secretary Rajiva Sinha is supposed to appear before the National Green Tribunal in Delhi on Monday in connection with an air pollution case, officials of the Bengal government said.
"We are not sure whether the tribunal would raise the issue of Chhath at the Sarobar.... We have very little to defend ourselves when the matter finally comes up before the tribunal," the official said.