Civic reins on tribal hamlets at university
Pearson Pally, Kaligunge and Bali Para earlier did not come under any gram panchayat or municipality as the land belonged to Visva-Bharati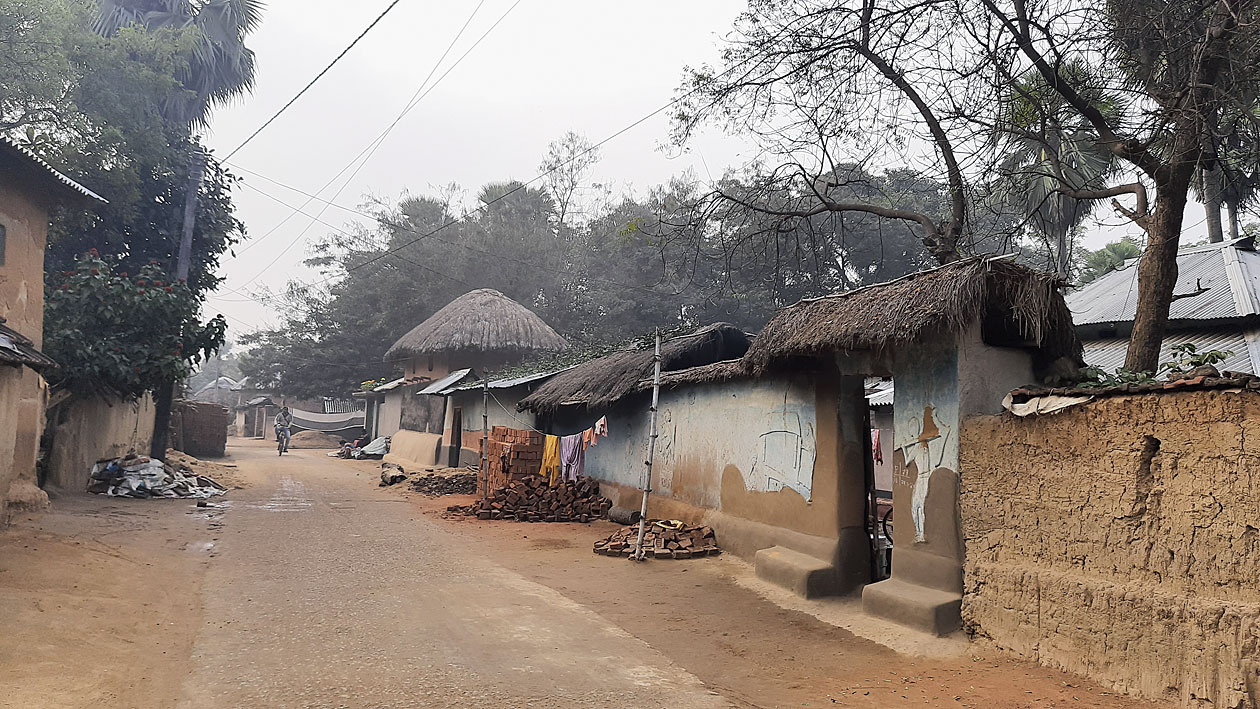 ---
---
Three tribal hamlets that were set up on Visva-Bharati's land during the days of Rabindranath Tagore will become a part of Bolpur municipality once the Bengal government gives its nod to the move.
The hamlets — Pearson Pally, Kaligunge and Bali Para — did not come under any gram panchayat or municipality as the land belonged to Visva-Bharati, an autonomous central university. However, the Ruppur gram panchayat ensured basic civic amenities, including street lights, for the tribals.
"We have already received the 'no-objection' letter from Visva-Bharati and the proposal to bring the three hamlets under Bolpur municipality has been sent to the state government. We will carry out the delimitation work shortly with the help of land department officials. Those areas will become part of the civic body very soon," Birbhum district magistrate Moumita Godara Basu said.
Sources said there were around 500 tribal families with a population of around 2,500 residing on the varsity land since early 1900s.
The forefathers of the tribal families had come to Santiniketan in search of work from Churdih, which was then in Bihar and now in Jharkhand. The three hamlets are located between the varsity's Sriniketan and Santiniketan campus and occupy around 50 acres.
"Tagore gave them land to live here along with jobs. They became inhabitants of Santiniketan since the time of Rabindranath. The tribal families are part of the Santiniketan family. They used to work in the Ashrama and Tagore loved them much. When Tagore's mud house Shyamali was built, these tribal families formed the main workforce," said Swapan Kumar Ghosh, an author and a resident of Santiniketan.
The residents of the three hamlets said it would be better for them to be included within the municipality area as that would help them access civic amenities such as drinking water, street lights, garbage cleaning service and proper drains.
"As we don't come under the panchayat or the municipality, there is none to take our responsibility. We have never voted in rural or civic polls. Visva-Bharati does not provide us with any amenities either. It will be good for us if we are included within Bolpur municipality," said Lalu Murmu, a Toto driver who lives in Pearson Pally.
Officials said at least 100 residents of the tribal hamlets worked at the varsity and many of their forefathers were also employees of Visva-Bharati.
"My father used to work at Kala Bhavan and now, I am working in Visva-Bharati's central office. I heard that my great grandfather had come from Jharkhand in a group and Tagore gave them land to build houses. Veterans said Tagore often visited these tribal hamlets," said a varsity staff and resident of Bali Para.
"We live on Visva-Bharati's land and have no right to land. If the state government brings us under the municipality, we will also get land rights from the government," he added.
Senior varsity officials said a process to bring the hamlets under Ruppur gram panchayat had started in 2008.
"The government had taken an initiative to bring the hamlets under the local gram panchayat but it was put on hold because of certain technical reasons. The state government had approached us for no-objection and we have given our nod. It will be better for both the varsity and the residents of those hamlets because we have found several encroachments had come up there," said a senior Visva-Bharati official.
the letter of Visva-Bharati's registrar written to the district magistrate reads: "....the tribal residents of the aforesaid 3 (three) hamlets in Visva-Bharati campus may now be provided civic services by bringing them under the jurisdiction of the (extended) Bolpur municipality, if the government so wants. However there should be a basic demarcation of the area brought within municipal jurisdiction, so as to segregate that area from the rest of our campus."