Five months on, food on board flights
The catering units had become non-functional towards the end of March when commercial planes had stopped flying because of the pandemic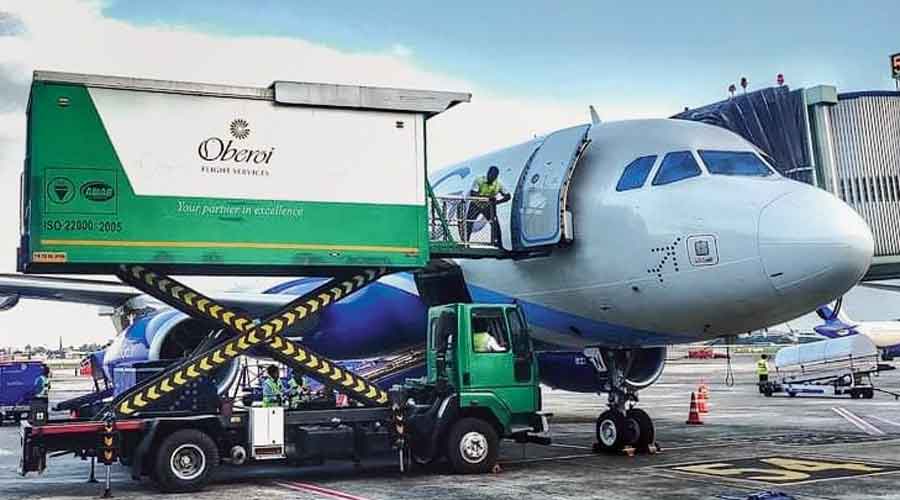 Food packets being loaded in an aircraft on Sunday
Telegraph picture
---
Calcutta
|
Published 15.09.20, 01:44 AM
|
---
The flight catering units at Calcutta airport have started preparing meals again after more than five months as airlines have resumed serving food on flights.
The Oberoi group's flight catering unit started loading meals on flights from Sunday, an official of the unit said. Taj Sats Air Catering Ltd, the in-flight catering unit of the Taj group, has started preparing food for passengers again from
September 8.
On Sunday, Oberoi Flight Services and Oberoi Airport Services loaded more than 200 boxes of sandwiches and close to 150 packets of pre-booked meals on domestic flights of airlines, including IndiGo and SpiceJet.
At one point, it used to provide 4,000 to 5,000 meals every day, an official said.
The flight catering unit of the Taj group has been providing close to 750 meals since September 8, mainly to Air India flights. On Monday, it provided close to 2,000 meal boxes to Air India flights because the airline operated two big aircraft to Delhi, the catering unit official said.
Before the pandemic, the unit had been provided about 6,000 meals every day, he said
While the Oberoi unit serves hot meals for lunch and dinner, the Taj unit provides snacks that include kathi rolls, patties, cakes and biscuits.
"The bigger meal boxes that contain kathi rolls, along with other items, are for longer flights to cities like Delhi and Mumbai," the catering unit official said.
The flight catering units became non-functional towards the end of March when commercial planes had stopped flying because of the pandemic. Even after domestic flights and international evacuation flights resumed, the civil aviation ministry hadn't given permission to serve meals on board because of safety reasons.
The Telegraph had in June reported that the Oberoi catering unit had written to the Centre, urging it to allow serving meals on board.
"Our factory has been closed since March 20 and there is no revenue. The earnings of several operating companies — especially those in hospitality, aviation and non-grocery retail — have been hit because of business restrictions in the country triggered by the pandemic," A. Imam Malik, unit head/head-corporate affairs, Oberoi Flight Services and Oberoi Airport Services, had written in an email to the ministry on June 15.
"You are earnestly requested to kindly withdraw the restriction on in-flight catering facility to passengers on domestic airlines."
The unit has close to 200 employees. Now, more than 100 have returned to work.
Recently, the Centre allowed serving meals on board.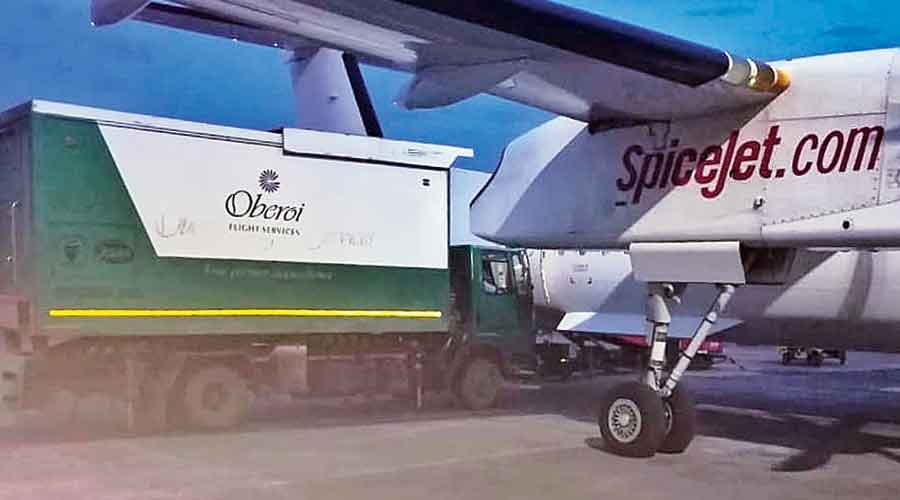 "Having meals on board is part of the flying experience. Most passengers are having the meals," an official of Vistara, a full service carrier, said.
The airline has been operating four flights, two each to Mumbai and Delhi, thrice a week.
About 30 per cent of passengers on Indigo's flights out of Calcutta are pre-booking meals while booking tickets, an IndiGo official said.
If flights from Delhi, Mumbai, Chennai, Ahmedabad, Pune and Nagpur are allowed to operate daily to Calcutta, the catering units would have more business, according to officials of such units.
Now, flights from these cities are allowed thrice a week because the state government has requested the Centre for such an arrangement because of the high number of Covid patients in these cities.
On Sunday, 103 flights took off from Calcutta with 16,159 passengers, according to airport officials.
These include flights to the six cities. The number of passengers goes down below 10,000 on other days, an official said.