Isher, who started out from city, is no more
The economist was 74 and is survived by husband Montek, and sons Pawan and Aman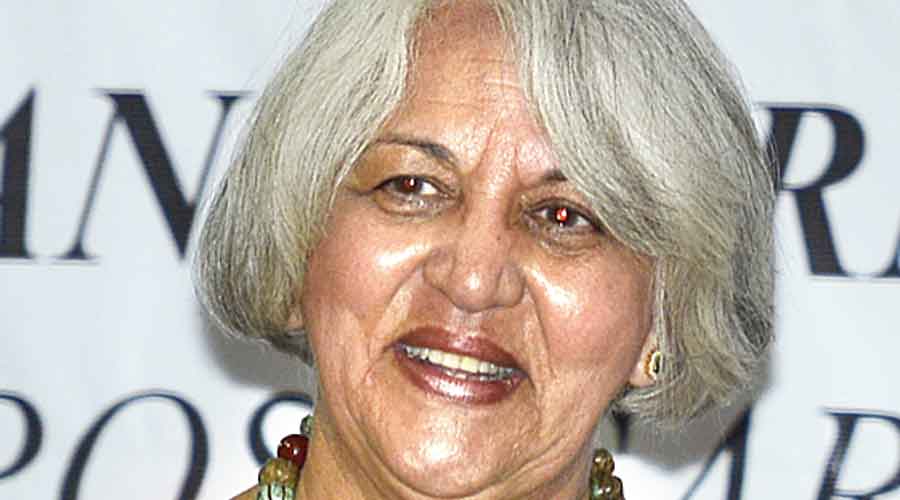 Isher Judge Ahluwalia
Telegraph picture
---
Calcutta, New Delhi
|
Published 27.09.20, 02:09 AM
|
---
Isher Judge Ahluwalia, noted economist and chairperson emeritus of the Delhi-based think-tank Indian Council for Research on International Economic Relations' board of governors, has passed away. She was 74.
As an economist, Isher Ahluwalia spoke and wrote with authority and compassion on a wide range of subjects: from the rapid industrial development in a few city-centric clusters that threatened to widen the urban-rural divide to a deeper, macro-economic assessment of the reforms that India adopted in 1991.
She had a master's in economics from the Delhi School of Economics (DSE)  followed by a PhD from the Massachusetts Institute of Technology (MIT) and a fairly long stint with the International Monetary Fund in Washington.
But it had all started out in Calcutta.
Her parents lived in a rented flat close to Purna Cinema in the Bhowanipore area. She was a student of Shri Shikshayatan School and had stood eighth in the overall rankings for the state school board examinations in 1962 — which earned her a scholarship to Presidency College where she studied economics. She was part of the Presidency mentor group.
"We are deeply saddened by the news of her untimely demise,"  said school secretary-general Bratati Bhattacharyya.
A Padma Bhushan awardee, Isher Ahluwalia wrote two major books: Industrial Growth in India: Stagnation Since the Mid-Sixties and Productivity and Growth in Indian Manufacturing.
Bengal finance minister Amit Mitra described Isher Ahluwalia as an outstanding economist who was meticulous in her work.  Two years senior to him in the Presidency College and Delhi School of Economics, Isher Ahluwalia and Mitra had collaborated on many projects.
"I did not know her in Presidency but our paths must have crossed. When I joined DSE, I got to know of her but she had left for MIT in the US. We worked on many things thereafter, notably at a trans-continental project when I was in Virginia, US and she was in Delhi in the winter of 1991," Mitra recalled. 
Mitra said he was stumped when Isher Ahluwalia met chief minister Mamata Banerjee at Writers' Building years later. "She spoke in fluent Bengali with the CM. I was completely taken aback. I had known her for years but I didn't know," Mitra said.
Ramprasad Sengupta, emeritus professor of economics at Jawaharlal Nehru University, had studied with Isher Ahluwalia at Presidency College. 
 "We joined Presidency College in 1962," he said. "She was an extremely studious and polite lady at that time. Legendary teacher Bhabatosh Datta was our head of the department. She was one of the best in the class at Presidency. She was among the first five or six of the class. Isher had a good career after completing graduation. Her real shine came out when she was doing research and was producing books after completing her doctorate at MIT.
"I still remember when she was doing her PhD she came on a trip to Calcutta and came to me because she needed some data collection work on Indian Macroeconometric behaviour.  She was a noted economist."
Malabika Sarkar, who was the vice-chancellor of Presidency University till May 2014, worked with Ahluwalia when she was part of the Presidency mentor group.  She said: "Isher was a dynamic member of the group not just during discussions but also always available for help and advice from Delhi whenever needed."
Isher Ahluwalia is survived by husband Montek, and sons Pawan and Aman.