Metro reduces weekday trips
284 trains from today till 'further notice'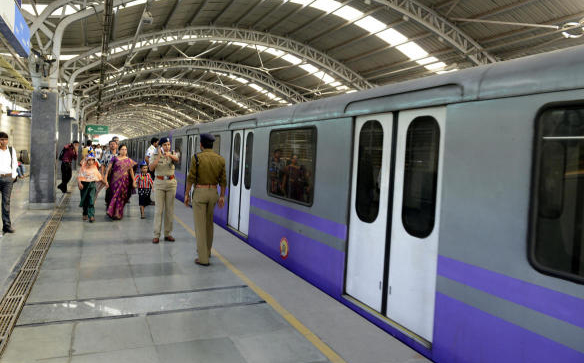 Metro Railway uses 20 rakes every day and keeps two on standby.
The Telegraph file picture
---
Calcutta
|
Published 27.01.19, 07:41 PM
|
---
Metro Railway will run 284 trains on weekdays instead of 300 from Monday till further notice, potentially affecting peak-hour service frequency by around two minutes.
The reason cited by the transport lifeline for reducing the number of trains is a speed restriction on trains entering and leaving Esplanade because of tunnel-boring operations for the East-West Metro project. The restriction could be in force till the pair of tunnels between Esplanade and Sealdah are completed.
"We will run 284 trains instead of 300 from Monday to Friday till further notice," Indrani Banerjee, the spokesperson for Metro Railway, said. "The timings of the first and last trains remain unchanged at 6.45am and 9.55pm."
The unofficial buzz is that the number of trains in a day is unlikely to be restored to 300 before the four rakes that arrived from the Integral Coach Factory in 2017 are included in the fleet. These rakes had flunked multiple trials over 18 months before being cleared in December. But Metro Railway still needs the Railway Board's green signal to deploy them.
The speed of trains entering or leaving Esplanade had dropped from 25kmph to 10kmph last November, when a narrow tunnel had been created 8.25m underneath the station and 21m below road level to cut a series of steel joists standing in the way.
The boring machines for the two train tunnels will go under Esplanade station on February 4, according to an official of the Kolkata Metro Rail Corporation, the implementing agency for the East-West Metro line that will connect Sector V with Howrah Maidan through the Hooghly.
The renewed speed restriction of 10kmph from Monday will be applicable to all trains entering and leaving Esplanade station. "We estimate that a couple of minutes will be lost on every ride. Trains will reach almost every station late and it will be very tough to run 300 trains every day," a Metro official said.
In November, trains moving slower than usual along the Esplanade stretch had led to a "cumulative delay" that Metro Railway found difficult to manage. Frequent disruptions in service had been reported during that period. "We want to avoid a similar situation again," the official said.
Overcrowding because of reduced frequency is another challenge for Metro Railway. "Even if a train is late by half a minute at each station, it means 8-10 minutes will be lost on one trip. Since some trains get cancelled every day, there is a further chance of disruption," the official pointed out.
The average number of trains has lately been between 290 and 295. The reduction of trains to 284 will increase the gap between a pair by a couple of minutes.
Metro had reported on January 16 about the deployment of four new AC rakes getting delayed because of the fire that broke out on December 27 on a train built at the Integral Coach Factory. The train caught fire between Rabindra Sadan and Maidan stations.
The Commissioner of Railway Safety had cleared the new rakes for deployment through a communication to the Railway Board on December 10, but the Railway Board is apparently having second thoughts after the accident.
The directorate of metropolitan transport projects in the Railway Board would earlier decide when to deploy a new rake.
Metro Railway uses 20 rakes every day and keeps two on standby. The train that caught fire in December has not been used since. The electrical department, which is in charge of maintaining rakes, is struggling to provide two standby rakes every day, an official said.