Binay camp counters Bimal with roads
Gurung's physical entry into hill politics after a gap has increased the political temperature this winter.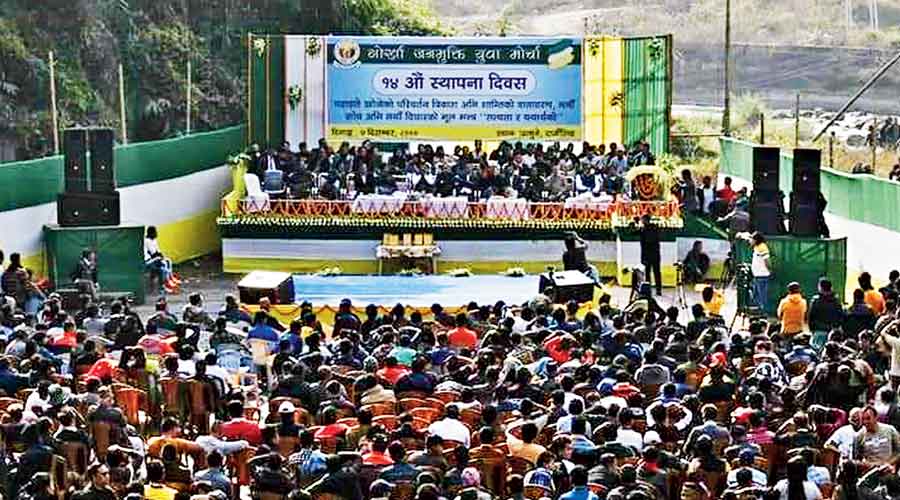 ---
---
Anit Thapa, general secretary of the Gorkha Janmukti Morcha (Binay Tamang faction) and GTA chairman, on Monday laid the foundation stones of three roads in Sukhiapokhri block while his youth wing held a meeting at Bimal Gurung's stronghold Jamuni, a day after Gurung's political homecoming in the district after three-and-half years.
Gurung's physical entry into hill politics after a gap has increased the political temperature this winter.
Thapa's activities of the past one week suggests that the Binay Tamang-Anit Thapa camp now seem to be looking at a mix of development work with political activities to fortify the constituency ever since Roshan Giri, general secretary of the Morcha's Gurung camp held a public meeting in Kurseong last Sunday.
In the past one week, Thapa inaugurated the Gorkha community hall at Kurseong, laid foundation stones of two other roads at Longview tea garden in Kurseong and one at Gopaldhara tea garden in Mirik and also directed his party supporters to organise rallies including a signature campaign to demand a separate subdivision of Pedong-Algarah in Kalimpong district.
At Sukhiapokhri, where Tamang was also present at the event, Thapa while laying the foundation stones of three roads for an estimated budget of Rs 11 crore touched on Sunday's Gurung's rally in Siliguri.
"What has Bimal Gurung done since 2007 (since the party was formed)?" questioned Thapa.
"He talks about the vote results (Lok Sabha and Darjeeling Assembly byelection). People had not voted for Bimal Gurung but for Gorkhaland," said Thapa who criticised Gurung for being on the run since the Gorkhaland agitations in 2017.
The BJP, supported by Gurung's faction and other hill-based parties, had won both elections. In fact, Tamang lost the Darjeeling Assembly bypolls.
Thapa added that he would reveal more during their "mega rally" at Sukna on December 13.
Many observers see the Sukna rally as an attempt to counter Gurung's homecoming rally at Siliguri on Sunday. While Gurung addressed the Siliguri rally on Sunday, Thapa was present at a football tournament final at Kurseong.
"The Binay Tamang camp seems to be using all resources available with them to keep their camp intact," said an observer.