Estimated 1.6-lakh turnout at roadshow
Mamata's Bolpur rally picks up gauntlet thrown down by Shah
The battle is far from over was the message she sought to convey in a perception race that the BJP has attempted to dominate by parading Trinamul turncoats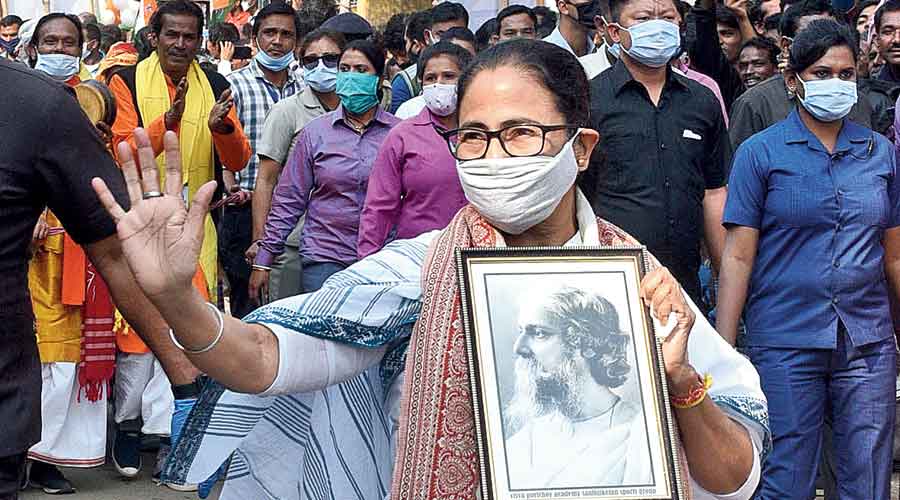 ---
---
Rabindranath Tagore and the other cultural symbols inextricably associated with Bengal set the ambience as Mamata Banerjee set out on foot and picked up the gauntlet thrown down by Amit Shah from a truck nine days ago on the same soil.
Didi's time was over, Shah had declared at the end of a 1-km-long roadshow in the same Birbhum town that Sunday, drawing an impressive crowd that set the tone by chanting "Jai Shri Ram" and "Bharat Mata ki jai".
On Tuesday, Mamata answered Shah with her feet firmly planted on Bengal's soil, walking 4km to the strains of folk music, Tagore's songs and drumbeats.
The battle is far from over was the message Mamata sought to convey in a perception race that the BJP has attempted to dominate by parading Trinamul turncoats.
"The game is not that easy…. You first get 30 seats, then talk about 294 seats," Mamata said at the end of the roadshow, countering claims by the BJP that its tally in the Assembly polls in a few months would cross 200.
Trinamul saw in the estimated 1.6-lakh turnout at the roadshow an energiser to prepare the rank and file for the impending battle.
As Mamata hit the streets to offer her rebuttal to Shah's war cry, she armed herself with Bengal's culture and Bengali sentiments.
"Jana Gana Mana Adhinayaka Jaya He…. Aajke bolchhe otao poriborton korbe. Ami bolchhi, ek bar touch kore dekho (You will change the national anthem? Touch it once and see)," Mamata said, drawing a huge round of applause from the tens of thousands who had gathered at Jambuni Bottola Crossing, where the roadshow ended.
BJP parliamentarian Subramanian Swamy had earlier this month sought the replacement of some words in the national anthem in a letter to Prime Minister Narendra Modi, whose Covid season beard has been a subject of social media speculation on whether he is modelling himself on Tagore in preparation for the Bengal campaign.
On Tuesday, Tagore was the theme of the roadshow as the entire stretch through which Mamata led the walk with hundreds of folk singers, drummers and young singers was lined with posters and banners of the Bard. Standing along the road and on balconies, thousands waved at her, clicked photographs and shouted slogans.
Standing barely a couple of kilometres from Santiniketan, where Tagore had set up Visva-Bharati, Mamata took a dig at Shah for his pledge that the BJP would turn the state into "Sonar Bangla (golden Bengal)" if voted to power.
"Tagore had written long back what is Sonar Bangla…. No one needs to spin a new dream about Sonar Bangla," said the Bengal chief minister.
"They don't know Tagore or Netaji or Gandhi…. They have come here armed with fake and hate politics," she added, before asking whether the people were ready to reject the saffron camp.
An affirmative answer rend the air and a visibly pleased Mamata rolled out a list of welfare schemes — woven around the story of a family in which everyone was a beneficiary — her government had launched since coming to power. Officially, the roadshow was organised as part of the Banga-Dhwani programme through which the ruling party is rolling out its report card across Bengal.
While welfare schemes launched by Mamata is billed as the main poll plank of Trinamul, party insiders said the results of the Lok Sabha polls, in which the BJP bagged 18 out of the 42 seats in Bengal and garnered around 40 per cent of the total votes, had taught them that a poll battle also requires a counter-narrative.
On Tuesday, Mamata accused the BJP of using Tagore's Visva-Bharati to peddle hate politics in Bengal by attacking stalwarts like Nobel laureate economist Amartya Sen.
The Bengal chief minister liberally used Tagore's poems and songs before slapping the "invader" label on the BJP, which has pressed leaders from across the county to look after the party's organisation in the state.
"They don't know about Bengal's culture…. They don't know that Tagore had set up Visva-Bharati 60 years after he was born at Jorasanko in Calcutta. But they say that he was born in Visva-Bharati," Mamata said, alluding to a faux pas by the BJP social media team during party president J.P. Nadda's visit to Bengal.
Over the next few months, Nadda and Shah will be visiting Bengal at least twice a month — besides occasional trips by Modi — and the BJP state leaders are confident that the high-profile visits would swing the tide further in their favour. Besides, state BJP leaders are also banking on Suvendu Adhikari to engineer more defections from the ruling party, which, they think would further weaken Trinamul.
"They will be spending money…. They can buy off a few MLAs but that will not be enough," said Mamata.
Sources close to Mamata said she had decided to hold similar programmes across Bengal as part of her strategy to project Trinamul as the saviour of Bengal's culture in the battle against "invaders".