AIMIM face joins TMC to 'foil' Bihar poll rerun
Anwar Pasha lauded Mamata Banerjee for her secular, inclusive approach to politics and governance, before underscoring the reason for his switch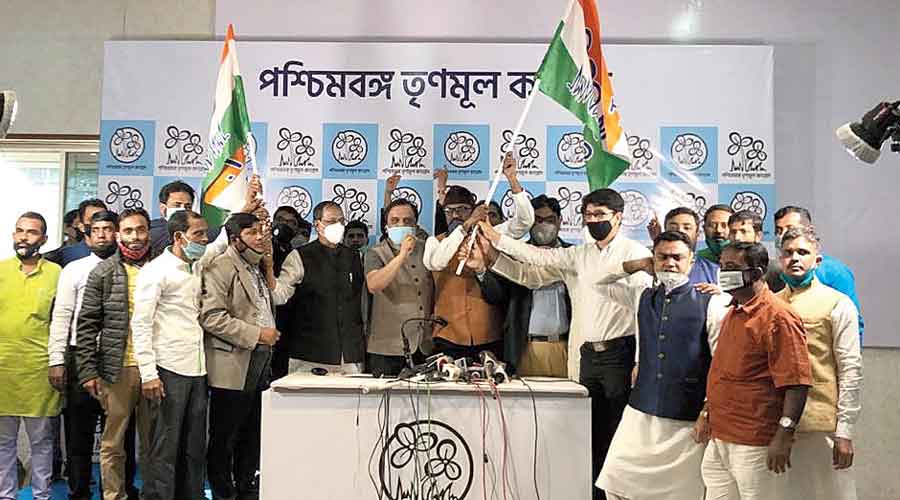 ---
|
Calcutta
|
Published 24.11.20, 02:02 AM
---
Anwar Pasha, a prominent face of the Bengal unit of the All India Majlis-e-Ittehadul Muslimeen, along with several colleagues, joined the Trinamul Congress on Monday, asserting that they did not want the Asaduddin Owaisi-led outfit to pull off a repeat of the Bihar Assembly elections in Bengal.
Pasha, who had been a key leader in the AIMIM since 2013, lauded chief minister Mamata Banerjee for her secular, inclusive approach to politics and governance, before underscoring the reason for his switch.
"In Bihar, the AIMIM contested 126 seats, winning only five. But they helped the BJP by deepening the polarisation and was almost single-handedly responsible for bringing the NDA back to power there…. Polarisation and cutting votes is a dangerous game. You can contest in just one constituency and hold just one meeting, but end up polarising the electorate in five constituencies," said Pasha, who participated in a joining ceremony at Trinamul Bhavan here in the afternoon, overseen by ministers Bratya Basu and Malay Ghatak.
"We don't want to end up being the contractors building the bridge for the BJP to cross so that it could wrest power here. That is what the AIMIM's role was in Bihar."
Along with him, the likes of Ali Bux, Sheikh Hasikul Islam, Ahmadullah Sardar, Jamshed Ahmed, Nazmul Hussain, Intekhab Alam and Syed Raihan joined Trinamul.
"This joining by Pasha and others would take some wind out of Owaisi's sails and be a setback for his Bengal plans," said a Trinamul MP.
However, the AIMIM tried playing down the importance of the joinings. "Yes, he (Pasha) has been a part of the party for some time. But at least for a year, he had been associated with several anti-party activities. So, he held no post or responsibility. His exit will make no difference to us," said Syed Asim Waqar, an AIMIM spokesperson.
Dilip Ghosh, the Bengal chief of the BJP, said: "The AIMIM's functionaries are joining Trinamul here because Mamata is the undisputed champion of the kind of politics they believe in."