Official trains gun on AIFF
Ranjit alleged that the match commissioner Balasubramaniam was outside the Kalyani Stadium when the match was still on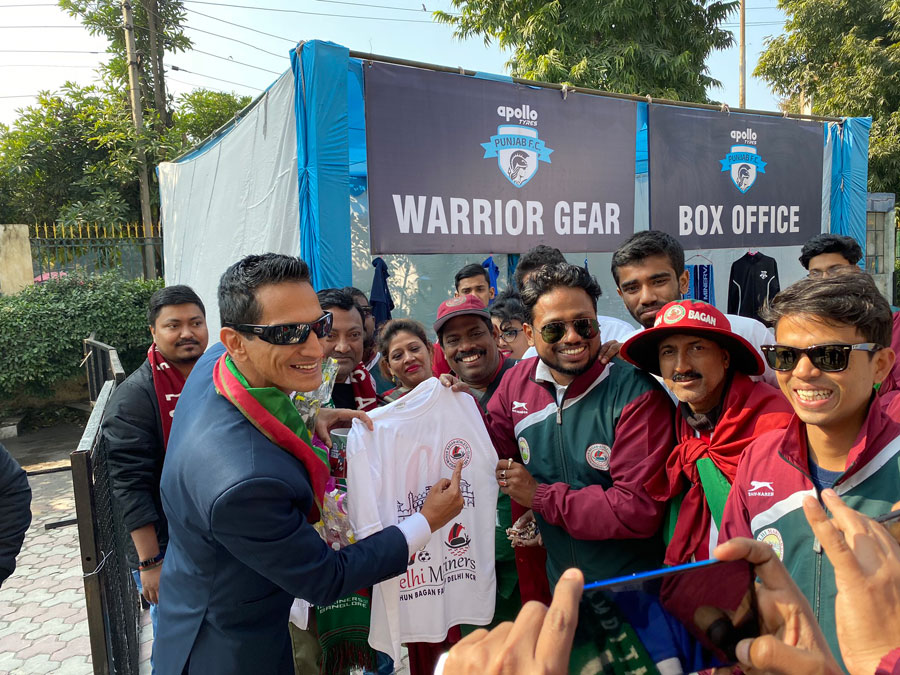 Ranjit Bajaj in Kalyani on Sunday
(Picture: Twitter/@THE_RanjitBajaj)
---
Calcutta
|
Published 09.02.20, 08:45 PM
|
---
The fiery Ranjit Bajaj has a liking for digging up controversies. On Sunday, after Punjab FC's 0-1 loss to Mohun Bagan in an I-League match, he did that once again.
The Punjab FC top official alleged that the match commissioner Balasubramaniam Byrappa was outside the Kalyani Stadium when the match was still on.
Bajaj posted a video on social media which showed a tall man in a suit and distinctly similar to Balasubramaniam walking down the road outside the stadium. Bajaj wrote on social media that the person came back to the stadium "after 14 minutes."
When asked for his reaction to Bajaj's allegation, Balasubramaniam refused to comment. He, however, recorded the proceedings of the media conference where Bajaj launched a scathing attack on him.
"Let the match commissioner submit his report. But if anybody is found guilty, action will be taken," senior vice-president of the All India Football Federation (AIFF) Subrata Datta told The Telegraph.
Fifa, the game's governing body's, guidelines for match officials say: "The match commissioner shall constantly be alert to all incidents and comments surrounding the match itself."
Bajaj though went hammer and tongs. "I don't know what the parent body does. I have complained against him a number of times. He caused problems during the Chennai City FC vs Punjab match last year. Because of him I got death threats after that I-League match. This is the kind of professionalism AIFF has."
Bajaj also alleged that Balasubramaniam tried to distract him during Sunday's match. "Why did he tell the fourth official (R Palmson Moses Raj) to keep an eye on me? He told me to go sit in the dugout in a defamatory manner."
Bajaj has been a vocal critic of the AIFF. In July last year, he was served with a show-cause notice by the AIFF ethics committee for pushing out "derogatory, damaging, unethical" tweets/retweets from his verified Twitter accounts against AIFF, its officials and commercial partners.
He was however let off with a reprimand by the committee in September.