What's cooking? Moeen Ali roots for MS Dhoni and Eoin Morgan
'Him and Morgs are by far the two best captains I've played under'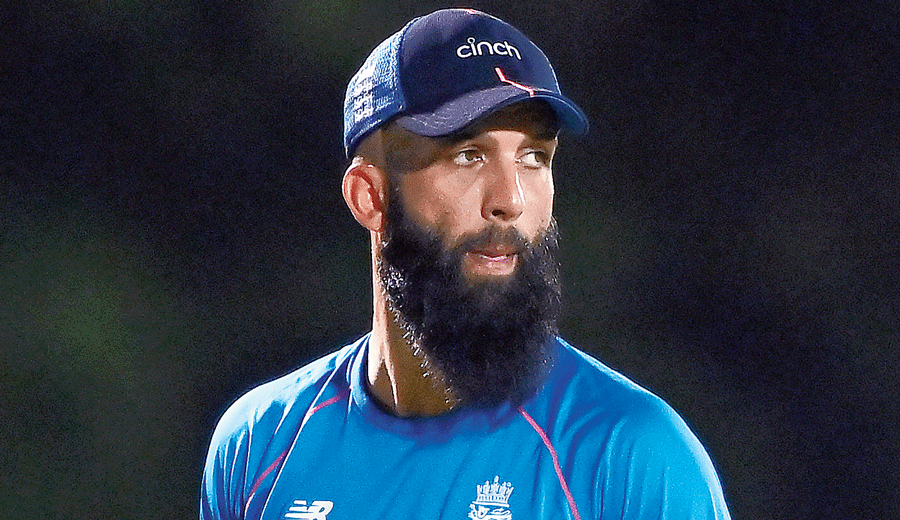 ---
London
|
Published 24.01.22, 01:49 AM
|
---
England all-rounder Moeen Ali has said Mahendra Singh Dhoni and Eoin Morgan are the two best captains that he has played under — remarks that suggest he feels his talents could have been exploited better by Sir Alastair Cook and possibly even Joe Root.
Moeen Ali retired from Test cricket last year at the age of 34 to focus on the shorter form of the game.
His experience of Dhoni's qualities of leadership comes from playing under him during IPL 2021, which Chennai Super Kings won, beating Kolkata Knight Riders, led ironically by Morgan, in the final by 27 runs in Dubai. Moeen scored an unbeaten 20-ball 37.
Moeen, the first ever Englishman to win an IPL final, said: "It's one of my proudest moments — obviously the Ashes and World Cup, but that was right up there."
It has been reported that "Moeen enjoyed a brilliant debut campaign for CSK in IPL 2021. He scored 357 runs and picked up six wickets in 15 matches for the Dhoni-led side and provided them with much-needed balance in their middle-order".
The Daily Telegraph, which has interviewed the all-rounder at length, pointed out that "last winter, Moeen went 10 straight matches, including a five-game T20 series in India, without making England's T20 XI. But after the IPL, England followed Chennai in deploying Moeen as a floating middle-order hitter to attack spin. It is a role that takes advantage of Moeen's unique gifts. In T20 history only one batsman — Shahid Afridi — scores at a faster strike rate than Moeen's 162 against spin."
This is the background against which Moeen said about Dhoni: "Him and Morgs are by far the two best captains I've played under. As you can see on TV they're so calm and collected. MS is always thinking outside the box."
"Chennai used me really well and I'm really grateful for that," he explained. "I enjoy that kind of responsibility — it makes me feel quite important to the team. And then as you saw in the World Cup, Morgs did the same thing and I really enjoyed it."
During the Ashes, Moeen was a pundit on BT Sport but he didn't enjoy getting up in the early hours in England while his teammates were struggling 10,000 miles away in Australia. He sees his future in coaching.
"I think I'd enjoy the coaching side of things and trying to be part of a franchise coaching team," he said. "It's a good few years away but I think that'd be my thing."
Moeen once spoke to The Telegraph about his beard which he has been wearing since the age of 19. He was born in Birmingham on June 18, 1987, and nurtured in the local Pakistani community.
"For me the beard was a sign to show I am a Muslim, a label, a sign," he said. This provoked a hostile article in The Daily Telegraph by cricket commentator Michael Henderson which many found objectionable.
"You're playing for England, Moeen Ali, not your religion," ran the headline. The article argued that Moeen should have kept his faith separate from his cricket: "Before the Test he spoke of 'representing the Muslim faith', and of wearing his beard as 'a label' and also as a 'uniform' in the way that schoolchildren wore theirs. Oh dear. We are drifting into dangerous waters. It is better for all concerned to push the vessel back gently towards shore."
The first arrival in the UK, probably in the 1950s or 1960s, was his grandfather, Shafayat, who went first to Australia and then caught a ship to England, where he married and settled down with an English wife, Betty Cox — Moeen's grandmother, who was always supportive of his cricket.
Moeen's father, Munir, and his twin brother, Shabir, were born in England and eventually married two sisters. It fell to Munir to ferry five children, including Moeen, his elder brother, Kadeer, and their first cousin, Kabir, to various games during their formative years.
Moeen said: "My dad knows a lot about cricket. My dad gave up everything for us to become professional cricketers. He gave up his job, his spare time, he gave up literally everything for us to be at the right place at the right time."