Real test for Ajaz begins now, says long-time coach Dipak Patel
Making his Test debut in November 2018, the spinner has featured in just 11 Tests so far, including the ongoing game at the Wankhede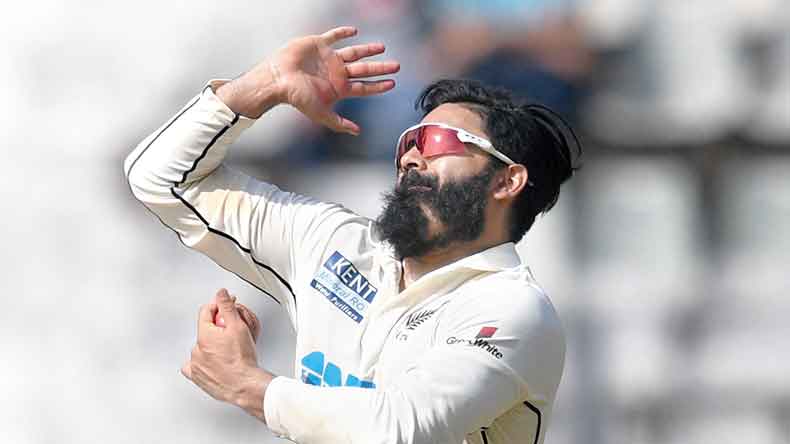 ---
Published 06.12.21, 02:04 AM
|
---
Praise from New Zealand's finest-ever cricketer, Richard Hadlee, should certainly spur Ajaz Patel on to strive for further excellence after his 10-wicket haul in the first innings of the second and final Test versus India in Mumbai.
Having shouldered the bulk of the bowling workload, the left-arm orthodox spinner now has the best-ever bowling figures (14/225) in a Test match versus India, bettering the legendary Ian Botham's 13/106, which too was registered at the Wankhede 41 years ago.
For sure, Ajaz is in a different league at present after joining Jim Laker and Anil Kumble. But there are still a few challenges he needs to overcome. And the biggest of them, according to Ajaz's long-time coach and mentor Dipak Patel, it is making sure that he gets to play a decent amount of Test cricket.
"Ajaz doesn't get to play enough Test cricket. That's the biggest challenge he faces," former off-spinner Patel, who represented New Zealand in 37 Tests and 75 ODIs, told The Telegraph from Auckland on Sunday.
"He has taken wickets in overseas conditions and now achieved a rare feat as well. So what more does he need to do so that he can prove to the New Zealand cricket establishment that he should be an automatic choice in the team?" Patel questioned.
Making his Test debut in November 2018, Ajaz has featured in just 11 Tests so far, including the ongoing game at the Wankhede. Things should obviously get better for him from hereon, especially as he capped off this India tour with 17 wickets having bowled as many as 120 overs spread over two Tests.
"Look at the number of overs Indian spinners bowl…. Sometimes they bowl even 30 to 40 overs in an innings. Of course, the conditions have to be kept in mind, but you don't improve and can't work on your variations as long as you don't bowl enough.
"Besides, nothing replicates bowling in a competitive game against quality batsmen," Patel added.
Better to best
No wonder expectations will be high from Ajaz, particularly when New Zealand next play a Test in Asian conditions. The 33-year-old, though, did receive some advice from his mentor during "a brief chat" they had after his moment of glory on Saturday.
"First of all, you have the help of modern technology, teams also do a lot of scouting and scrutinise players. So of course Ajaz has to deal with the challenge of getting better tactically as well as skill-wise.
"During our brief chat, I just said, 'People would be prepared for you and you will be the target bowler now with different plans to tackle you. So keep your feet on the ground, front up again and learn to cope with different situations'.
"But yearning for improvement and staying level-headed are among his strengths, which should keep pushing him," Patel said.
Role model
Ajaz's brilliance should serve as an inspiration for youngsters in New Zealand who aspire to take up spin bowling. His 10-wicket feat will also be given its due recognition by the New Zealand board (New Zealand Cricket), said Heath Mills, CEO of New Zealand Cricket Players' Association.
"The NZC will celebrate the special moment at its annual awards night in March next year and rightly so," Mills stated, adding: "No doubt, many young kids would've watched it on TV and they should be inspired to take up spin bowling, wanting to be the next Ajaz."