ICC Cricket World Cup 2019: Loss breaks the heart, but proud of the boys, says captain
We'll have to sit down & analyse where we went wrong: Virat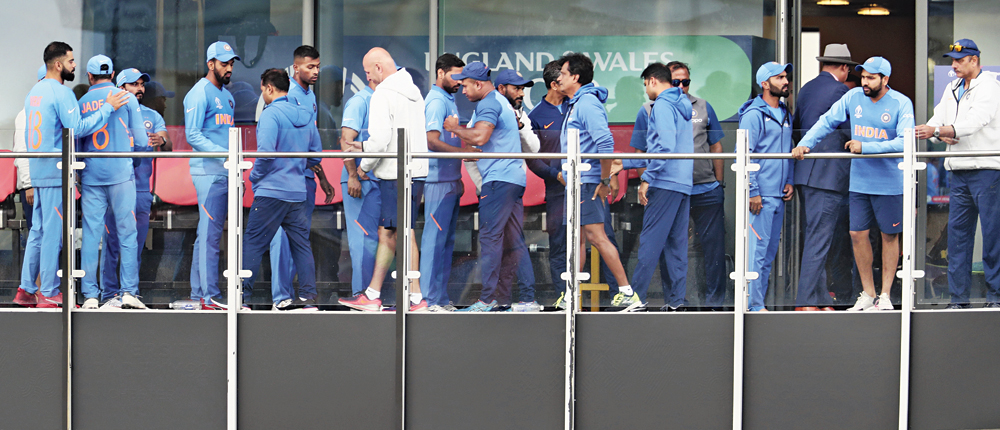 Team India players and support staff after losing to New Zealand by 18 runs in the World Cup semi-final at Old Trafford on Wednesday
(AP)
---
Calcutta
|
Published 10.07.19, 09:28 PM
|
---
Virat Kohli didn't hide his disappointment after being ousted from the World Cup by New Zealand on Wednesday.
Chasing a 240-run target, India fell short by 18 runs after being bowled out for 221 in 49.3 overs. An early collapse that saw them reduced to 24 for four and a late fight back by Ravindra Jadeja (77) and Mahendra Singh Dhoni (50) were the highlights of India's loss in Manchester.
At the post-match media conference, when asked about his feelings, Virat said: "Of course, very disappointed. We played outstanding cricket throughout this tournament and to just go out on the basis of 45 minutes of bad cricket is saddening… It breaks your heart because you have worked so hard throughout the tournament to build momentum.
"You finish No. 1 in the table and then a spell of bad cricket throw you out of the tournament completely. But you have to accept it. It's happened to us before and we have all come out better cricketers because of these setbacks, especially at a stage like a World Cup."
He, however, added that he was proud of his boys. "We qualified for the semis and we have played some really good cricket, so we should also be proud of the way we have played and look at the positives… Especially Rohit's performance, Jasprit with the ball and Jadeja… So there are many things that we can take back as positives."
The Indian top order had been brilliant all through the tournament, but failed on Wednesday. Did he expect more from his middle order against New Zealand?
Kohli said: "You obviously feel bad for the result… Everyone goes out there to win the game for the team and if that doesn't happen, you feel, like, you could have done things differently.
"I think we are sad but we are not devastated… We know where we stood as a team and today we were not good enough and that is the nature of this tournament. A bad day in the knockout stage and you are out of the tournament.
"I don't think that I would like to break things down immediately, but in time we'll have to sit down and analyse where we went wrong and the things we could have done right in this game particularly."
On Dhoni's future plans, one of the most talked-about topics currently, Kohli said: "He hasn't told us anything as of now."
Dhoni's 50 came off 72 balls with one four and a six. The former India captain's strike rate of late has been criticised by many and Kohli was asked about it. "I think today he was batting with Jadeja and there was only Bhuvi (Bhuvneshwar Kumar) to follow after. So he had to hold one end together," Kohli said.
"Jadeja was playing so well and you needed a solid partnership and to get a 100-run partnership from that situation, I think it had to be the right balance of one guy holding an end (Dhoni) and Jadeja playing the way he did. His knock was outstanding," the captain added.
About the reason behind Dhoni batting at No. 7, Kohli said: "Well, he's been given that role after the first few games… If the situation is bad, he can control one end like he did today or if there is a scenario where there are six or seven overs left, he can go and strike."
Young Rishabh Pant, who was well settled on 32 off 56 balls, played a rash shot to be dismissed. But the captain backed him saying he will learn with experience.
"He's still young. I made many errors when I was young in my career and he will learn. He will look back and think 'yes, I could have chosen a different option in that situation'… He realises that already.
"He (Pant) is an instinctive player and did well to overcome that situation and stringing a partnership with Hardik. I think the way they played after the loss of three-four wickets, it was quite commendable. I am sure he will reflect on it and he will come out stronger," he said.
"All these guys have a lot of pride and passion to play for their country and they are the ones who feel the most disappointed when a mistake happens. From the outside, it looks like it was an error, but the person who makes it, trust me, they are the ones who suffer the most with it.
"The talent is there for everyone to see and the character is there… A few shot selections… But that happens in sport."