I knew my chance would come: Bilal Asif
The Test debutant took six wickets to spark a spectacular Australia collapse and put Pakistan in command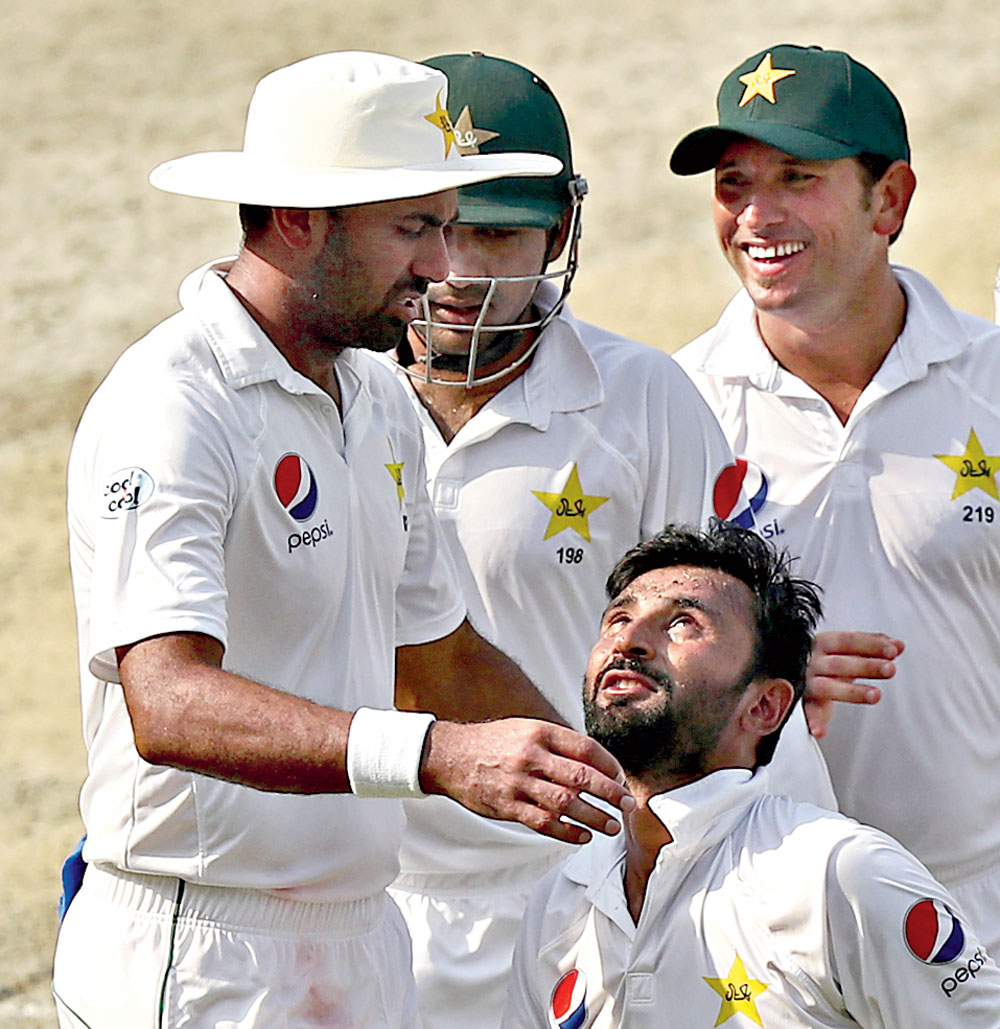 Bilal Asif of Pakistan celebrates with teammates after dismissing Tim Paine toclaim his fifth wicket, in Dubai on Tuesday.
Source: Getty Images
---
Calcutta
|
Published 09.10.18, 09:46 PM
|
---
Test debutant Bilal Asif snatched six wickets to spark a spectacular Australian collapse from 142 for no loss to 202 all out and put Pakistan in command of the first Test in Dubai on Tuesday.
The 33-year-old off-spinner overshadowed his more experienced teammate Yasir Shah by finishing with six for 36 as his efforts, the third best figures for a Pakistani bowler on Test debut, derailed Australia on the third day.
Asif said he knew his chance would come and prepared himself for the big occasion.
"I knew that my chance would come, so I waited and waited… Thank God, I have done myself proud by getting six wickets on debut, it's a tremendous feeling," said Asif.
"I took time to get my rhythm going and struggling a bit in the first session… but all my teammates and coaches gave me confidence and that increased my energy which helped me get six wickets."
Asif thanked Mushtaq Ahmed for providing him the much-needed guidance and support after his action came under the scanner during the ODIs in Zimbabwe in 2015.
"Being a professional cricketer, you need to be strong from within. When I was not getting my big break, I kept working hard. I believe, one can only work hard, success is in the hands of Allah. I kept on working hard…
"In the last three years I attended camps at the National Cricket Academy. I want to mention Mushtaq Ahmed here... I want to thank him for his guidance. Today, I reaped rewards for all the hard work he put in. The credit of today's performance goes to Mushibhai. He has been my biggest support," said Asif.
Asif said he came to know that he was playing only on the morning of the Test.
"I wasn't sure I was going to play the game beforehand. I only realised when the final XI was announced… They had announced the XII, a day before the Test, so I had an idea but wasn't sure. Whenever I am in the squad, I keep my confidence level high. I was always ready to grab my opportunity with both hands," the off-spinner said.
He felt the conditions made his task easier.
"I had an idea of how to bowl on this pitch. The conditions here are conducive for spin. I tried to vary my pace. Thankfully, I achieved the desired results."
Asif didn't wish to compare his performance with the other spinners in the side.
"This is a team game. Yasir Shah and (Mohammed) Hafeez are world-class bowlers, drawing comparisons is unfair. To say that they aren't good because they were wicket-less today doesn't make sense. It was my day today. I was lucky."
Hailing from the small village of Allo Mahar Sharif on the outskirts of Daska in Pakistan's Punjab province, Asif graduated with a degree in Arts and made his first-class debut for Sialkot in 2011 at the age of 26.