Animal Restaurant is an adorable and relaxing game
With quirky characters and engaging gameplay, it is one of the most adorable pastime that one can indulge in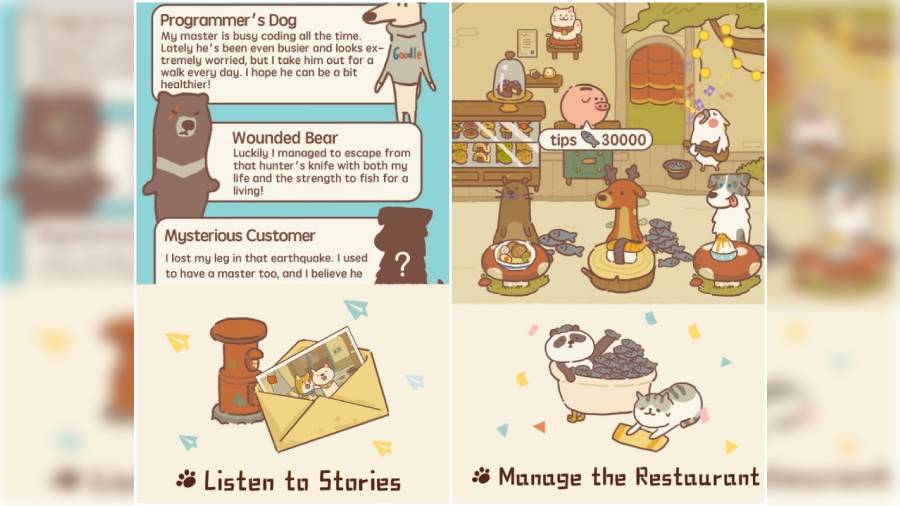 Animal Restaurant is an idle game where you manage the business of the titular animal restaurant.
Sourced by the correspondent
---
Published 07.03.22, 01:34 AM
|
---
Game: Animal Restaurant by DH Games
Genre: Idle, Management
Platforms: Android and iOS
Since the beginning of the Internet, people across the world have loved one thing in common — cute cats. Lately, more and more games have been themed around this universal likability. Animal Restaurant is one such with cute graphics, quirky characters and engaging gameplay. I can safely say it's one of the most adorable games I've played.
Animal Restaurant is an idle game where you manage the business of the titular animal restaurant. You play as a cat employed by a grumpy chef cat. Starting with an empty restaurant and some initial cash, your goal is to make the restaurant grow by buying and upgrading everything a restaurant needs, while also taking customers' orders and collecting tips. You don't actually cook the dishes. As you unlock facilities, more customers come in, giving you money to buy even more facilities.
There are a lot of other idle games that have similar gameplay. But what makes this unique is its cartoony art, quirky characters and appeal. The customers too are animals, with different varities frequenting your eatery, each with their own wacky personality. Watching an artist badger come in drowsily for coffee, or a shy ostrich with a paper bag on its head asking for takeaway brought a smile on my face. And when the careless janitor cat asked for a raise, I couldn't help but say "aww, here you go". The clumsy art style and heartwarming dialogues give this game a personal touch.
The pace of the game is relaxed. Unlike cooking games, where you have to serve customers as fast as they arrive, this game allows you to control the rate at which customers come in by choosing to, or not to, promote your restaurant. And going at a leisurely pace has no penalty.
There are a lot of new areas, recipes and characters to unlock, so you always have something new to look forward to even after weeks of playing. New areas are unlocked with their own quirky characters and new activities, which adds the much-needed variety in gameplay. There are no forced ads unless you choose to watch them.
However, the progression of the game becomes rather slow after a while, and if you keep going at a relaxed pace, it takes a long time to do even normal upgrades. That's when the game feels a bit repetitive.
VERDICT: Overall, Animal Restaurant is an adorable and relaxing game that makes you smile. If I were to define it in two words, I'd say "cute" and "heartwarming". There's a personal touch that makes the dialogues and characters seem much less pretentious. It does get repetitive after a while, but there is a lot of new content to unlock, enough to last many weeks. There are no levels, no failures, and thus no pressure to put your complete focus on the game to win. This makes it a perfect game to casually play even in 2-minute breaks that you take throughout the day. I would give it 9.5 out of 10.