Younger brother is watching
When you look at the newly unveiled mascot of the Chess Olympiad, what do you see?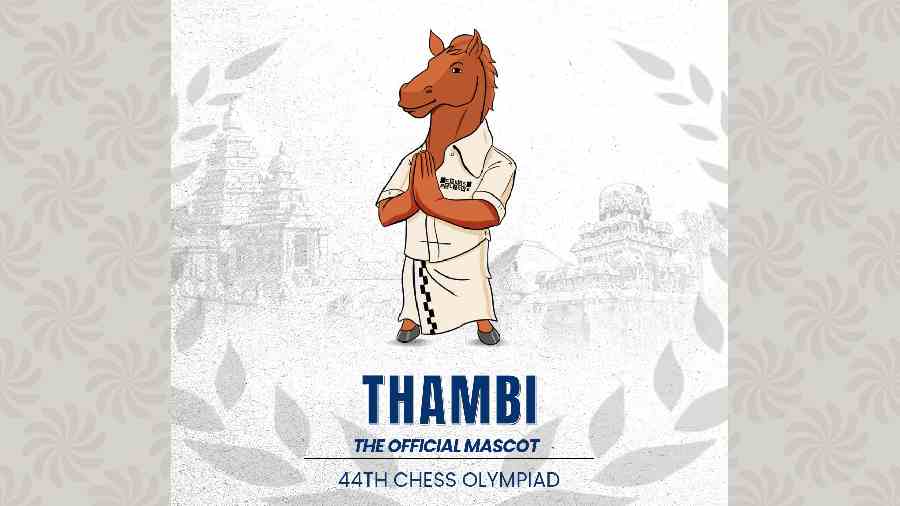 Thambi of upright frame, folded hands, dressed in a white shirt and veshti exudes machismo, is more M.K. Stalin and less Viswanathan Anand.
Twitter/ @aicfchess
---
Published 19.06.22, 02:51 AM
|
---
The 44th Chess Olympiad will be hosted in Chennai soon. Recently, the host state unveiled the official logo and mascot — a chess knight called Thambi. When Batumi in Georgia hosted the 43rd Chess Olympiad, it chose a tie-wearing, bespectacled turtle with coloured spiky hair for its mascot. Bathusa Turtlestein was apparently named after Albert Einstein. Thambi of upright frame, folded hands, dressed in a white shirt and veshti exudes machismo, is more M.K. Stalin and less Viswanathan Anand. In fact, it is the mascot from the 42nd games organised in Baku, Azerbaijan, that recalls Anand. You might want to look it up.
Digest that
A mascot is meant to give form to the spirit of whatever it represents. And then, of course, there are underlying isms. Thambi is Tamil for younger brother. In May, Stalin completed a year as chief minister of Tamil Nadu. He is usually referred to as MKS; but his elder brother M.K. Alagiri used to be known as anja nenjan or braveheart. Just saying. The latest edition of Khelo India has also been launched recently, mascot et al. The name of the mascot is Dhakad; it means, amazing. Chief minister Manohar Lal Khattar of host state Haryana said, "… just as the jawan, the kisan and the wrestler of Haryana are dhakad, similarly the state athletes will also perform in a dhakad way in this sports event". This is the same man who said "Pick up sticks and answer those furious farmers. We will see everything" at the time of farmers' protests last year. Haryana is spending Rs 250 crore on this sporting event. Dhakaad that.
La'eeb is in the air
Host Qatar and Fifa have revealed the official mascot for Fifa World Cup 2022. La'eeb looks like a flying sheikh or Casper in a keffiyeh, carrying a football. But long before mascots became a dime-a-dozen phenomenon, in India we had Appu. The baby elephant and mascot of the 1982 Asian Games was apparently modelled on Kuttinarayanan, a pachyderm from Kerala. The story goes that it was Kuttinarayanan who was supposed to be the live mascot of the games and was being trained to stand on one leg and garland the President of India. But after animal rights activists raised the alarm, the Congress government did a U-turn. But the image of Appu has endured. Stalin's stars are ascendant. There is much talk about his "Dravidian model", his "national ambitions" and DMK allies are all praise for his 'mature' politics. In the meantime, India is getting ready to host the first Chess Olympiad. Get ready to see some grand moves.