Uncertain future: perils of star gazing
Covid-19 is perhaps a much weaker push than necessary to dislodge humanity's millennia-old blind faith on astrology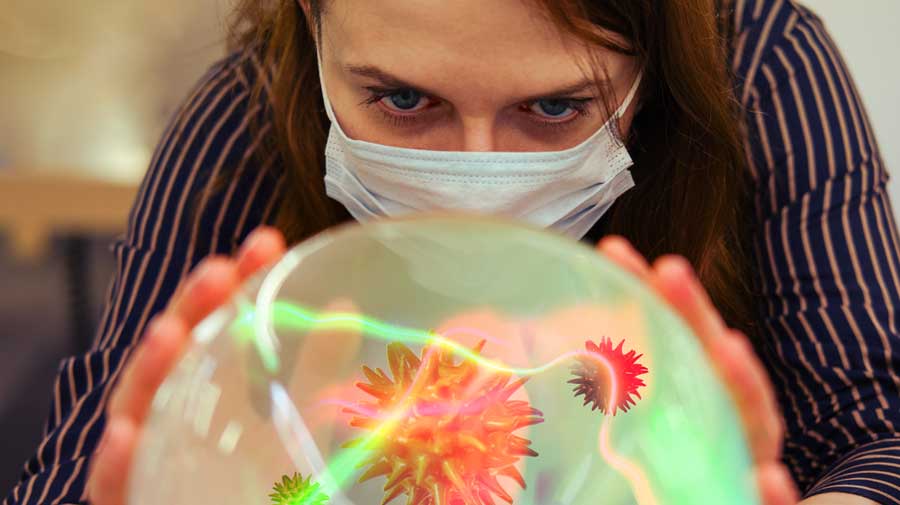 Let us accept then that there is no reliable expertise for uncertain, complex and entirely new events like the Covid-19.
Shutterstock
---
Published 06.07.20, 12:01 AM
|
---
Susan Miller, a leading astrologer in the United States of America, had predicted in January that 2020 would "be a great... and... prosperous year," going on to add that Capricorn would be the year's "celestial favorite", Cancer was the most likely to wed, Libra was set to score in real estate, and Taurus could expect a calendar full of international travel. In contrast, many Capricornians lost their jobs, marriages of many Cancerians were postponed, values of the properties of many Librans sank, and international travels of many Taureans got cancelled owing to the pandemic.
The legendary astrologer, Bejan Daruwalla, who passed away in May, had posted on Facebook in early April that "Corona Virus has come because of the planet Saturn... By May 2020 Saturn will move away from the horoscope of the World so Corona problem will surely finish." Other renowned astrologers, too, had predicted when the novel coronavirus would start losing its virulence and when it would vanish.
Have people fired their astrologers then? Interestingly, more people are visiting astrology websites and connecting with online astrologers to know their future after the virus abates, and revenues of popular astrology websites have gone up significantly during the lockdown. All this in spite of the fact that no astrologer saw the coronavirus coming.
Another set of experts are also busy predicting the course of the disease. They are statisticians, epidemiologists, and data scientists from various institutes of repute. Media are flooded with several predictions, often contradictory, by these experts and common people are utterly confused.
In a much-hyped analysis, Richard Epstein of the Hoover Institution predicted that the number of Covid-19 deaths in the US and worldwide would possibly be even fewer than the Hong Kong flu of 1968 or the Swine flu pandemic of 2009. In March, University of Washington's Institute for Health Metrics and Evaluation estimated 1,61,000 deaths in the US, which was modified to 60,415 in early April. A prediction by two Cambridge University scholars of Indian origin got tremendous media attention — their analysis predicted that three consecutive lockdowns of 21, 28 and 18 days with a five-day gap between successive lockdowns, or a 49-day lockdown at a stretch could bring the number of infections in India down to less than 50 by mid-May. However, India had 68-days' lockdown at a stretch and mid-May passed a long time back, but the prediction could not be further from the truth.
Let us accept then that there is no reliable expertise for uncertain, complex and entirely new events like the Covid-19. The models are inappropriate because many features of the disease are still unknown. The data is inadequate owing to the insufficient number of tests, lot of undetected asymptomatic patients, and serious under-reporting in many parts of the world. Still, policymakers need predictions about the nature of the epidemic for guiding hospital planning, evaluating public health interventions and levelling with the public. But, common people do not need to get confused with all these contradicting predictions about the future.
Covid-19 is perhaps a much weaker push than necessary to dislodge humanity's millennia-old blind faith on astrology. It is also understandable that in spite of their failure to foresee the coronavirus and the wrong predictions, the astrologers are still very much active in their business as it is their livelihood. However, that is not the case for data scientists. Most of them do not earn their living from this. Are the predictions then just to get 15-minutes of fame? The potential damage caused by these predictions is tremendous — it is not just predicting a football match or an election, it is much more sensitive to predict deaths of millions and the disaster that is the world economy at present. Another — more serious? — damage is that common people may soon cease to  distinguish between astrology and statistics.