Letters to the Editor: When animals seek revenge
Readers write in from Faridabad, Jamshedpur, Bangalore, Noida, Kalyani and Calcutta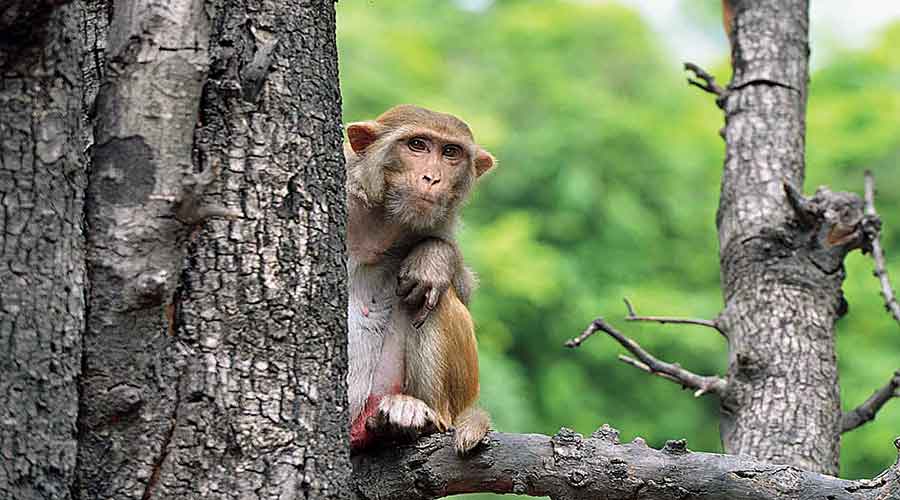 Representational image.
File photo
---
Published 23.12.21, 12:16 AM
---
Not just monkey business

Sir — All is not well in the animal kingdom. Two monkeys have been captured in Maharashtra for killing some 250 stray dogs, allegedly in order to avenge the death of an infant simian killed by dogs. This might not seem strange at first — after all, simians are distant cousins of humans, a species known for its thirst for vengeance. Indeed, studies have shown that chimpanzees and macaques not only seek revenge, but often do so intelligently — for instance, if they see that their adversary is stronger than them, they attack a weaker relative instead. But simians are not alone; crows, elephants and many other creatures are also known to seek revenge. Is it still right to think that animals do not have emotions?

Ankhi Majumdar,
Calcutta

Unequal rage

 Sir — A man was beaten to death after he entered the inner sanctum of the Golden Temple and allegedly attempted to commit sacrilege inside the holy premises. A day later, another man was beaten to death after he tried to desecrate the Sikh flag, the Nishan Sahib, in a gurdwara in Kapurthala. These actions must be condemned.
 
But there were no words of condemnation about the lynchings. Leaders across the political spectrum denounced the sacrilege and called for a thorough probe. They have been measured in their response because religion segues into politics, especially at the time of elections. It is a pity that neither the state government nor Punjab's politicians have the courage to call a lynching by its name.

Bidyut Kumar Chatterjee,
Faridabad

 Sir — Sikhism preaches tolerance. But the two incidents of lynching in Punjab over alleged attempts of sacrilege are anything but tolerant. If India is ruled by mobs instead of the law, then there will be no difference between a democratic country and a militant group like the Islamic State.
 
Further, the back-to-back sacrilege attempts in poll-bound Punjab signal a deeper conspiracy. Had the suspects been alive, the truth could perhaps have been uncovered.

Jang Bahadur Singh,
Jamshedpur

 Sir — While an attempt to desecrate Sikh shrines is condemnable, beating a man to death for it is equally unacceptable. The managements of the two gurdwaras need to be held accountable for their failure to ensure the safety of the suspects.
 
One hopes that these incidents are not politicized for the upcoming assembly elections in Punjab. The state government must help law enforcement conduct a thorough investigation and ensure that such incidents are not repeated.  

S.K. Choudhury,
Bangalore

Sir — The incidents of sacrilege and lynching in Punjab should not be allowed to disturb the communal harmony in the state, which has witnessed several riots during the tumultuous periods of the 1980s and in 1993 when the separatist movement was at its peak. Authorities must see to it that the issue does not turn into a political game.

Shovanlal Chakraborty,
Calcutta

Sir — No religion advocates killing, even if it is for blasphemy. The suspects in the two incidents of sacrilege in Punjab should have been handed over to the police.

Sunil Chopra,
Calcutta


Smashing shot

Sir — Kidambi Srikanth deserves to be lauded for winning silver at the BWF World Championships ("Silver it is as Srikanth lacks killer smash", Dec 20). He has now become the third shuttler from India, after P.V. Sindhu and Saina Nehwal, to win silver at the tournament. In spite of losing the gold, Srikanth and Lakshya Sen — who won bronze after ceding to Srikanth in the semi-finals — have etched a new chapter in India's badminton history.
 
From winning seven medals at the Olympics held in Tokyo, including the first-ever gold in a track-and-field event, to Srikanth's silver, it can be said that 2021 was a golden year in Indian sports.  

Khokan Das,
Calcutta

 Sir — In the male category of the BWF World Championships, only Prakash Padukone and B. Sai Praneeth from India had won bronze medals before Kidambi Srikanth created history by winning a silver. In the finals, Srikanth had many scoring opportunities throughout his game against Singapore's Loh Kean Yew, but perhaps it was not his day. Hopefully, Srikanth's silver and Lakshya Sen's bronze will invigorate other young badminton players.

Bal Govind,
Noida

Sir — The ace shuttler, Kidambi Srikanth, should be congratulated for his stellar performance in the finals of BWF World Championships. Although his loss to Loh Kean Yew in the finals was heartbreaking for badminton fans, there is no doubt that Srikanth has made his country proud.

Sourish Misra,
Calcutta


Deep wounds

Sir — Women and children are the worst sufferers during a war ("The war when it came upon the women", Dec 19). During the Bangladesh Liberation War of 1971, the people — especially women — of the then East Pakistan had fought alongside the Indian army against Pakistan. The 'biranganas' — women who had been raped, assaulted and murdered by the Pakistani army — risked their lives and bore torture for the sake of independence. It is disheartening that many in Bangladesh are ignorant of these sacrifices. These women deserve gratitude and respect.

Alok Ganguly,
Kalyani

Sir — The Bangladesh war might be over, but as the documentary, Rising Silence, shows, the trials of the biranganas continue even years after independence.

Rima Roy,
Calcutta