Letters to the Editor: Pakistan's response to power cuts
Readers write in from Calcutta, Faridabad, Chennai, Bankura and Mumbai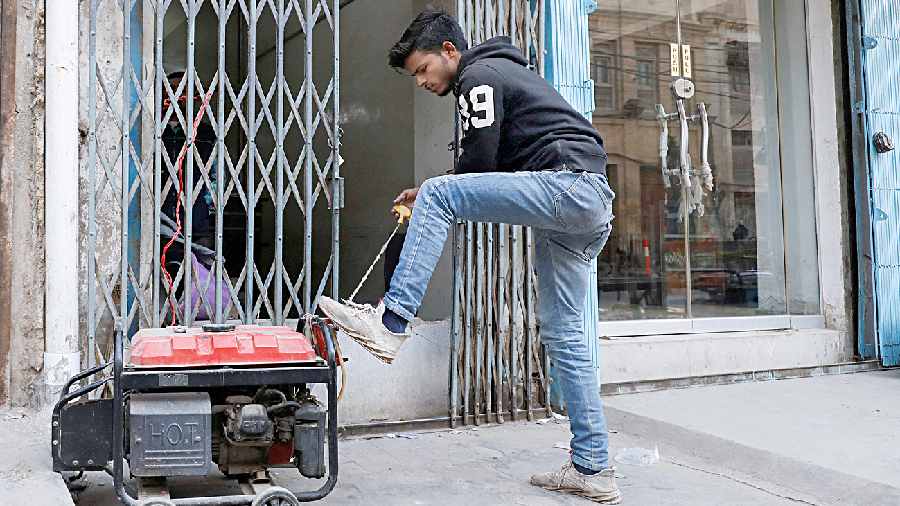 Before generators and inverters became mainstays in most urban homes, summer evenings would invariably bring power cuts, forcing entire families to sit together in one room with a couple of electric lanterns and handheld fans to keep the mosquitoes away.
File picture
---
Published 26.01.23, 03:48 AM
|
---
Dark parallels
Sir — Indians, especially Bengalis, are no strangers to power cuts. Before generators and inverters became mainstays in most urban homes, summer evenings would invariably bring power cuts, forcing entire families to sit together in one room with a couple of electric lanterns and handheld fans to keep the mosquitoes away. While we mostly associate power cuts with irate phone calls to the electricity supply department, Pakistan's populace has decided to handle a nationwide power outage slightly differently. Pakistanis have generated a treasure trove of memes to express their irritation. The content of these memes reminds us that while Indians and Pakistanis are divided by borders, they are united in their exasperation with power supply companies.
Saptarshi Mandal, Bankura
Legacy battles
Sir — On the occasion of Netaji Subhas Chandra Bose's birth anniversary, which is now known as Parakram Divas, the prime minister, Narendra Modi, named 21 islands in the Andaman and Nicobar Islands after Param Vir Chakra awardees. Since the Bharatiya Janata Party came to power in 2014, it has taken a special interest in celebrating icons like Sardar Vallabhbhai Patel and Bose ("Up for grabs", Jan 25). This shows that the BJP and its parent organisation, the Rashtriya Swayamsevak Sangh, have no heroes of their own to commemorate. Bose's daughter, Anita Bose Pfaff, was justified in pointing out the dichotomy between the core values embodied by her father and those of the RSS.
Bidyut Kumar Chatterjee, Faridabad
Sir — The RSS chief, Mohan Bhagwat, claimed that like Netaji Subhas Chandra Bose, the organisation he helms has always put the nation first ("Sangh's fresh Netaji pitch", Jan 24). Bhagwat's claims are in direct opposition to the statement made by Netaji's daughter, Anita Bose Pfaff, who highlighted the differences between the secular ideology of Netaji and the saffron politics practised by the RSS. This seems to be an attempt by the sangh parivar to woo a particular segment of the electorate ahead of elections in several states.
Khokan Das, Calcutta
Sir — It was good to see the birth anniversary of Netaji Subhas Chandra Bose being celebrated with enthusiasm with leaders across the political spectrum participating.
Saikat Kumar Basu, Calcutta
Too weak
Sir — The All India Anna Dravida Munnetra Kazhagam has been weakened by the infighting between two factions, one led by E.K. Palaniswami and another by O. Panneerselvam. Recently, P. Thangamani, a former minister from the Tamil Nadu government, and his colleague, D. Jayakumar, were reportedly made to wait outside the Bharatiya Janata Party office when they went there to seek support for the upcoming Erode East assembly by-election. One is reminded of how even Union ministers would have to wait outside the Poes Garden residence of the late AIADMK supremo and chief minister, J. Jayalalithaa, for an audience.
Tharcius S. Fernando, Chennai
Old ties
Sir — M.G. Radhakrishnan's article, "Words of fire" (Jan 23), was interesting. K.G. Sankara Pillai's poem, "Bengal", is a testament to the intellectual affinity between Kerala and West Bengal. These two states have historically been the most fertile ground for the development of leftist ideology in India.
Sagnik Mukherjee, Calcutta
Lost chance
Sir — The Indian men's hockey team failed to live up to expectations at the ongoing World Cup after a promising performance at the 2021 Tokyo Olympics ("Forwards flop again as India crash out in shootout loss", Jan 23). Twice, India took a two-goal lead in the knock-out match against New Zealand, but the Kiwis' gritty comeback forced the match into a shootout where the latter prevailed. India's wait for a second hockey World Cup title after 1975 continues.
Gregory Fernandes, Mumbai
Sir — The Indian hockey team's loss to New Zealand at the World Cup is disappointing. India's inability to convert nine of the 11 penalty corners it was awarded into goals contributed to the loss. 
Jayanta Datta, Hooghly
Empty promises
Sir — The president of the Indian National Congress, Mallikarjun Kharge, has rightly asked why the prime minister, Narendra Modi, is boasting about handing out 71,000 jobs while more than 30 lakh postings are lying vacant in government offices. In this context, an earlier unfulfilled promise by Modi to provide two crore jobs each year seems particularly relevant.
Arun Gupta, Calcutta
Specific target
Sir — The Isckon temple at Albert Park in Melbourne was defaced with offensive anti-India graffiti and contentious pro-Khalistani slogans. This is the third time a Hindu place of worship in Australia has been vandalised this month. The latest attack comes days after an emergency meeting of the Victorian Multicultural Commission among leaders from different faiths. Local authorities need to take strict measures to ensure such hate crimes do not recur.
Bhagwan Thadani, Mumbai
Seeking silence
Sir —Noise pollution is as toxic as air pollution, but not much is said about it. Noise is such an integral part of our atmosphere that it becomes conspicuous only during moments of silence which are rare. We have become so accustomed to this noise that we are hardly distracted by the cacophony.
Sohini Saha, Calcutta