Magical skill: Goodbye Eddie Van Halen
Readers' Speak: Not wearing masks is stupid; robot medical assistant in Bhubaneshwar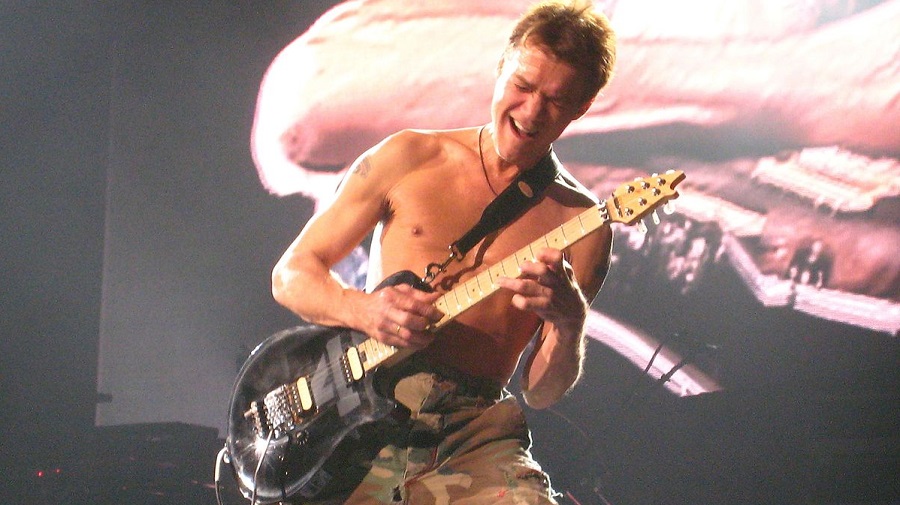 ---
---
Sir — It was deeply saddening to read that Eddie Van Halen, the renowned lead guitarist of the iconic rock band, Van Halen, passed away a few days ago after battling throat cancer for years. He was only 65 years old. The news was shared with the world by his son, Wolf Van Halen, through social media.
With Eddie's death, those of us who grew up in the 1970s and early 1980s have lost yet one more musical icon from our childhood and teenage years. Indeed, Van Halen was a popular band even with people who grew up in the 1990s and the 2000s, which only bears further testimony to their enduring legacy. Eddie and his brother, Alex, began to play together when they were just teenagers, but went on to form the heart of the group after meeting David Lee Roth. The band released more than 12 albums together over the course of 40 years.
Through their turbulent career — the lead singer of the band kept changing, with Roth being followed by Sammy Hagar and Gary Cherone, before Hagar and then Roth eventually returned — it was Eddie's other-worldly skills with the guitar that provided the musical act with the anchor that it needed. Not only did he impress fans and critics alike with his guitar solos on songs such as "Runnin' with the Devil", "Panama", "Why Can't This Be Love?" and "Jump" — the last was Van Halen's only number one hit — but he also collaborated with Michael Jackson for the superhit 1983 song, "Beat It". Eddie's contribution to that track transformed Jackson's sound. The former's music played a pivotal role in shaping our understanding of rock as a genre; one hopes that the younger generations, too, are able to discover and appreciate Van Halen's magic.
Apurva Majumdar,
Calcutta
Sir — The news of Eddie Van Halen's death, coupled with reports of the demise of the well-known reggae and pop singer, Johnny Nash, at the age of 80, made an already-gloomy time even bleaker. It is bad enough that the Covid-19 pandemic has made such a huge difference — in an adverse way — to our lives, in terms of mobility and job prospects. Making matters worse is the regular news of the deaths of many public figures, especially musicians, whose work we grew up loving. Even though Eddie Van Halen rose to popularity when my parents' generation was growing up, my friends and I were introduced to his band's music while we were young. As a result, we grew up loving Van Halen and being in awe of Eddie's guitar skills.
In a telling testimony to Eddie's genius, the singer of Def Leppard, Joe Elliott, spoke about the time he saw a Van Halen performance in 1977. He said that Eddie "reinvented guitar playing just like Jimi Hendrix had done a generation earlier". There, perhaps, could not be a more apt way to describe Eddie's contribution to rock music. He will be deeply missed.
Pranita Roy,
Calcutta
Parting Shot
Sir — I live in an affluent building complex in southern Calcutta. One would expect that my neighbours within the complex, given their wealth and access to education, would be far more mindful about the dangers of not wearing masks in these times. And yet, every evening, I see the men and women roaming around and fraternizing downstairs sans masks. Even if they do not care about their own health, they should consider the well-being of others.
Avira Mukherjee,
Calcutta
Helping hand
Sir — In an interesting turn of events, a hospital in Bhubaneswar has been using a robot to provide medicines, food and remote assistance to patients in the Covid-19 ward, in a bid to protect health workers from contracting the coronavirus. If this model could be replicated in other healthcare centres across the country, even if it is just in urban areas to begin with, it would make a huge difference to the health and workload of front-line health workers. Moreover, could this be seen as an example of human and mechanical labour being able to co-exist without the fear of people losing their jobs?
Shalini Bose,
Calcutta